I've been selling men's clothing and shoes online for over a decade. Over the years, I've discovered various types of items that sell very well for me. The best performing items on each marketplace can change easily due to fashion trends, marketplace audience and over saturation. To account for these changes in the market, I highly recommend that sellers identify some consistent bread and butter items that they can lean on to stabilize their sales. The key is to find items that you can source easily, but also sell well. It's very difficult to build a strong sales business by selling only unique, hard-to-find items because finding each piece of new inventory will become a chore.
You may also like: 9 Steps to Start a Reselling Business Online for Profit
Here are a few types of items that I can source easily, but also perform very well for me.
1. College & Professional Sports Gear
The great thing about sports is that people are typically lifelong fans of both college and professional teams, so you will always have potential buyers. Sports t-shirts and hoodies usually sell consistently, but there are a lot of factors to consider before buying them.
When you're sourcing these team sports items, try to buy either authentic branded items that the players wear or versions that would be sold as merchandise in the stadium. For example, if you're looking to source some soccer gear, it is much better to buy the Nike or Adidas branded Manchester United clothing than it is to buy an unbranded license replica version. Depending on the team, an authentic Nike soccer jersey can sell for up to $100, but it would be difficult to sell a replica jersey for more than $20.
If you're buying a jersey or a player-themed shirt, make sure that the player is either still currently on that team or a retired legend. Athletes constantly get traded to new teams which would cause their jersey or shirt to no longer be desirable to fans of their old team.
It is also very helpful to buy items from sports that are currently in season. Buyers are much more likely to purchase a jersey or t-shirt if their team is playing this week, as opposed to when their favorite team is in the off-season for the next few months.
Nostalgia is also a key factor when selling sports memorabilia. Mini fans remember the glory days of their team and would love to own some vintage items from that time period. Keep in mind that for an item to be considered vintage, it must be over 20 years old. For example, if you find any Chicago Bulls gear from the 1990's Michael Jordan era, it will always sell well because of the nostalgia and history attached to those years.
2. Denim
Quality jeans will always sell well because it's a staple in every man's wardrobe. When searching for jeans, you should take a few things into account. First, the fit and style of the jeans is very important. Many brands that were once popular are no longer in style because of large logos, excessive embroidery, or an unflattering fit. In order to be a successful clothing reseller, you should be aware of current style trends so that you can source items that are in demand.
I personally like to stick to classic straight leg and slimmer styles from brands like J. Crew, Uniqlo and Levi's. These brands are frequently searched, affordable, and great quality for their price point, so you'll never have an issue with attracting buyers. These are perfect factors for quick sales.
Keep in mind that it is possible for these styles and brands to be oversaturated on marketplaces, so
try to only buy jeans in the best condition (as close to new as possible) and list them for competitive prices.
Occasionally, you can find a pair of designer denim like A.P.C., RRL Ralph Lauren, Rag & Bone, which sell extremely well because of their high retail prices. You should also be on the lookout for selvage denim, which is a primarily japanese denim-making technique known for its quality and finished seams. You can spot selvage denim by the striped finished seam on the inside of the pants. Selvage denim sells for much higher prices that non-selvage, so any selvage finds are a welcome sight. For these types of brands, marketplaces like Grailed, Poshmark, Mercari and eBay would be perfect places to make quick, consistent sales on designer jeans.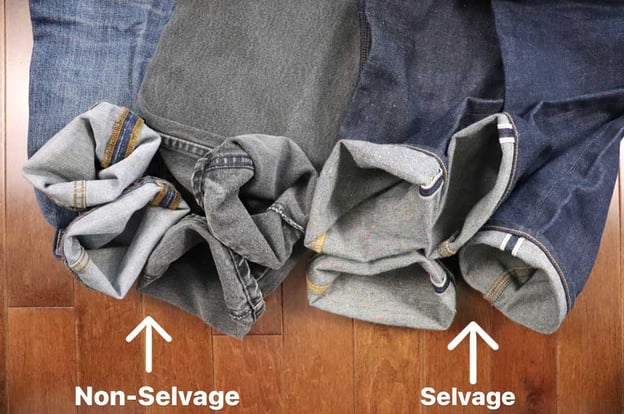 3. Workout and Exercise Gear
Exercise clothing is a very reliable option when it comes to sourcing men's clothing because it's always in demand. A large percentage of my sales come from workout clothing from brands like Lululemon, Nike, and Adidas. Some of the best sellers include track and jogging pants, running shorts and light jackets. You can thrift these types of items easily or find them at retail arbitrage stores like Marshalls, Ross, and Nordstrom Rack. If you're buying them used, just always be mindful of the condition and quality of each piece. Pre-owned workout clothing can often have sweat stains or other general wear and tear from athletic use.
Nike Tech Fleece items are always in demand and sell for anywhere between $50 and $150 each, while you can also consistently sell Nike Dri-Fit items for $25-50. Lululemon clothing items are also highly sought after and sell very quickly second hand due to their quality and high retail prices.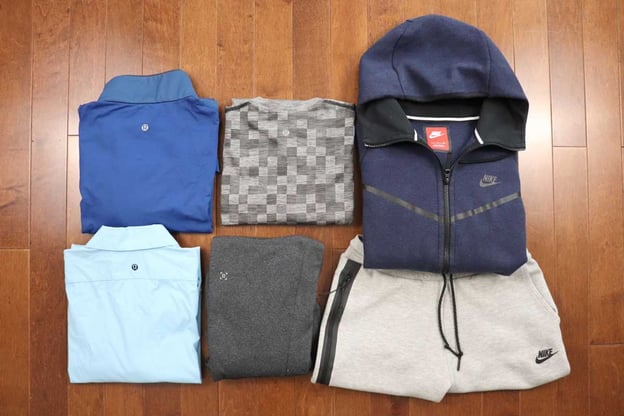 4. Streetwear
Selling sneakers and streetwear was my initial introduction into the reselling industry. Nowadays, the majority of my sales still come from streetwear items. Quality streetwear is very difficult to thrift, but occasionally you can still find brands like Stussy or Billionaire Boys Club in a thrift store. Two of the top performing streetwear brands are Supreme and Bathing Ape (Bape), but there are dozens of brands that are highly coveted.
Because streetwear items are so hard to find, I typically source them from consignment and buy/sell/trade stores like Buffalo Exchange, Beacons Closet, Crossroads Trading, Uptown Cheapskate, and other similar stores. I also do wholesale buys from friends and by multiple items from them in bulk in order to resell them individually. These items tend to perform very well on Grailed and eBay, but I also see consistent sales from Poshmark, Mercari and Depop as well.
The best thing about many streetwear items is that they tend to yield a higher profit margin than some standard mall-based brands.
The exclusivity of releases and very high demand for the items make streetwear excellent for resale. Streetwear has a gigantic second-hand market where items often sell for much higher than their retail prices.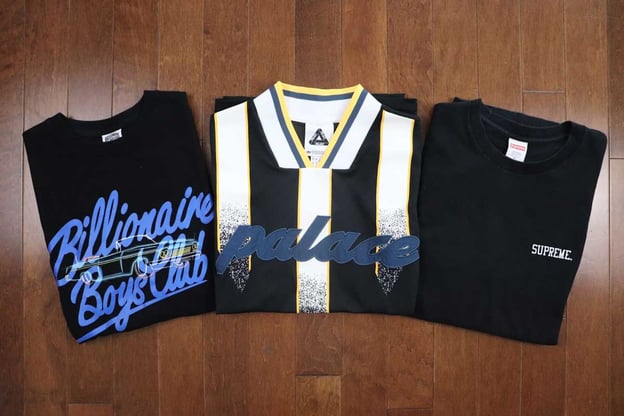 Are you a menswear seller? Comment below and let us know which items perform well for you!