What are all of these "cores," styles, aesthetics, and trending hashtags?
How do you find good hashtags to use on Depop, Grailed, Etsy, Poshmark, and more?
If you're looking to learn about the major styles with examples, you came to the right place.
Adding these hashtags and keywords to your relevant listings will help them to sell more quickly! We also provide some hashtag and keyword inspiration, too!
We'll update this list periodically to be your master trending aesthetic list. Make sure to subscribe to our blog for updates:

Scroll to the bottom for more information about how to find trending hashtags and keywords for your listing descriptions.
A Reseller's Guide to Core Aesthetics, Hashtags and Keywords
Here is a master list of popular aesthetics with examples and a little information about each!
Light Academia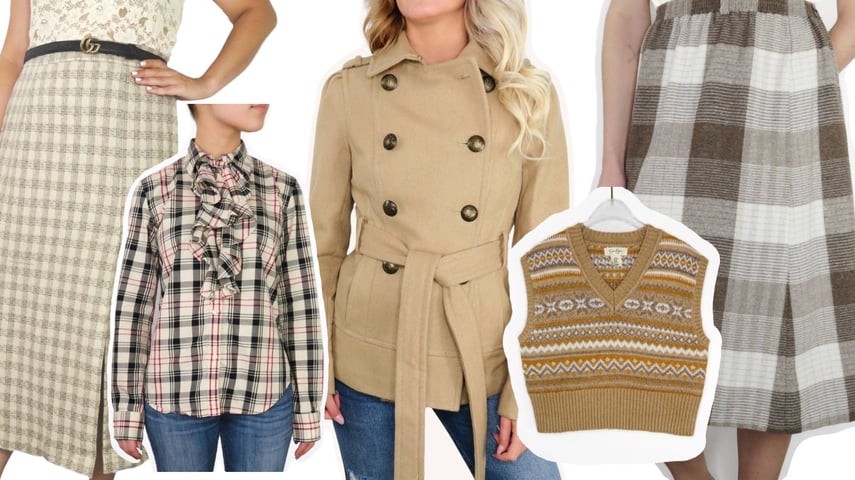 The
academia aesthetic
takes inspiration from mid-20th century classic, preppy clothing. It is often subcategorized into
dark academia
for darker tones and
light academia
(as shown above) for lighter colors.
Think of the style you would see in a classy 1960s library, with lots of plaid, trench coats, thick knit sweaters, brass and gold-tone accessories, chunky loafers, and more.
See Dark Academia below.
You might use these hashtags

: #academia #lightacademia #darkacademia #preppy #vintagepreppy #professor #wool
Athleisure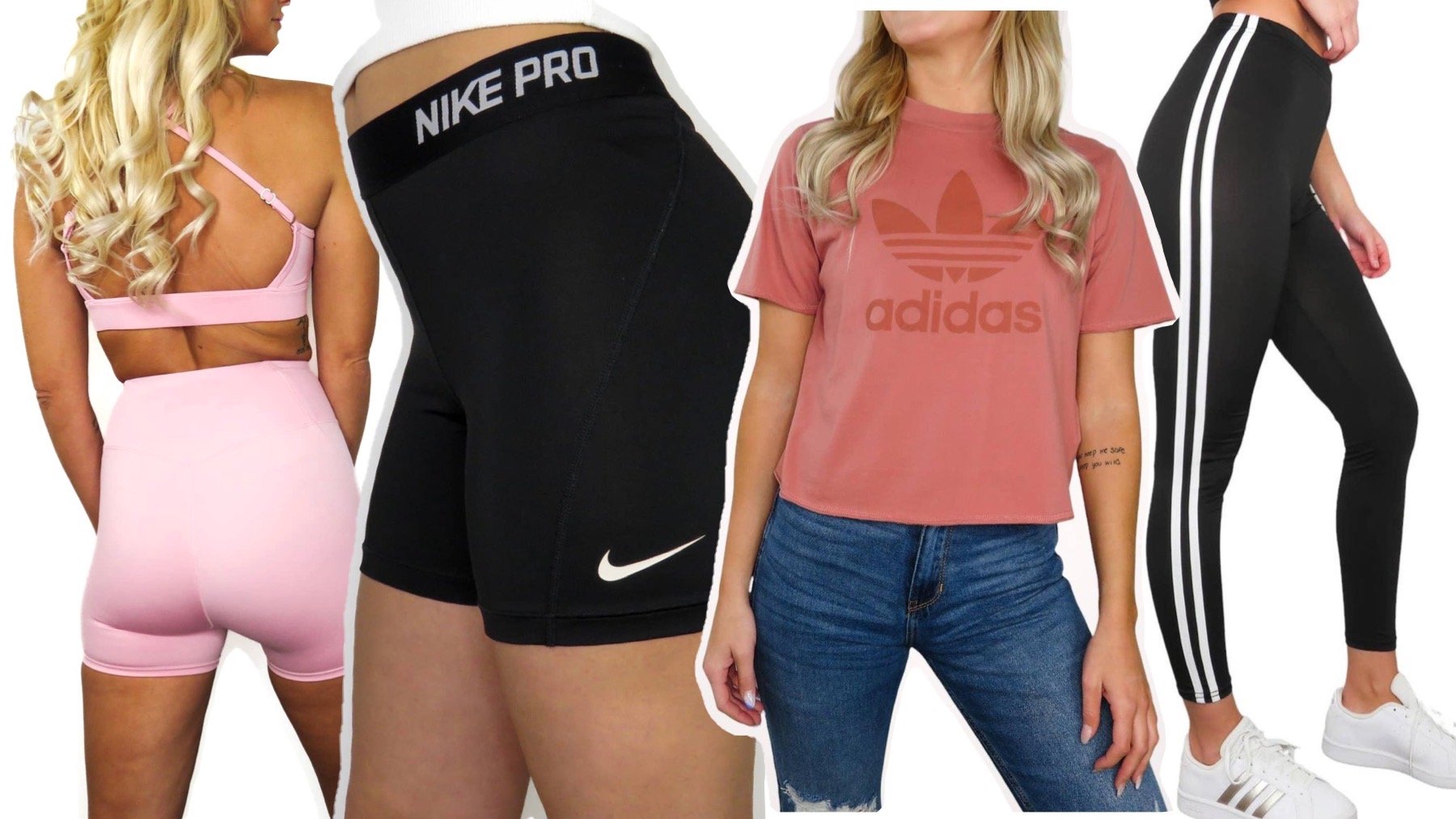 Athleisure

is casual, comfortable clothing that is perfect for exercise or everyday wear. This aesthetic is all about comfort and activewear.
Athleisure is a top-selling category on all reselling marketplaces. If you could wear something to grab coffee with a friend, but also to yoga class, it's probably athleisure. Leggings, biker shorts, sneakers, cute strappy tanks, and matching sets all give this aesthetic.
Common athleisure brands

include Lululemon, Athleta, Alo, Beyond Yoga, Girlfriend Collective, Fabletics, Buff Bunny, and more!
You might use these hashtags

:

#athleisure #leggings #loungewear #yoga #[brand] #performance #workout
You might also be interested in: Top Activewear Brands To Resell on Poshmark, Depop & Other Resale Platforms
Balletcore
Balletcore

popped up as an official aesthetic in 2022 on TikTok. Balletcore is inspired by the look of ballerinas and dancewear.
Think of anything a ballerina would wear to practice or on stage at a performance: soft colors, shades of pink, satin, lace, ruffles, tulle, and delicate, pretty fashion.
It's like athleisure but prettier; performance wear but softer and pinker, with more lace!
You might use these hashtags:

#balletcore #ballet #dancer #dancecore #ruffle #lace #satin #spandex #tulle #coquette
Barbiecore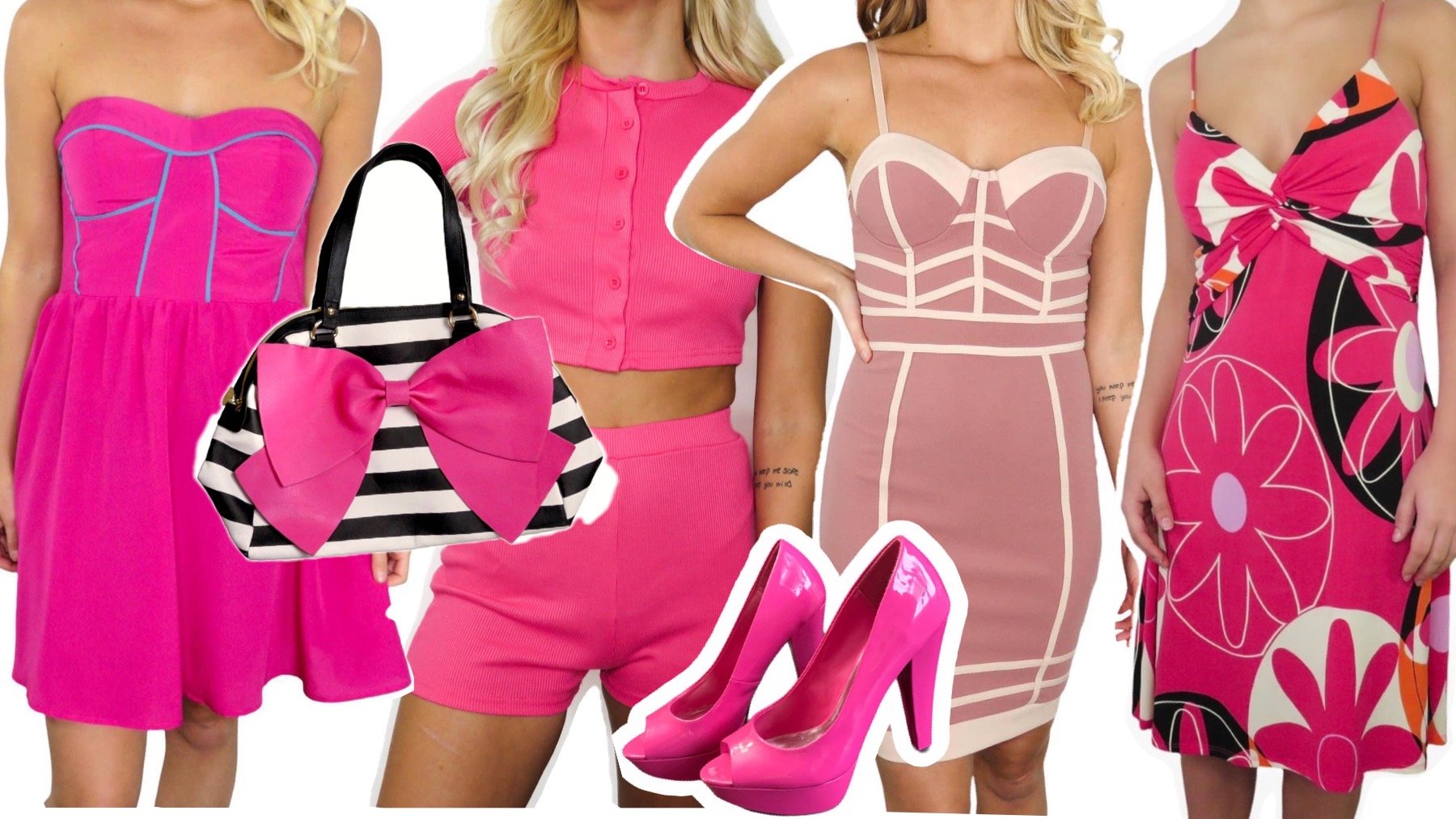 What is Barbiecore?

Barbiecore

is inspired, of course, by Mattel's iconic Barbie Doll. If a Barbie doll would wear it, it's likely Barbiecore.
This aesthetic is trending and will likely be even hotter with the upcoming Barbie movie!
Barbiecore is commonly used on anything that is hot pink and likely seen on Elle Woods in Legally Blonde. Barbiecore is very pink but also includes bright colors, fun patterns, youthful pieces, and tween and teen styles.
Barbiecore is more youthful and innocent when compared to the Bratz Aesthetic which is more edgy and sexy, like a Bratz Doll toy. For Barbiecore, think of Lizzie McGuire or Hannah Montana. For Bratz, think of Mean Girls or Paris Hilton circa the early 2000s.
You might use these hashtags:

#barbiecore #barbiedoll #barbiestyle #barbiegirl #ellewoods #hotpink #bubblegum #malibubarbie #coconutgirl
Bikercore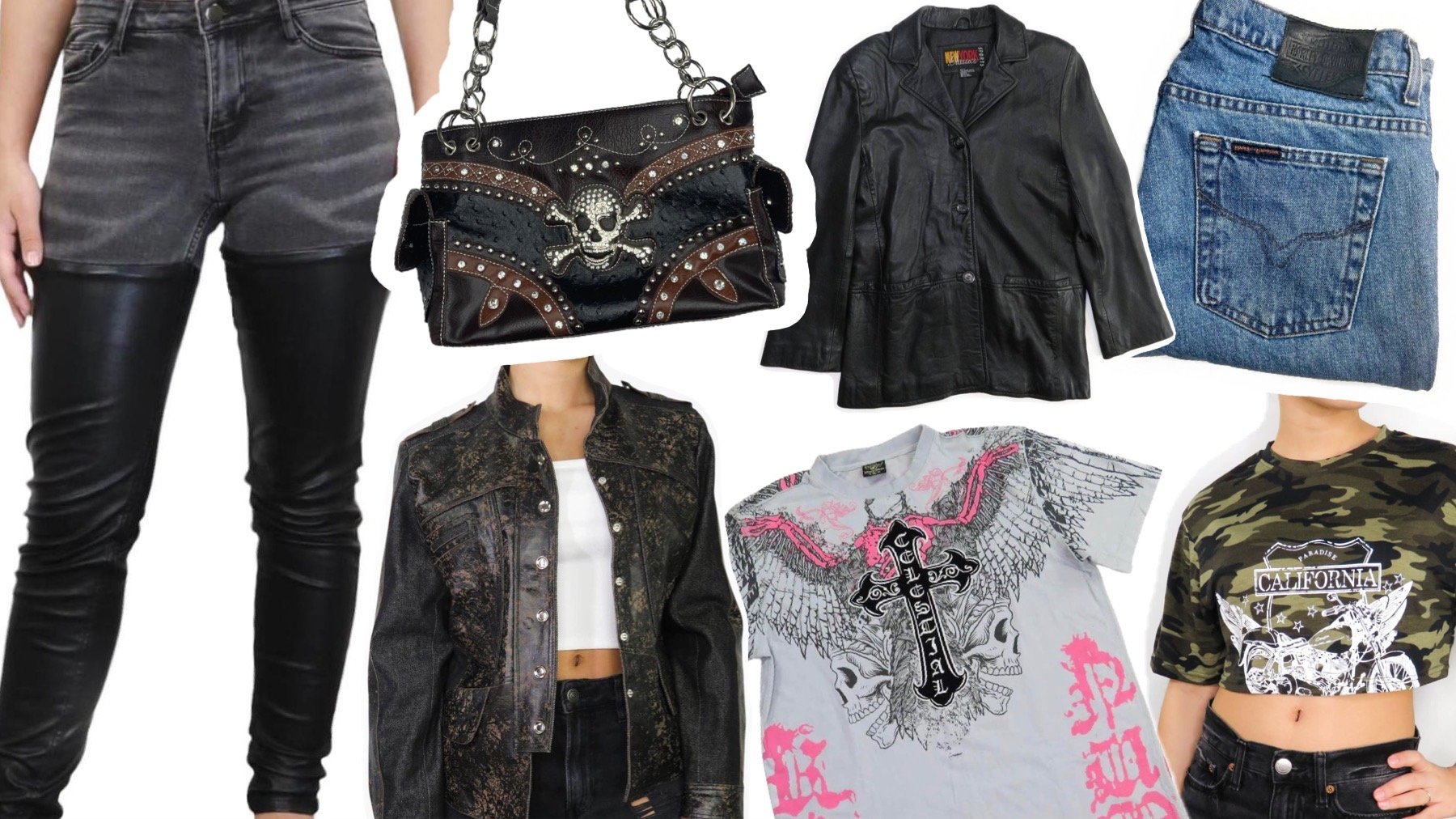 Bikercore
surrounds the fashion and lifestyle of motorcycle life. It's giving edgy, tough, dangerous, and sex appeal.
Bikercore is all about attitude and edge. You'll see leather jackets and vests, riding gloves, bandanas, ripped and distressed jeans, and a lot of studs, black, and tattoos! Biker fashion is about masculine toughness and feminine sex appeal, think Hells Angels and Sons of Anarchy.
If you didn't know, now you do: Harley Davidson, and really any motorcycle fashion or items sell very well!
You might use these hashtags

:

#bikercore #biker #bikelife #motorcycle #leather #leatherjacket #edgy #punk #sexy #harleydavidson
Bohemian
Most people confuse bohemian with modern boho chic; to the extent that you should use both because they have become practically interchangeable.
This is traditional Bohemian: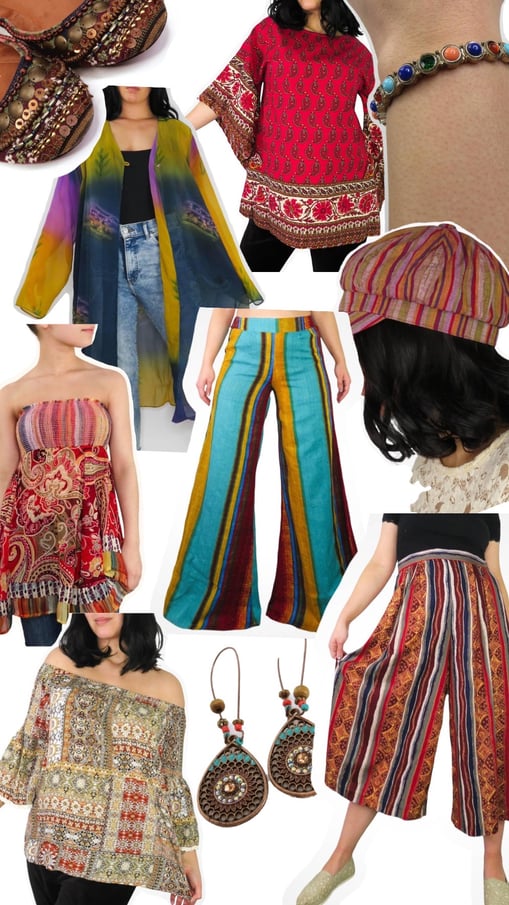 Bohemian

has historically been related to Bohemia, the inhabitants of the western region of the Czech Republic in Central Europe. With undertones to its roots, modern Bohemian fashion was coined in the U.S. in the 1960s, which is inspired by Roma gypsy style, hippie fashion, and free-spirited colorful aesthetics.
The Bohemian aesthetic includes tapestries, plants, macramé, rattan, Aztec and tribal geometric patterns, vibrant colors and patterns, gold tones, and chunky jewelry.
Modern celebrities who are known for Bohemian fashion include Zoe Kravitz, Stevie Nicks, The Olsen Twins, and the Cast of Rent (the musical and the Movie).
BOLO brands
:

Popular
Bohemian brands
include Anthropologie brands, Urban Outfitters, Band of Gypsies, Spell & The Gypsy Collective, Johnny Was, Cleobella, Tularosa, Stone Cold Fox, Lucky Brand, and Free People.
You might use these hashtags

:

#bohemian #boho #bohemianstyle #hippie #bohofashion #bohostyle #bohojewelry
Note: You do not want to use the hashtag #gypsy, as it is culturally offensive and your listing will be removed from most marketplaces. (See more below).
Boho Chic
If you take the vibrant colors out of Bohemian… you have contemporary boho chic….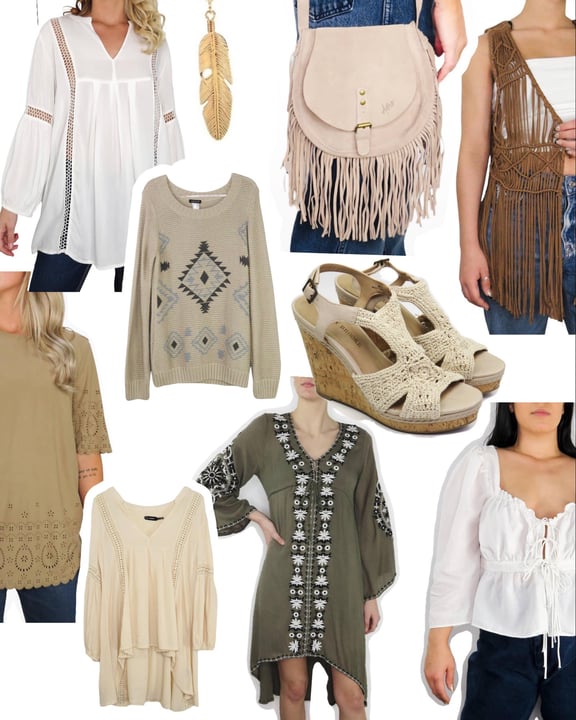 Boho Chic

is a contemporary spin on Bohemian that encompasses natural textures, earthy tones, and neutral colors. It's basically a more chic version of Bohemian but removes some of the vibrance and culture celebrated in the traditional Bohemian aesthetic.
Modern boho chic is like Bohemian x Minimalist. Boho chic is less about bohemian culture and more about an earthy, hippy look. Boho is super popular in both fashion and decor. Look for earthy tones, neutral colors, open knits and crochets, tassels, embroidery, and floral and nature-inspired prints.
Boho chic BOLO brands
include Anthropologie brands, Urban Outfitters, Band of Gypsies, Spell & The Gypsy Collective, Free People, Show Me Your Mumu, and Madewell.
Y

ou might use these hashtags

:

#boho #bohochic #bohemian #hippie #lagenlook #earthy #bohofashion #bohojewelry #embroidered #earthy #neutral #minimalist
Cabincore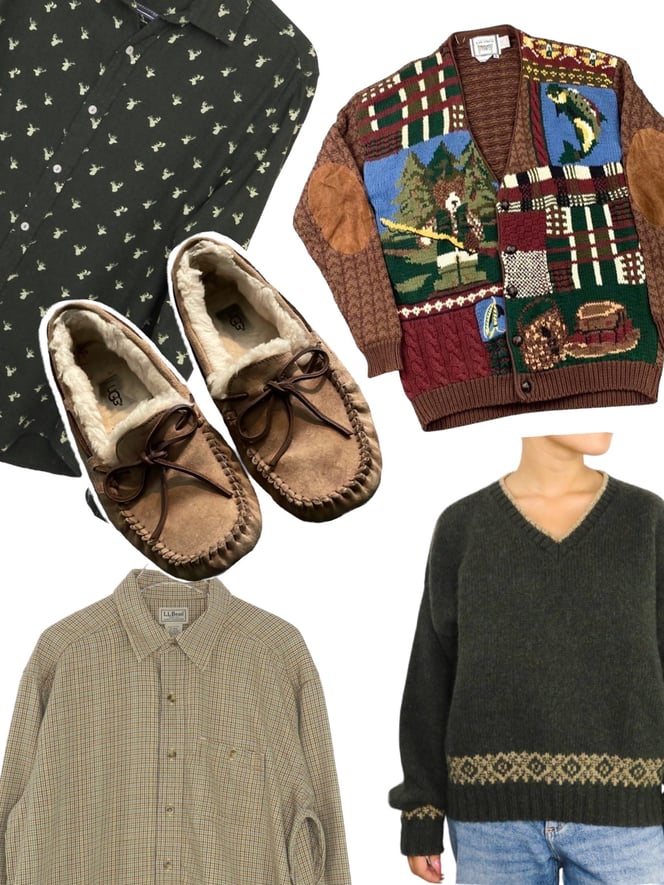 Cabincore

is the style that romanticizes the life of a little rustic wooden cabin tucked away in the woods.
Cabincore is about comfort and cabin charm. Think lumberjack, but chic. Like gorpcore but cozier. You'll often see cozy sweaters, buffalo plaid, flannels, denim, moccasins, hiking boots, and beanies. Think about the L.L. Bean catalog!
It is similar to campcore which focuses on the utility of camping (hiking, fishing, hunting) whereas cabin core is about the relaxation of camping.
You might use these hashtags

:

#cabincore #cabin #campcore #lumberjack #utility #cozy #rustic #nature #outdoors
Classiccore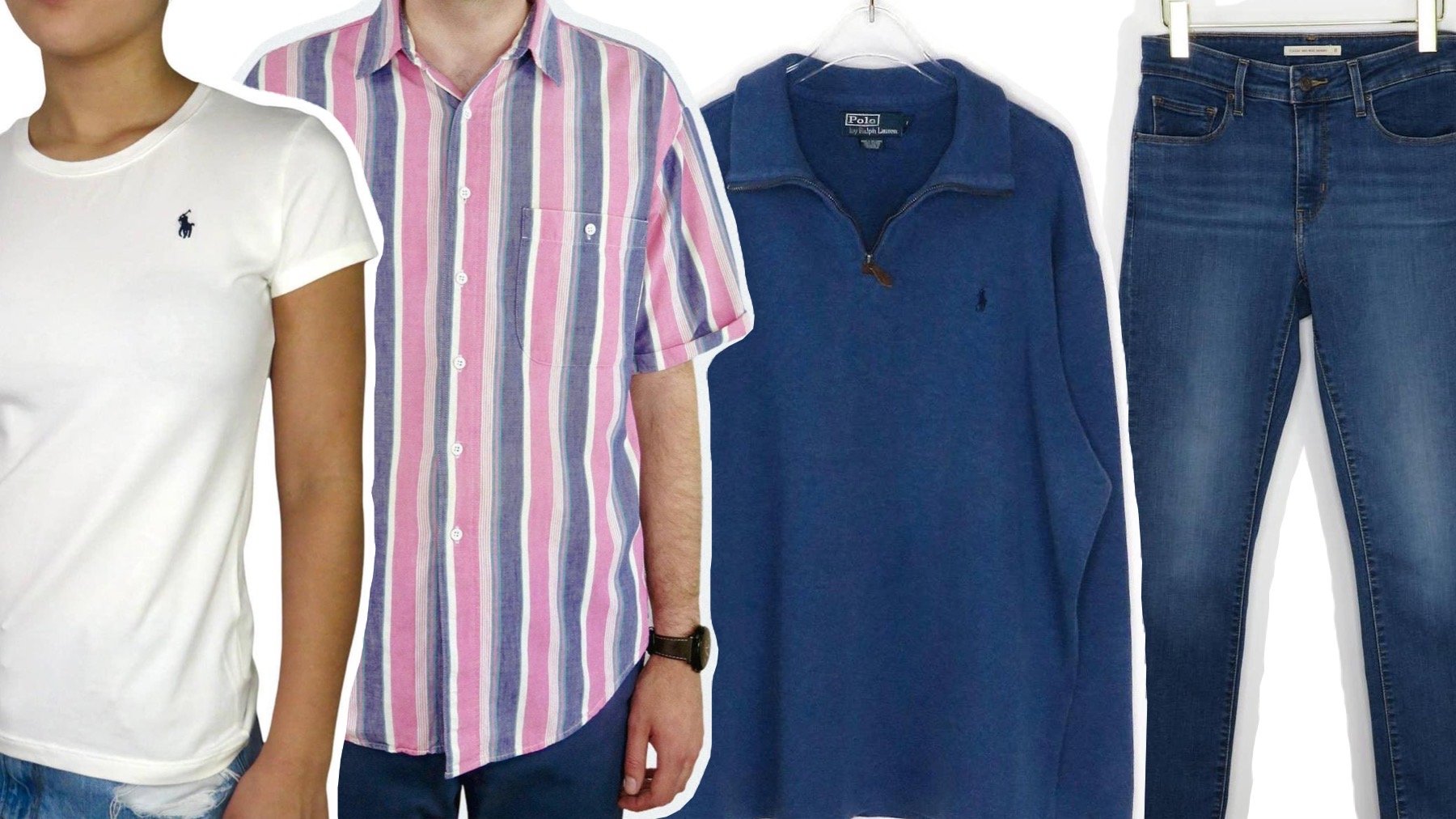 Classiccore

refers to classic staples that

never

go out of style. Generally, this refers to preppy wardrobe basics, plain styles, and just

regular

clothing.
Classiccore is often a catchall for basic items and classic brands. You'll see plain t-shirts, jeans, basic jackets, college sweatshirts, and knit sweaters; basic wardrobe pieces.
This style is best epitomized by brands like Ralph Lauren, Tommy Hilfiger, Lacoste, Calvin Klein, and Vineyard Vines. If your item is any of these classic brands, use the
brand
as a hashtag.
You might use these hashtags

:

#classiccore #classic #basic #preppy #retro
Coconut Girl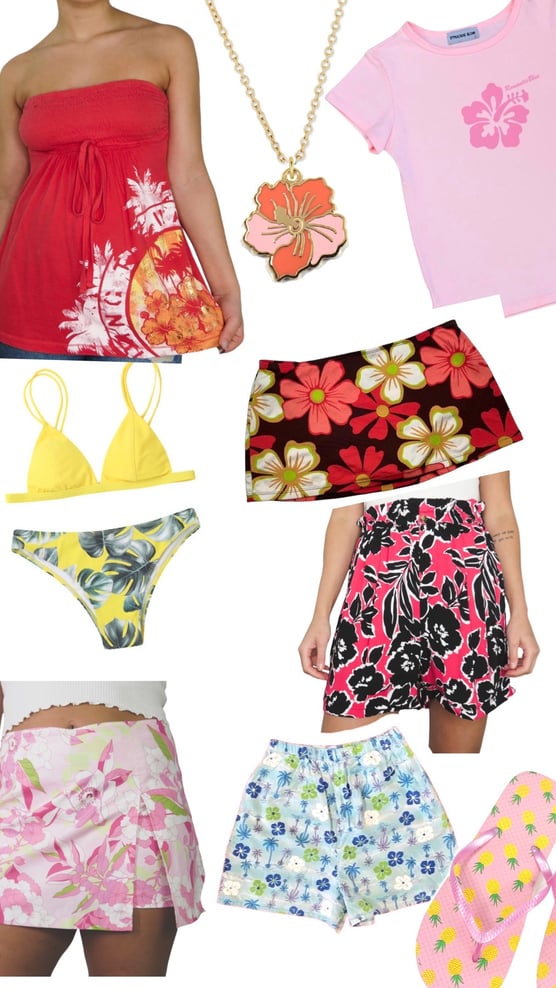 Coconutgirl
, a Tiktok trend coined in 2022, is about beachy, tropical vacation vibes with a Y2k influence.
Think of bright colors, halter tops, tropical Hawaiian flower prints, shell jewelry, crochet, and bucket hats. This style is best seen in Sarah Paxton in Aquamarine. If it's cute with a hibiscus, it's probably coconut girl.
Coconut girl is youthful vibes, think of a teen Luau birthday party in the early 2000s. It isn't something you would use to describe a beautiful nautical piece or a mature vintage Hawaiian button-down shirt; for those, just use #Hawaiian.
You might use these hashtags

:

#coconutgirl #coconutgirlaesthetic #summer #tropical #hawaiian #y2k #beachy #summergirl #vacation
Cottagecore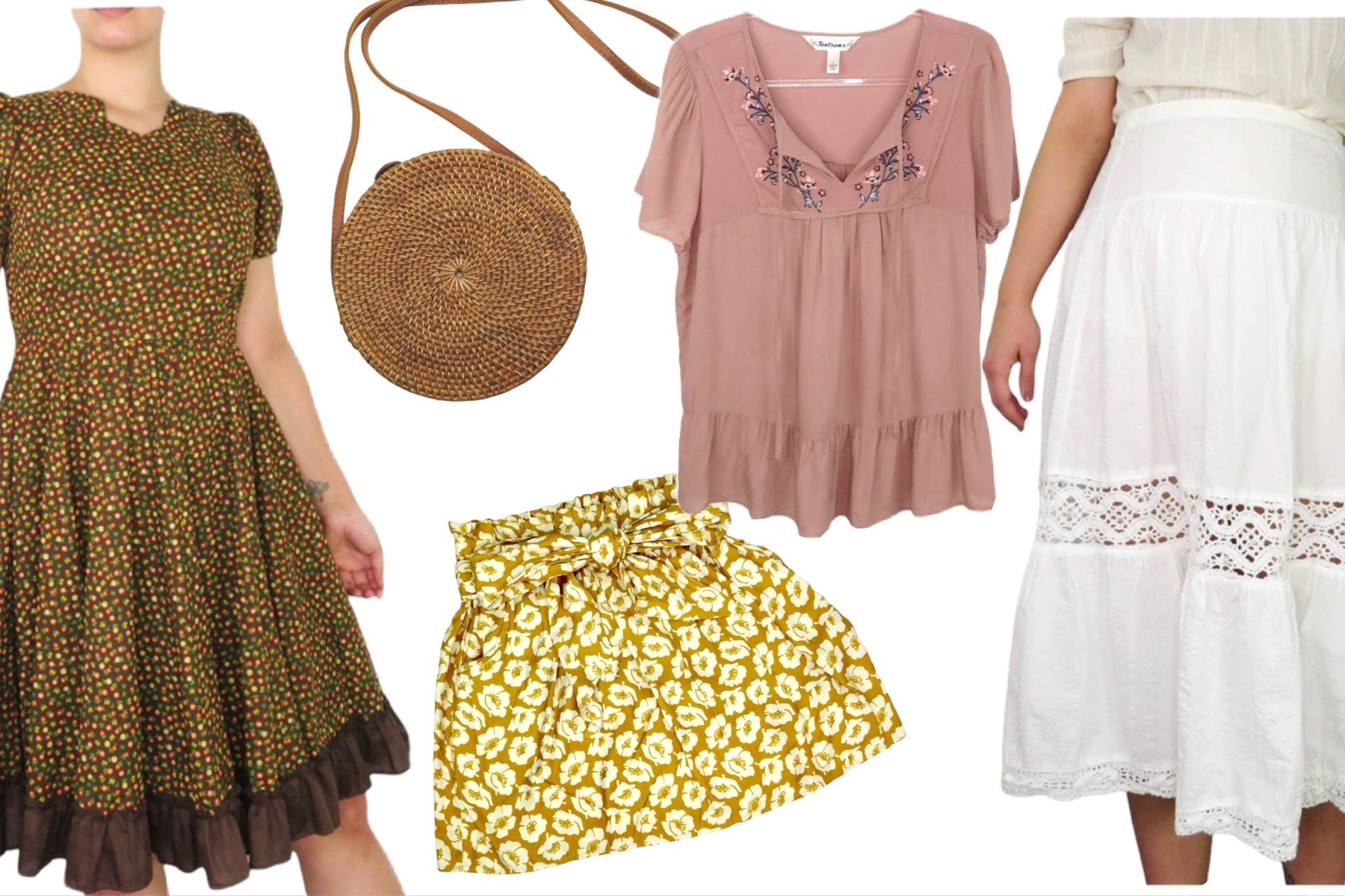 Cottagecore

is inspired by a romantic interpretation of cottage life. The vibe is a quaint little cottage tucked into the beautiful countryside surrounded by flowers.
Cottagecore is like the delicate beauty of colonial times with florals, soft colors, long skirts and dresses, woven detail, gingham patterns, and puffed sleeves.
Common cottagecore brands include Urban Outfitters, Free People, Faithfull, Reformation, Love Shack Fancy, and For Love & Lemons.
You might use these hashtags:

#cottagecore #cottage #prariecore #farmcore #lagenlook
Coquette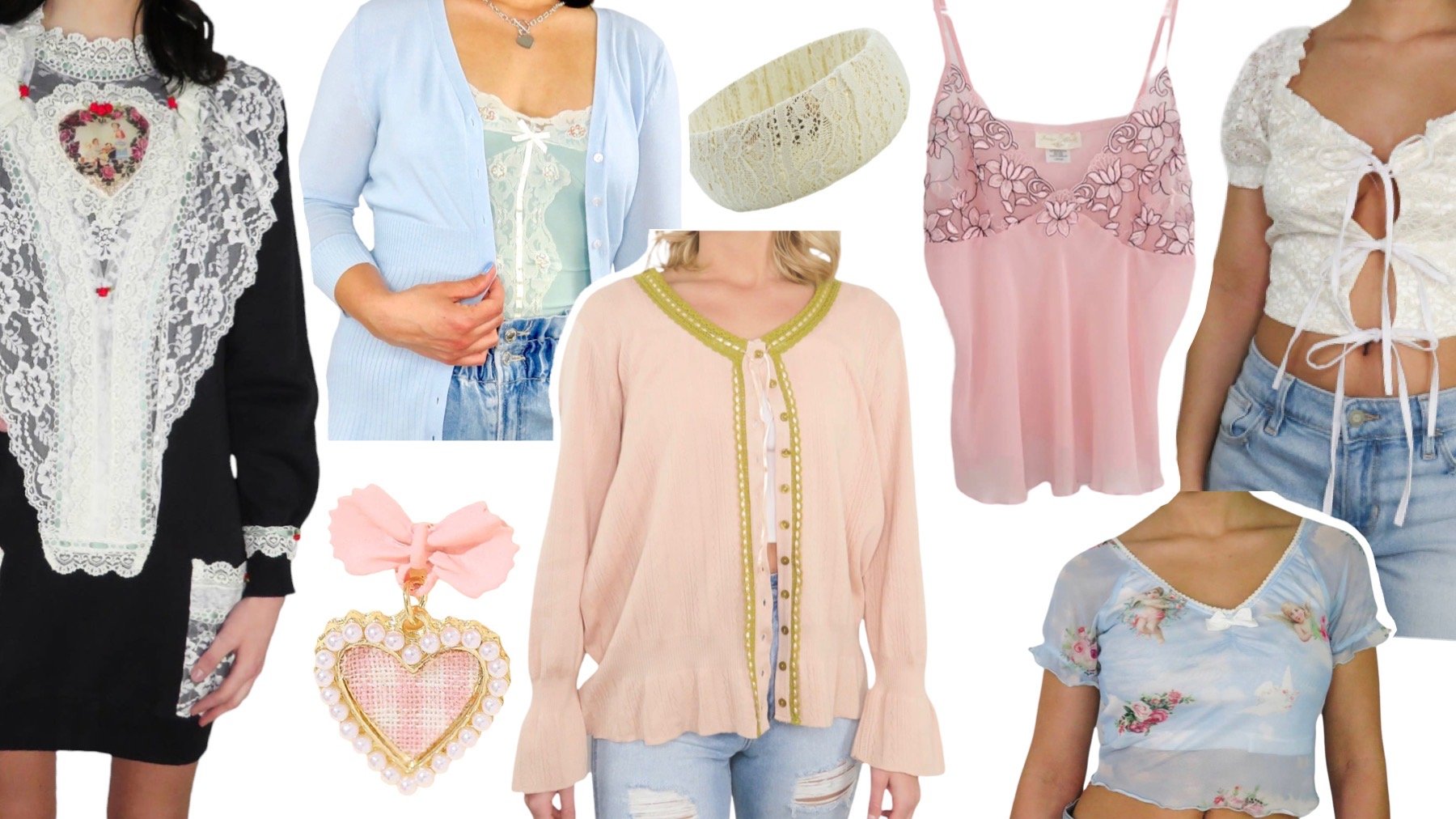 Coquette

is a culmination of aesthetics that all incorporate feminine adolescence, including lolita and nymphet. It is best described as the hyper-sexualization of feminine youth with a Victorian influence.
Historically, the aesthetic originated in the characterization of nymphet, a young girl who pursues older gentlemen. The aesthetic has evolved and shifted recently, thanks to TikTok, and it is now more about the Victorian influence of sexy-but-delicate femininity. I can best describe the aesthetic as a young, sexy porcelain doll.
Coquette fashion is hyper-feminine and seductively innocent. You will see a lot of lace, soft colors, ruffles, corsets, ribbons, bows, stockings, camis, and a youthful and delicate Victorian influence. It is still very much about sexualizing feminine innocence. Lana Del Rey has popularized the modern coquette aesthetic.
If you didn't know, now you do: #coquette is one of the newest style tags on Depop! Definitely add it to your relevant listings!
You might use these hashtags:

#coquette #coquetteaesthetic #lolita #nymphet #angelcore #dollette

Cosplay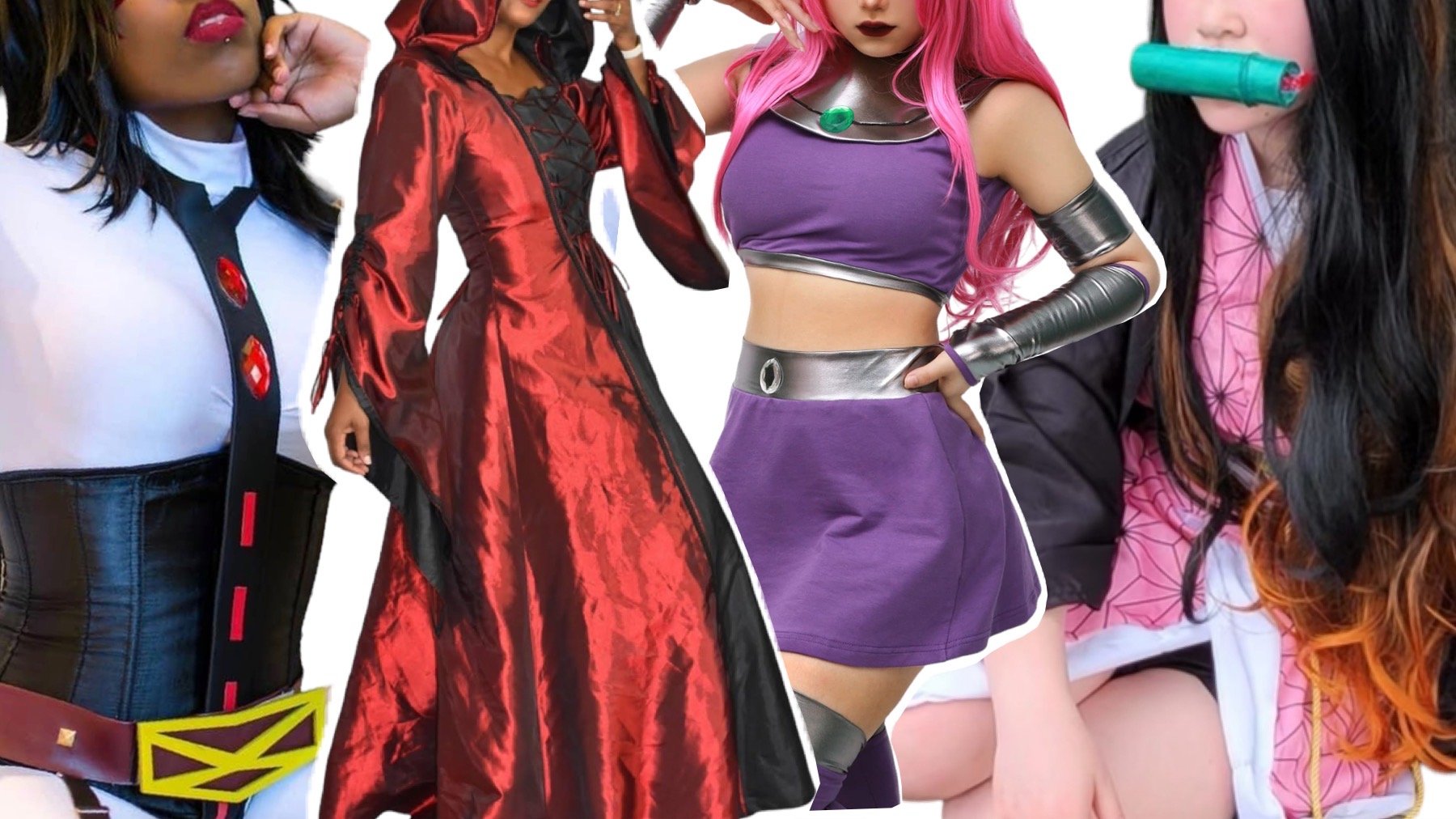 Cosplay

is short for costume play, or pieces like a well-known anime character, cartoon, or even character type. You often see anime accessories, superheroes, and even

types

of characters.
Cosplay includes pieces that are legitimate parts of costumes but also pieces that look like what is worn by common characters. Cosplay pieces are often handmade. They include anime, superheroes, and well-known characters from shows, books, movies, and video games. You'll see the hashtag used for literally anything you could wear to a costume party.
If you didn't know, now you do: If your item has a character on it (cartoon, celebrity, band, character, etc.) use the character itself as a hashtag. There will always be fans looking for it!
You might use these hashtags

:

#cosplay #costume #anime #sexycosplay #cosplaygirl #gamer #halloween
Cute Goth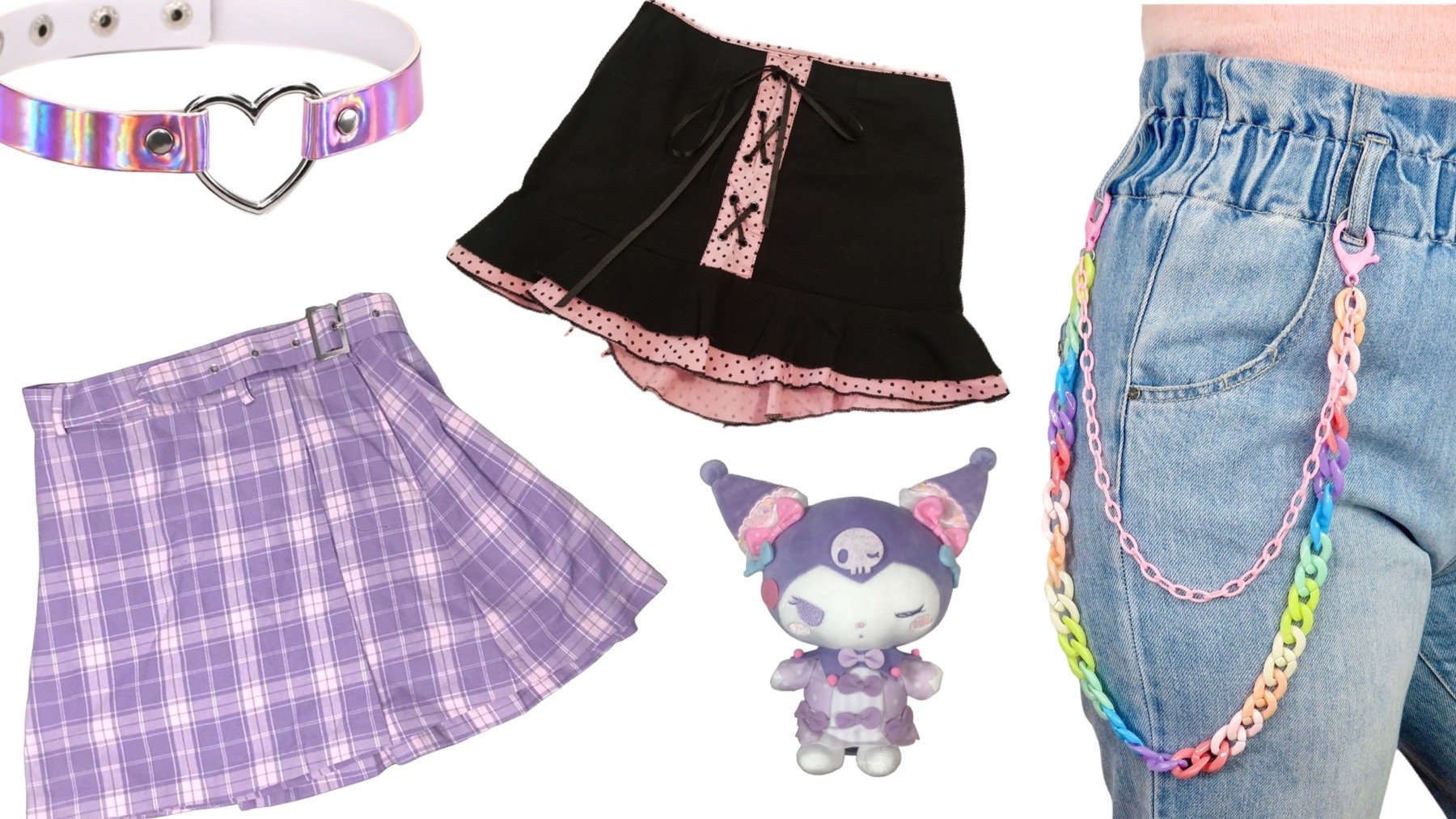 Cutegoth

is exactly that; goth, but

cute.

It is similar to the goth aesthetic, but more youthful with pastel colors and less

grunge.
Cutegoth, often called #pastelgoth, is best described as goth x soft girl x kawaii; heavy gothic influence, with y2k undertones of softgirl, with the pastel and Japanese influence of kawaii. The cutegoth aesthetic has traditional gothic pieces is lighter colors, cute skulls and crossbones, studs, and sassy texts.
If you've ever walked into Hot Topic, you've seen the pink section; this is cutegoth. It's goth- but cute. 💕
You might use these hashtags

:

#cutegoth #pastelgoth #softgoth #gothgirl #alternativegirl #kawaii #pastel
Dark Academia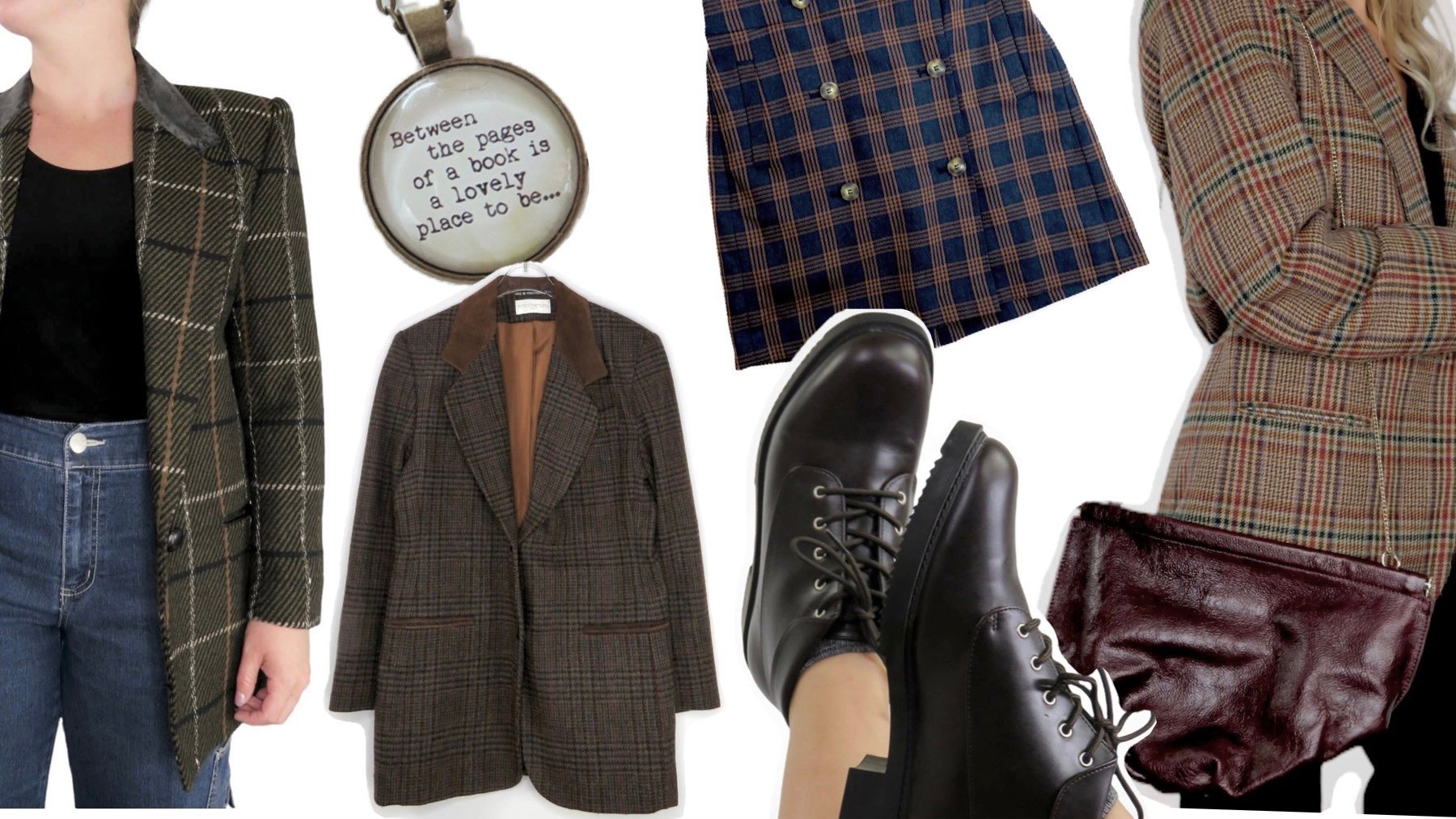 The

academia aesthetic

takes inspiration from mid-20th century classic, preppy clothing. It is often subcategorized into dark academia for darker tones and light academia for lighter colors.
Think of the style you would see in a classy 1960s library, with lots of plaid, trench coats, thick knit sweaters, brass and gold tone accessories, chunky loafers, and more. Dark academia is like darker, moodier academia as opposed to "light academia" which is lighter tones. See Academia above.
You might use these hashtags

:

#academia #darkacademia #lightacademia #shakespeare #preppy #vintagepreppy #professor #wool
Fairycore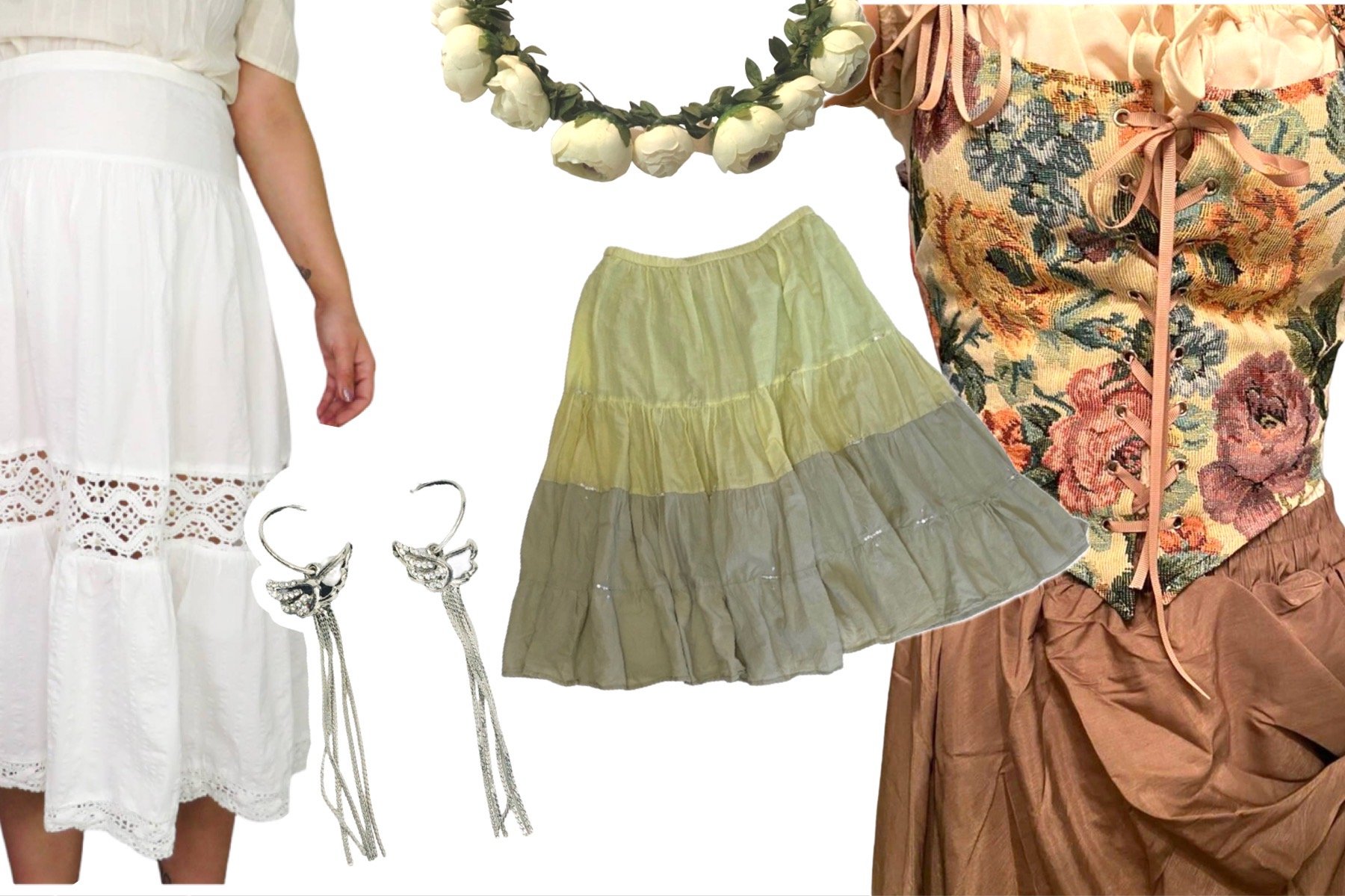 The
fairycore
aesthetic is inspired by artistic depictions of fairies. The vibes are ethereal, mythical, and whimsical.
Think of a garden fairy, whimsical and earthy. There is a heavy cottagecore influence and also a hint of Renaissance. You will see neutral tones, earthy looks, and looser and relaxed silhouettes.
Fairycore fashion includes wire-rimmed glasses, bows and ribbons, lace and sheer fabrics, asymmetrical skirts, corset tops, butterflies, and flowers.
You might use these hashtags

:

#fairycore #fairy #earthy #ethereal #whimsical #mystical #cottagecore #goblincore #renaissance
Festival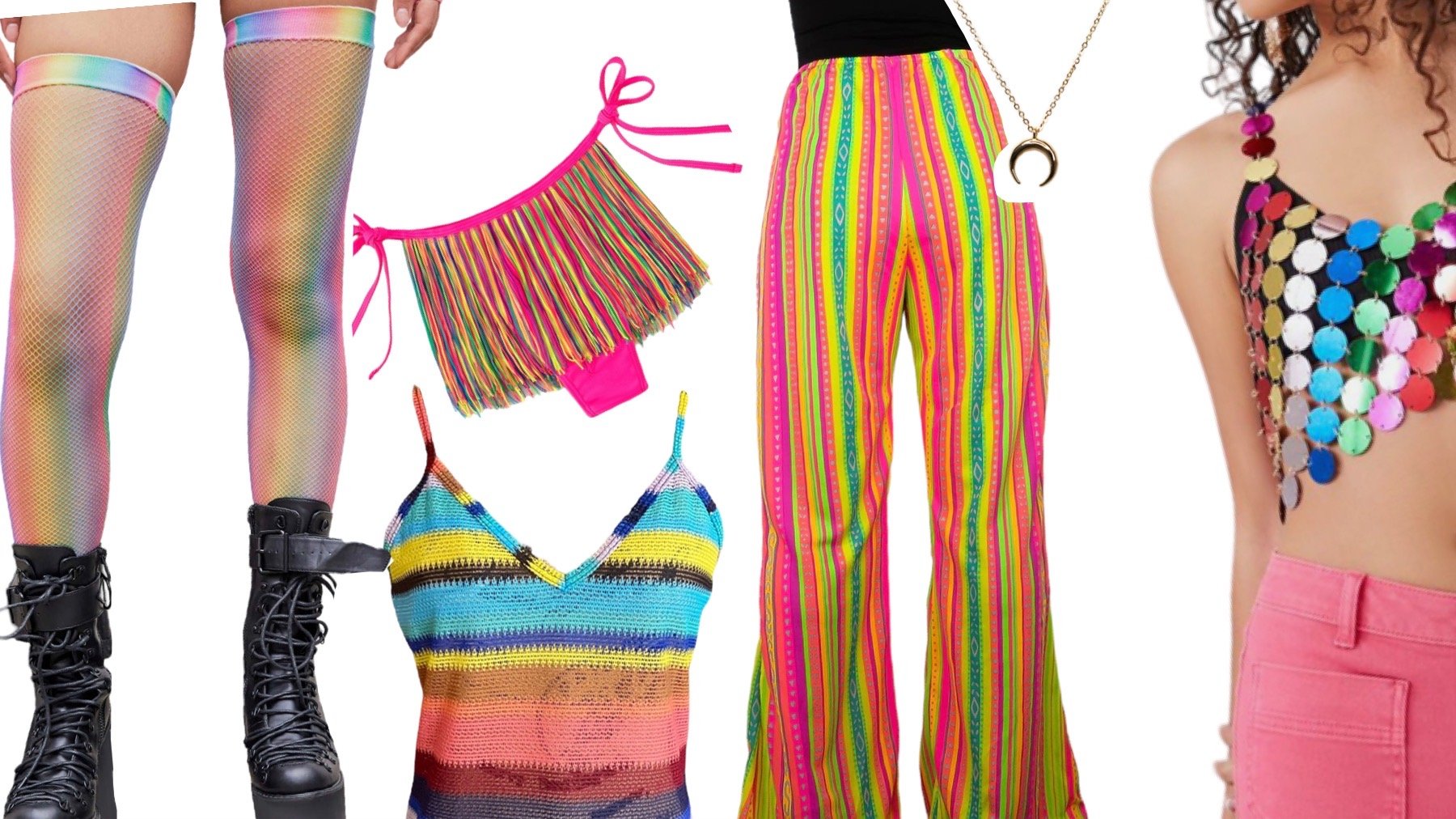 The

festival aesthetic

is like a music festival, which is about the style and expression as much as it is the music. If you look at

Coachella fashion, you'll see the fun, vibrant, retro, funky styles and fashion that encompasses this aesthetic.
This aesthetic embraces different types of music festivals:
There is the hippie, Woodstock-like festival vibe which is about peace, love, art, and music. The hippie-festival style is often bright colors, bold patterns, colorful vibrance, and artistic vibes with a hint of Bohemian and 1970s retro influence.
Then, there's the EDM (electric dance music) style which is rave-like, trippy, and neon. The EDM style is more futuristic, with lights, neon colors, lots of chrome, fishnets, and an industrial, cyber look.
You might use these hashtags

:

#festival #festivalseason #musicfestival #music #rave #hippie #coachella #edm
Futuristic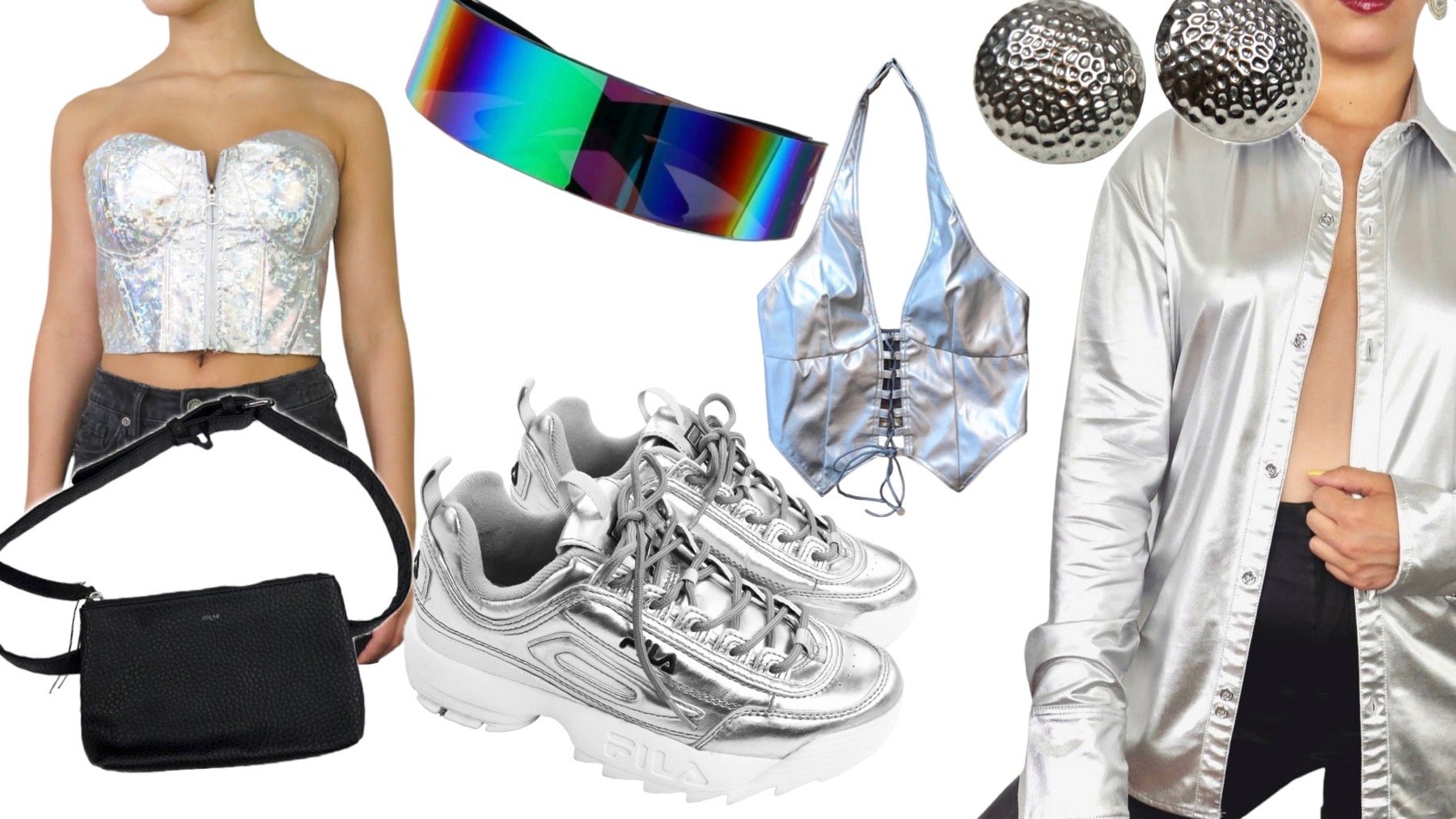 Futuristic fashion

is inspired by science fiction and often includes avant garde fashion in metallic colors. Often called cybercore, the style is often worn by Doja Cat.
While the futuristic aesthetic is supposed to be artistic, avant garde, pieces heavily influenced by sci-fi, it is also commonly used by Gen Z for anything you might see on Zenon: Girl of the 21st Century. This hashtag is commonly used on pieces with a galaxy vibe: chrome, liquid metallics, techwear, and holographic or iridescent items.
You might use these hashtags:

#futuristic #cybercore #avantgarde #scifi #art #cyberpunk #robot #glitch #chrome
Gorpcore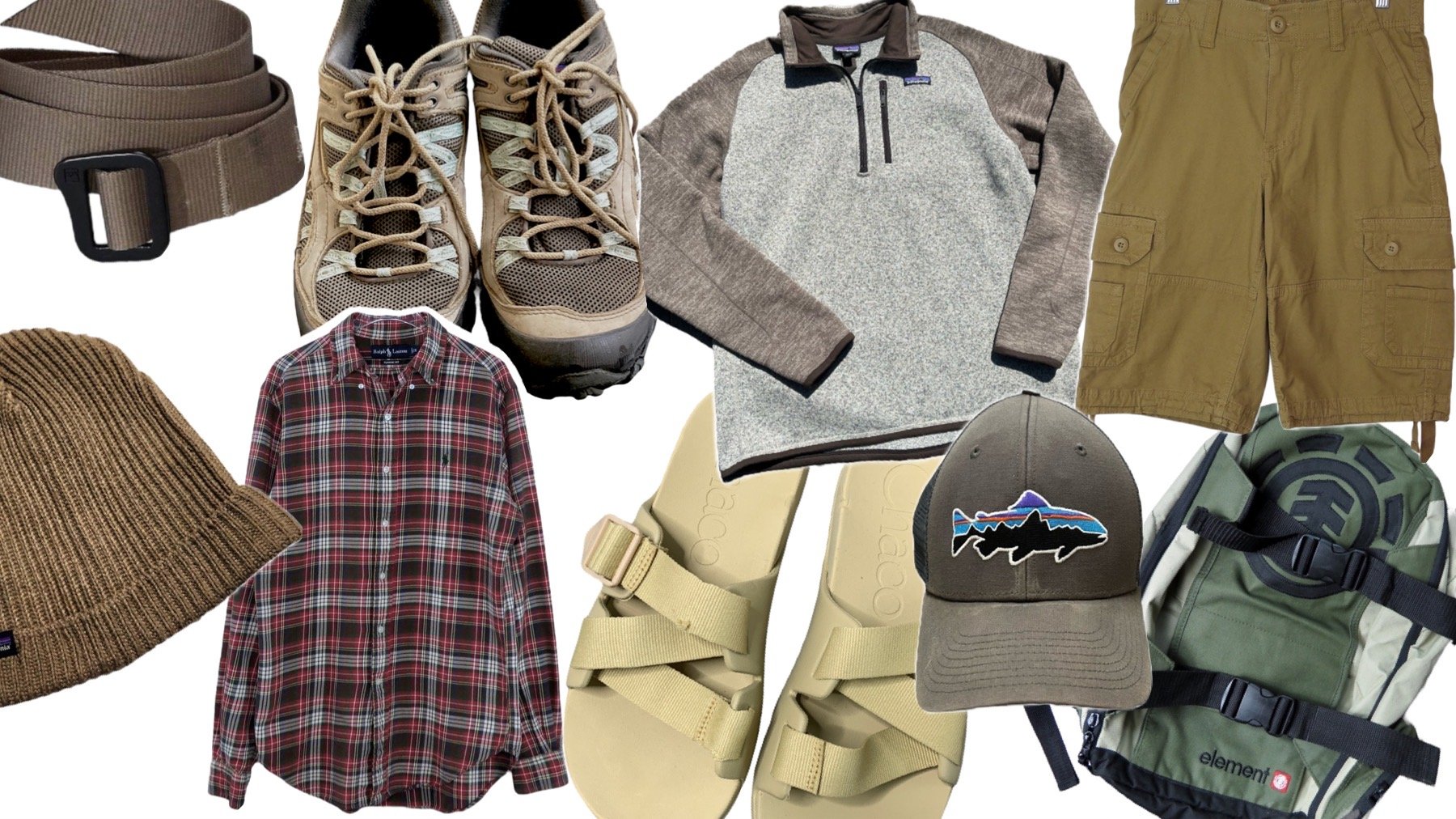 The "gorp" in

Gorpcore

stands for "Good Old Raisins [and] Peanuts," an ode to trail mix and the outdoor, hiking lifestyle. It is very similar to

normcore, but prioritizes the utility of clothing.
Gorpcore is like a well-dressed hiker vibe, think of a well-dressed hiker on their aesthetically-pleasing Instagram page posting pictures from the top of a mountain. While the aesthetic prioritizes utility and functionality, it is fashionable outdoorsiness.
You will see neutral, earthy colors and basics like plaid flannels, fleece pullovers and jackets, cargo and utility pants, backpacks, caps, and everything a hiker would wear both on the mountain and out for a drink with friends.
Gorpcore BOLO brands

include Arc'teryx, Patagonia, Hunter, Oakley, Salomon, The North Face, Timberland, and La Sportiva. These brands are trending, so if you're selling them, use the brand as a hashtag!
You might use these hashtags

:

#gorpcore #gorp #utility #normcore #hiking #outdoors #earthy
Goth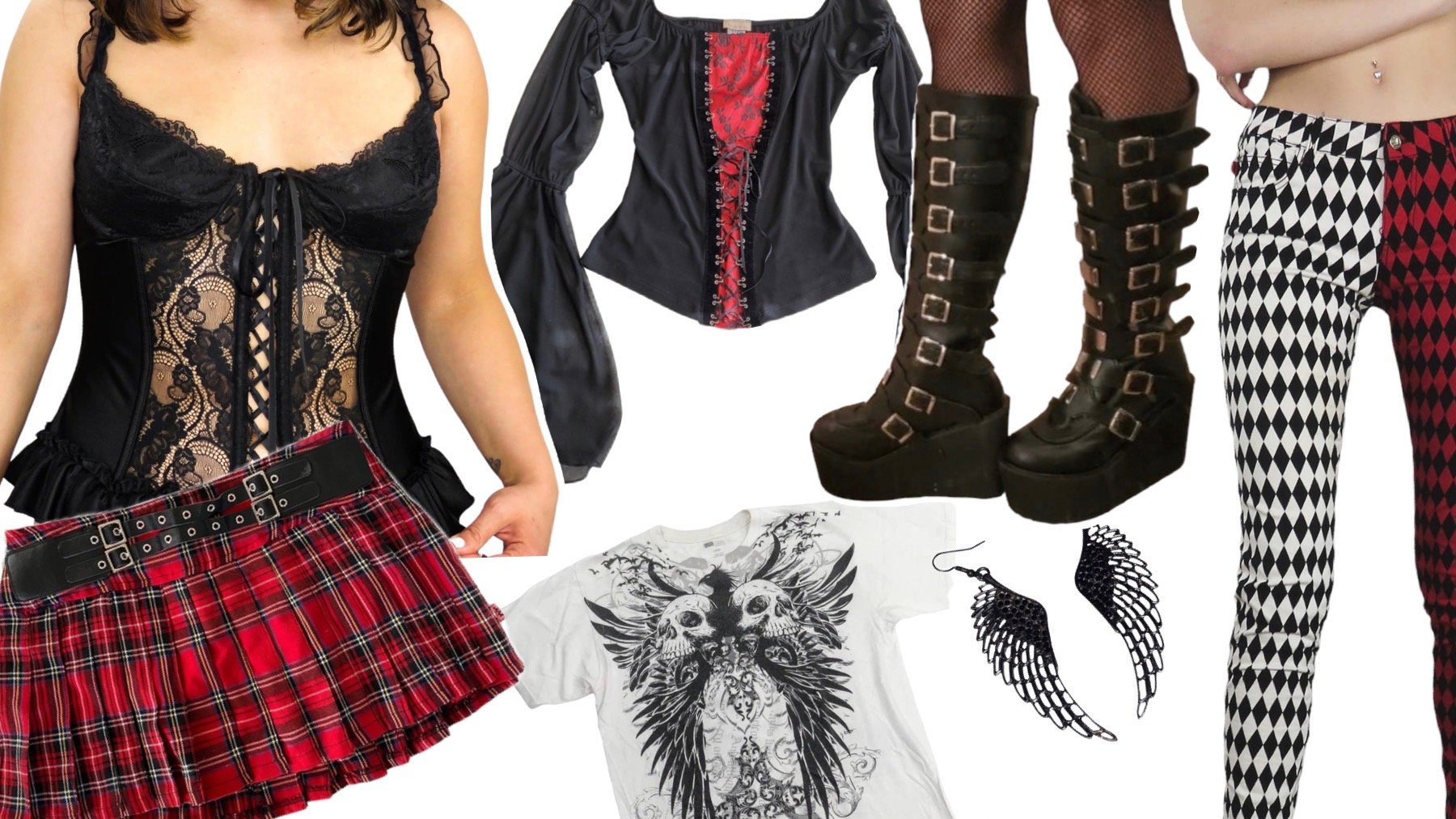 Goth

is a well-known style, originating in the 1980W. Goth celebrates the darker and creepier aspects of life, combining the dark and rebellious tones of punk with the romanticism of Victorian style.
Modern goth, as popularized by stores like Hot Topic is a lot edgier and a lot less romantic, but you will still see corsets, lace, crosses, and other Victorian influence. You'll also see studs, skulls, chains, and other edgy punk fashion details.
Classic goth items include chunky platform boots, leather, buckles, oversized pants, pants with chains, corsets, mini skirts, and lots of black!
Goth Aesthetics & Styles
There are so many goth aesthetics and sub-categories of gothic style including
Mall Goth:
a y2k goth style and Hot Topic's glamorized spin on gothic fashion.
Cute Goth

:

a youthful spin on classic goth fashion with pastel colors and kawaii vibes (Learn about cute goth above).
Gothic Lolita:

best characterized as coquette x goth; a Victorian-inspired romantic goth. This aesthetic takes traditional romanticism but makes it

dark and creepy.

It's gothic but beautiful!
Witchcore:

this aesthetic takes influence from the

dark and creepy

side of goth, but it is more about the ethereal practice of witchcraft. Think of an

earthy, crunchy

goth look; that's witchcore!
Whimsy Goth:

or

whimsigothic

is like classic gothic themes with an ethereal, whimsical twist. There is often a lunar theme, and a surrealist, gloomy yet warm vibe, like you would see in a Tim Burton movie.
Whimsy goth is similar to witchcore, but less about spells and potions. If classic goth, fairycore, and cottage core had a baby…
This aesthetic is trending right now, it is one of the newest additions to Depop style tags.
If you didn't know, now you do: #Wednesdayaddams and #wednesdaycore are trending based on the classic character as well as Netflix's new series!
Popular goth brands

include Tripp NYC, Hot Topic, Dolls Kill, iGirl, KillStar, and Black Mast.
You might use these hashtags

:

#goth #gothic #gothgirl #gothcore #edgy #punk #alternative #emo #emogirl #emoboy #alternative #scene
Plus, don't forget all the
related aesthetic hashtags
: #whimsygoth #mallgoth #cutegoth #pastelgoth #witchcore #gothiclolita #victoriangoth
Grandmacore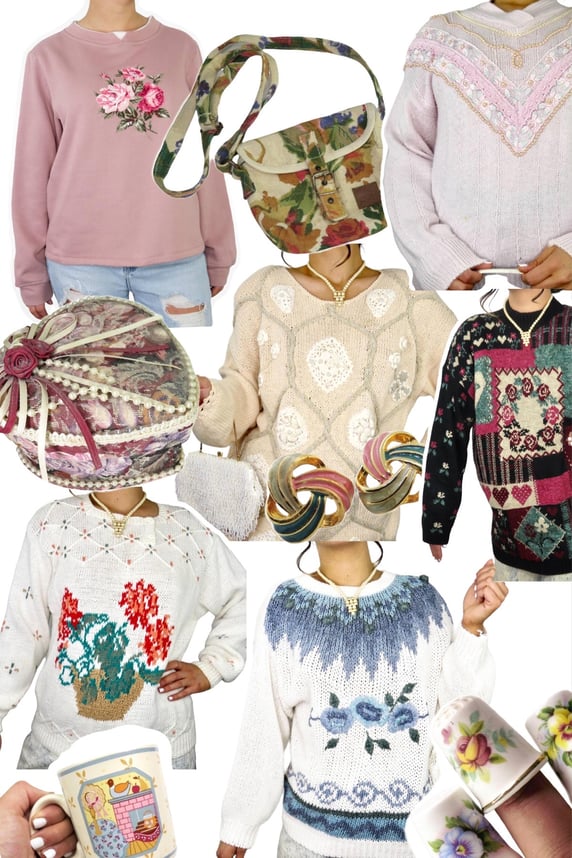 Grandmacore

or

grannycore
refers to stereotypical grandmother fashion and related things like knitting, crocheting, gardening, sewing, etc.
Think of anything your grandmother would wear- well, my grandmother- who was born in 1929… not necessarily your grandma who could be much younger. Grandmacore focuses on the 1970s-1990s retro styles for older women during that time.
Grandmacore is like cottagecore (above) but older and more retro. You'll see elaborate chunky knit sweaters, floral patterns, knits, chunky and gaudy accessories, etc.
Also see grandpacore, below! For items that are retro but unisex, you might use the hashtag #grandparentcore
You might use these hashtags

:

#grandmacore #grandma #grannycore #grandparentcore #knit #chukyknit #crochet #cottagecore #flowercore #vintage #retro
Grandpacore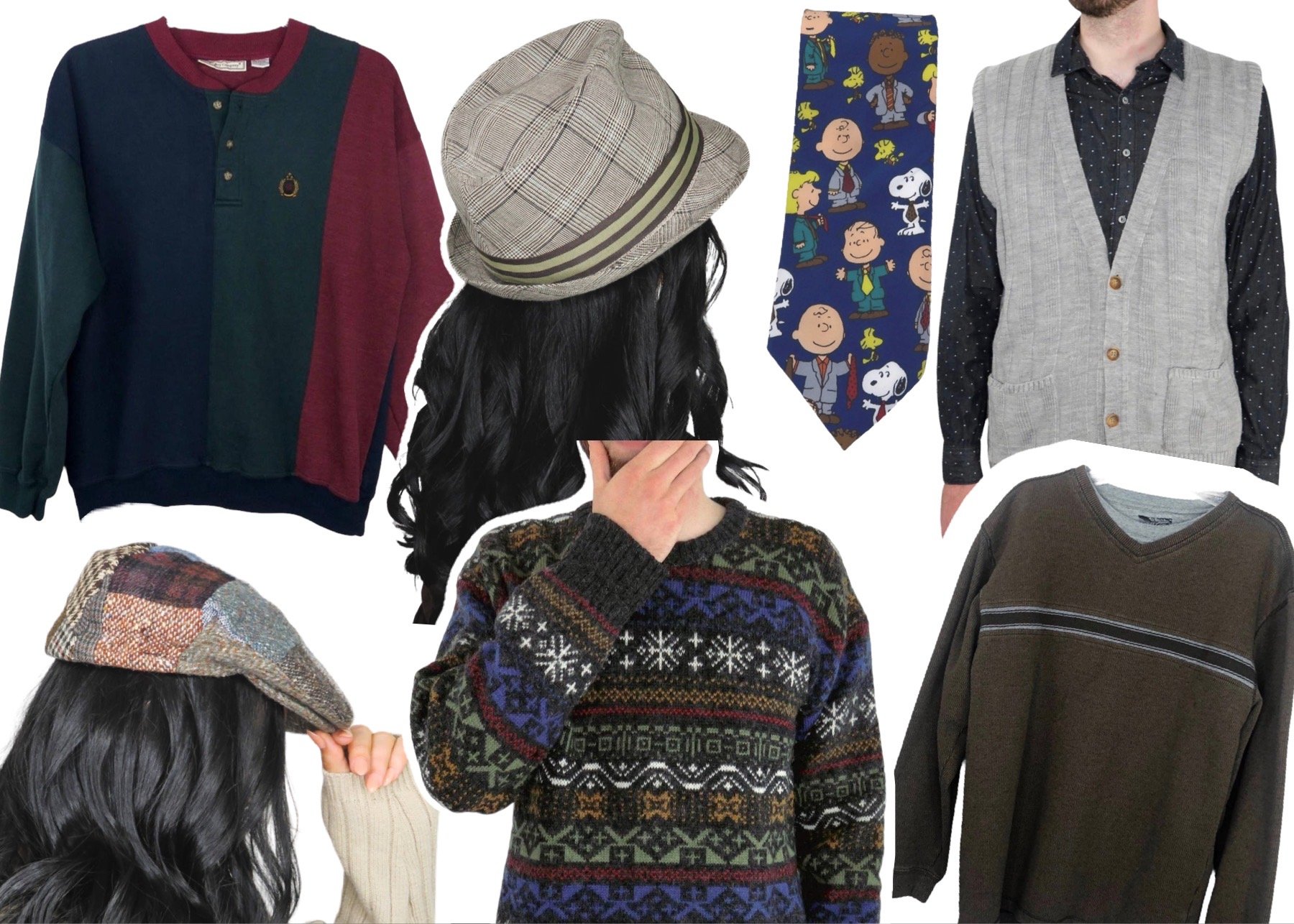 Grandpacore

refers to the stereotypical wholesome grandfather style. Essentially, it is classic old-man style with retro vibes.
This style was popularized with help from Maclamore in this song Thrift Store!
Like its female counterpart, Grandmacore (see above), Grandpa style is about vintage old man styles popularized in the 1970s-1990s.
Grandpa core style features chunky knit sweaters, cardigans, vests, argyle and plaid patterns, suspenders, bowties, high-waisted trousers, formal hats (newsboy hats and driver caps), leather shoes, and caps, and retro old man style!
If you didn't know, now you do: use the trending hashtag #grandpasweater for qualifying retro sweaters!



You might use these hashtags

:

#grandpacore #grandpa #grandpastyle #grandad #grandpastyle #grandpafashion #dadbod #grandparentcore #retro #vintage #knit
Heritage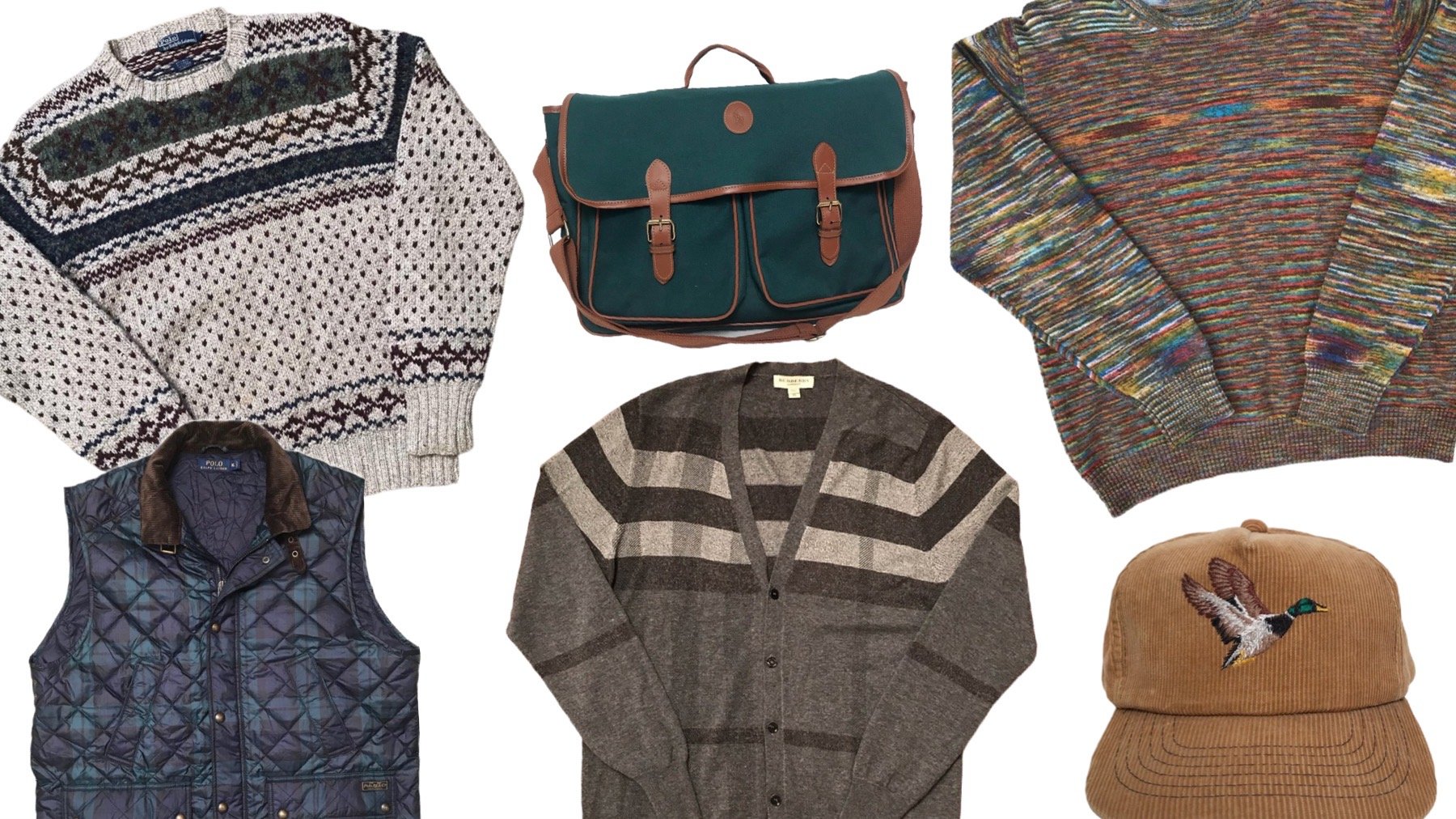 Heritage

fashion is intended to apply to classic American brands that provide durability and quality. However, the hashtag is commonly used on quality and popular utility and workwear brands and styles.
Heritage style is found in many other aesthetics: classiccore, grandpa-core, normcore, gorpcore, workwear. Heritage encompasses classic fashion, a touch of vintage, and a major emphasis on utility.
If you have seen Peaky Blinders, you have seen heritage fashion! You'll see wool overcoats, satchels, heavy work pants, corduroy material, leather shoes, and flat caps!
Classic heritage brands

include Ralph Lauren, Patagonia, Timberland, and Carhartt.
You might use these hashtags

:

#heritage #heritagestyle #utility #outdoors #quality
Don't forget, heritage often overlaps with other aesthetics

:

#classiccore #gorpcore #grandmpacore #workwear #normcore
Kawaii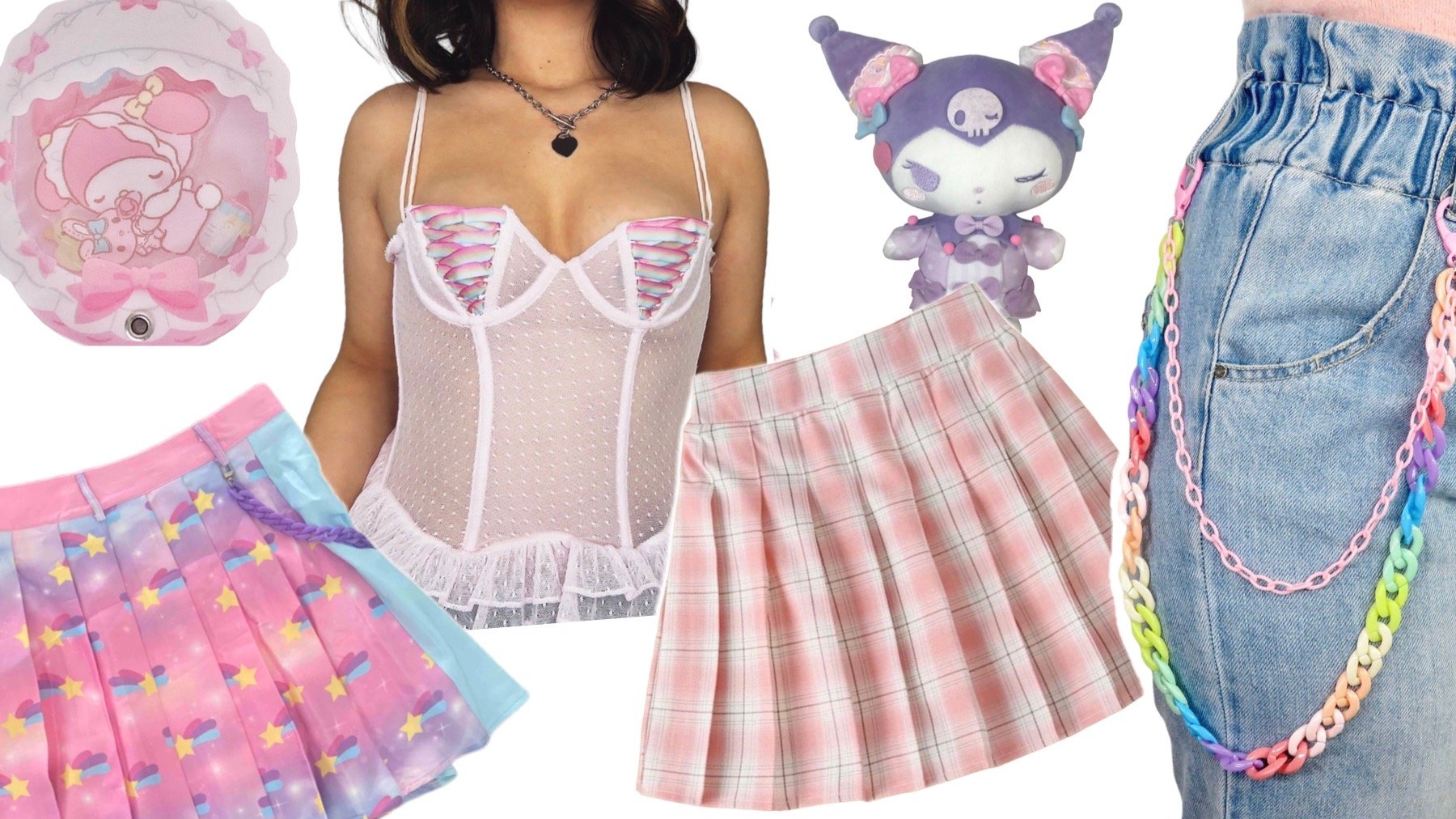 Kawaii
is cute, youthful Japanese aesthetic, often characterized by the adorable consumer culture of Japan. Kawaii is about a vibrant explosion of bright and pastel colors, that is adorable and pays tribute to Japanese pop culture.
Kawaii means "cute" in Japanese, and the kawaii style is literally the cutest. Kawaii is very broad with many sub-aesthetics, but American social media over-generalizes kawaii to mean "chibi," pastel, Japanese youthfulness; almost like cutegoth, but with more anime and cultural influence. Kawaii is popularized by K-pop boybands!
You might use these hashtags

:

#kawaii #kawaiiaesthetic #kpop #animegirl #chibi
Kidc

ore

Kidcore
is an aesthetic centered around nostalgic youth from the 1990s and early 2000s. Kidcore is youthful, retro, nostalgic innocence.
Kidcore is about kids' fashion with an influence from cartoons and pop culture. You will see primary colors, rainbow colors, and sometimes pastels. Basically, think of the color schemes in classic kid toys!
Classic kid core pieces include sneakers, overalls, striped socks, baseball tees, tons of stickers, glitter, bows, sequins, retro hair clips, snap bracelets, and butterfly accessories. While trending Y2k focuses on teens in the 90s and early 2000s, kid core focuses on the little kids that were watching Rugrats at that time.
Jojo Siwa's look is very kidcore, but a lot more pink whereas kidcore generally has more primary colors.
Note that while many "youthful" aesthetics are sexy, kidcore is non-sexualized. It is about the innocence and fun of being a little kid.



You might use these hashtags

:

#kidcore #90sbaby #90skids #nickelodeon #nostalgia #nostalgic #vintagekids #cartoon
Mermaidcore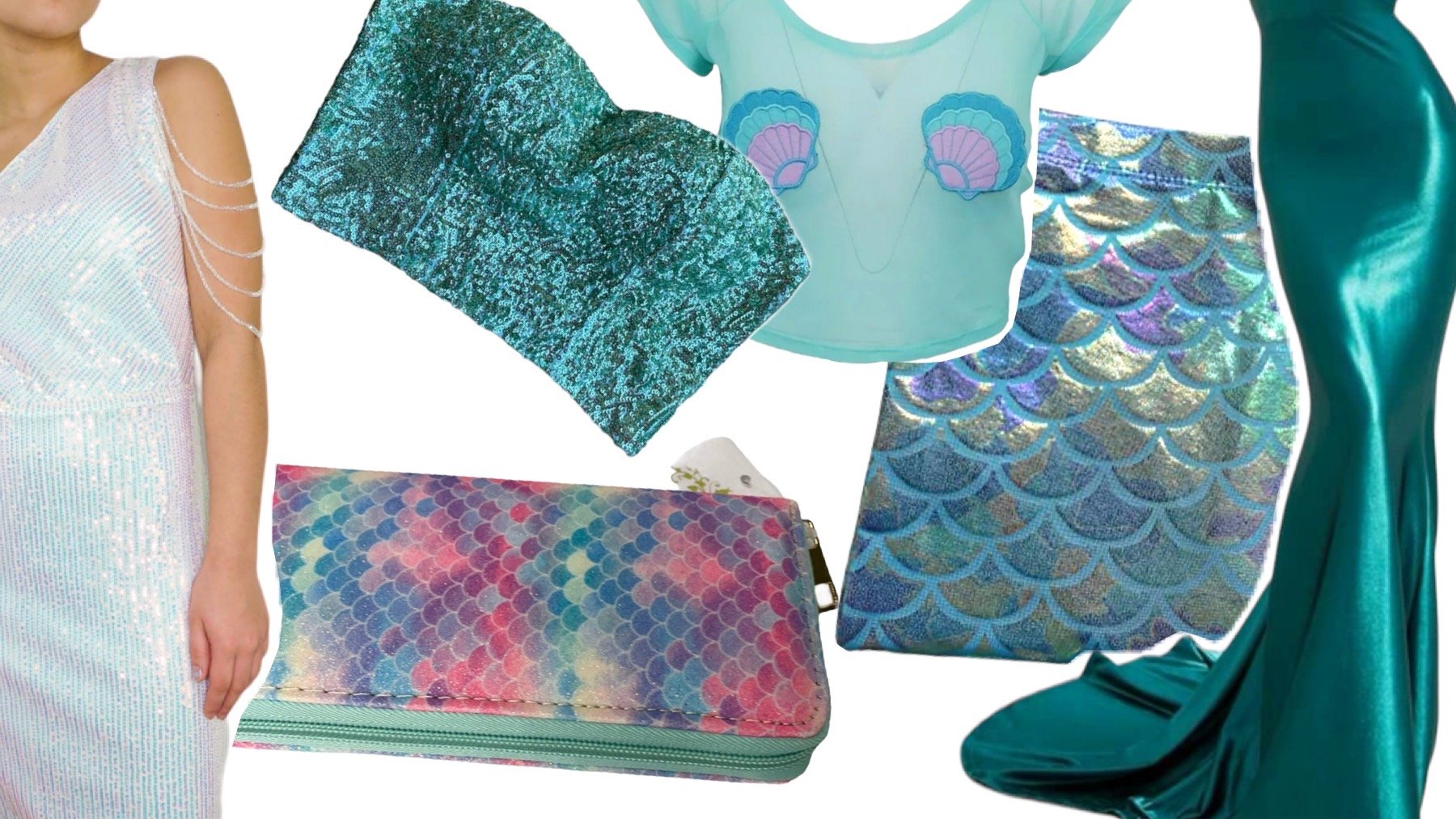 Mermaidcore is about mermaids, of course. Mermaids are beautiful fantasy creatures that are half human and half sea creatures. Stereotypical portrayals of mermaids are long-haired, gorgeous, women with iridescent aqua scales on their fishtails. The mermaid aesthetic supposes what mermaids would wear on land.
Most of the aesthetic is about the mermaid tail. The mermaid fashion is mostly about aquatic colors like blues, greens, and pearly opalescent tones. Mermaid textures are shiny, holographic, and iridescent.
Classic mermaid styles include many scales, shells, pearls, sequins, sparkles, and aquatic or nautical influences. You'll see slip dresses, halter dresses, lace-up tops, ruffles, and sequins! Sarah Paxton wears this style well in the movie Aquamarine.
You might use these hashtags:

#mermaidcore #mermaid #mermaidstyle #mermaidlife #nautical #aquascape #iridescent
Minimalist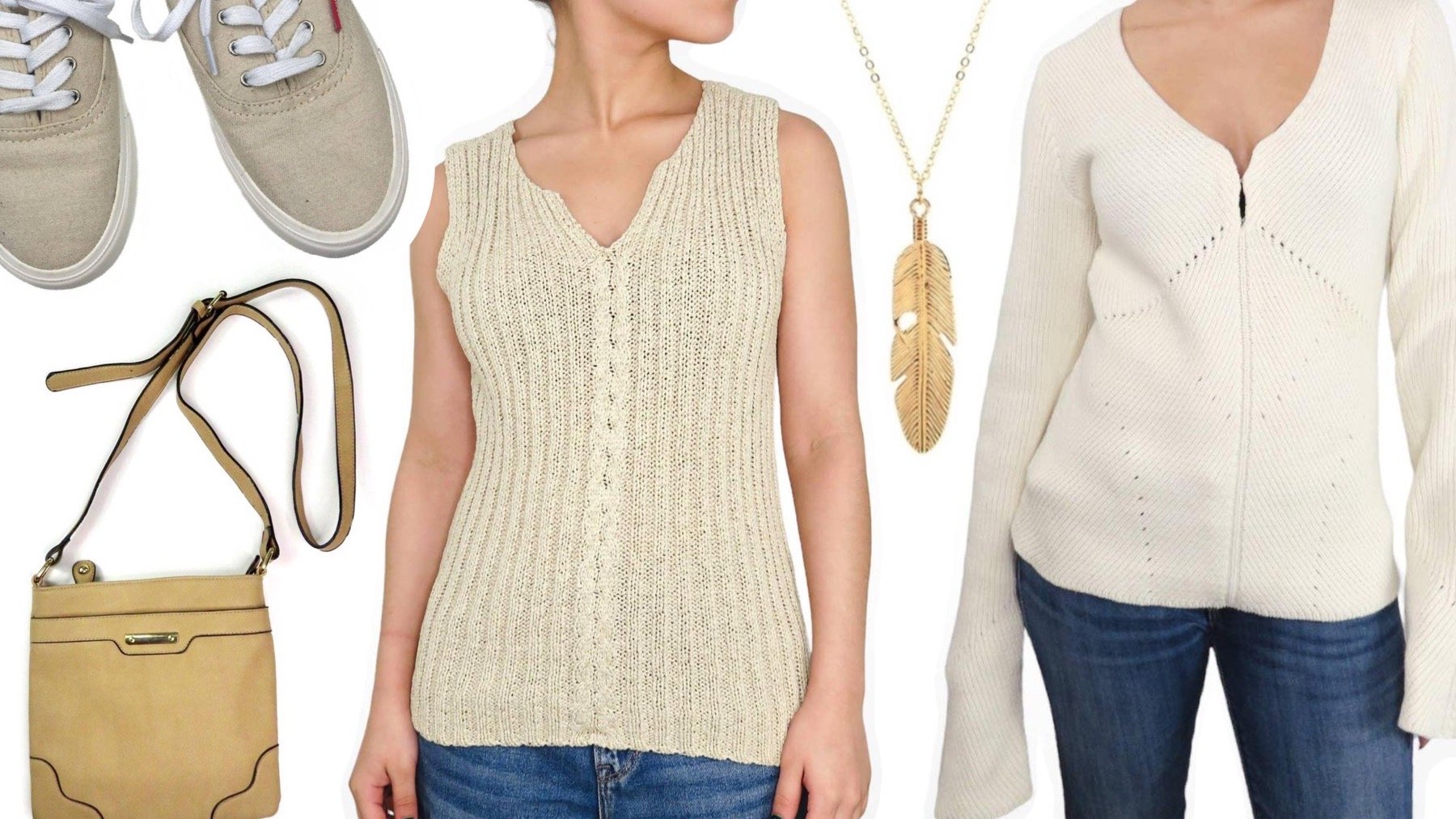 Minimalist
or minimalism is beautiful, clean simplicity. This aesthetic rejects clutter, vibrance, and unnecessary detail. Minimalism is a common trend in art, lifestyle, home decor, and fashion.
Minimalism as an aesthetic in the fashion context basically means plain and basic. Resellers use this hashtag as sort of a catchall for simple pieces. You won't use this to describe anything flashy, vibrant, colorful, funky, embellished, or loud. Instead, minimalistic items are quaint, simple, plain, understated, and small. Think of a simple, dainty necklace with a small pendant (like above), rather than a shiny, bedazzled, chunky, layered chain necklace.
Many pieces that you classify as "normcore" or "classiccore" will also be minimalist (as long as they're plain and simple, without complex patterns). This includes solid, neutral shirts, khakis, simple wash jeans, belts, and anything that is boring but classically simple.
You might use these hashtags:

#minimalist #minimal #minimalist #classic #simple #basic
Normcore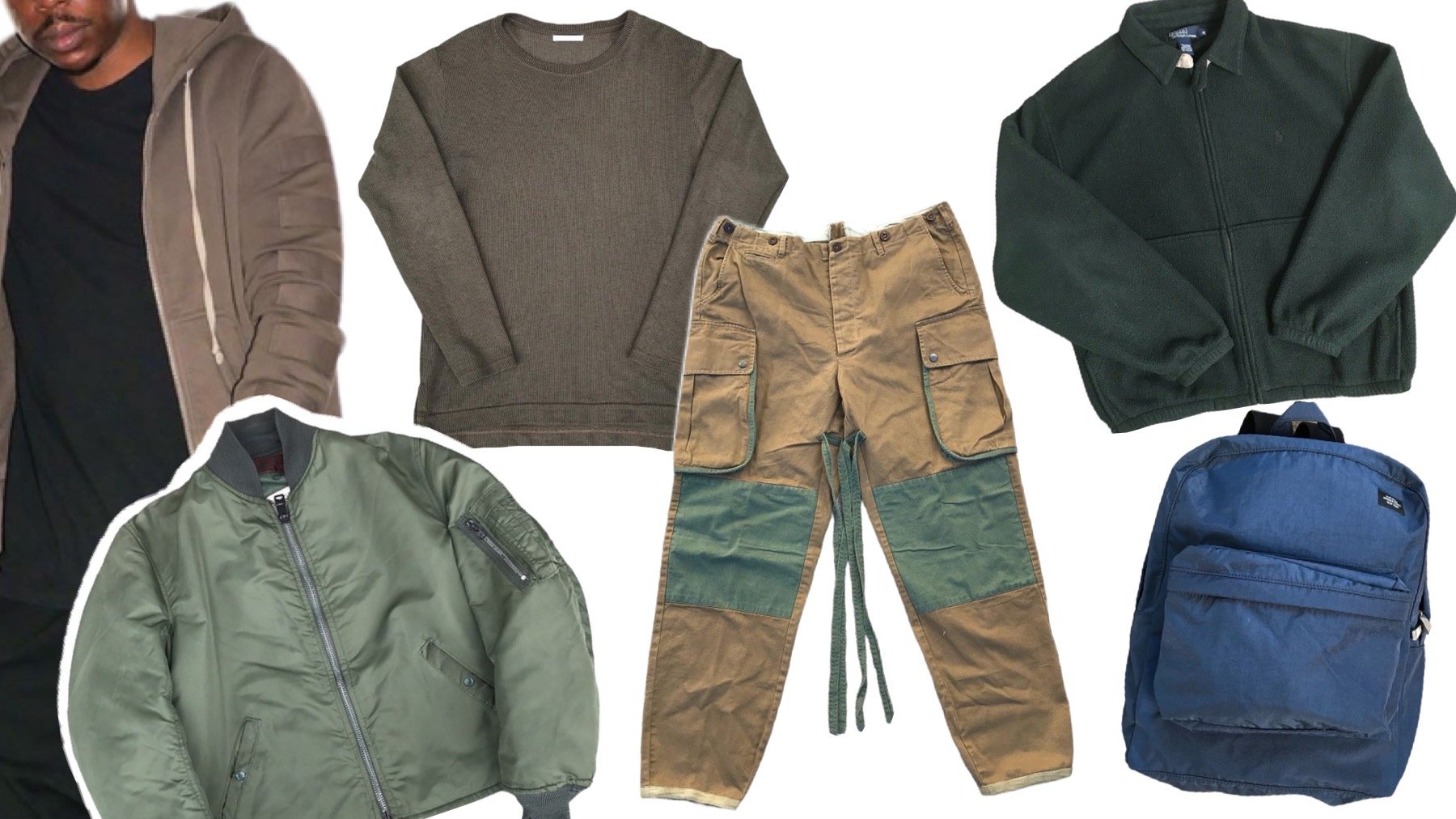 Normcore

is characterized by average, "normal" clothing. Normcore is classic, everyday wear, with a hint of retro classic vibes.
Generally, people think of the sitcom Seinfeld when they think of normcore, and the unpretentious, everyday life and style portrayed therein. You'll see basics: sneakers, caps button-down shirts, trousers, simple fabrics, sandals, and practical wardrobe basics that are not flashy nor formal.
You'll also see a lot of team or college logo hoodies. Think everyday wear, for dad. A lot of normcore is also

dadcore

. Normcore is often used alongside classiccore, heritage, and gorpcore.
If you didn't know, now you do: The opposite of normcore is weirdcore, an aesthetic to describe the unique, funky, and odd!
Bolo brands for classic normcore

include L.L. Bean, Ralph Lauren, and LEVIs.
You might use these hashtags:

#normcore #norm #dadcore #basic #classic #casual #everyday
Phoebe Buffay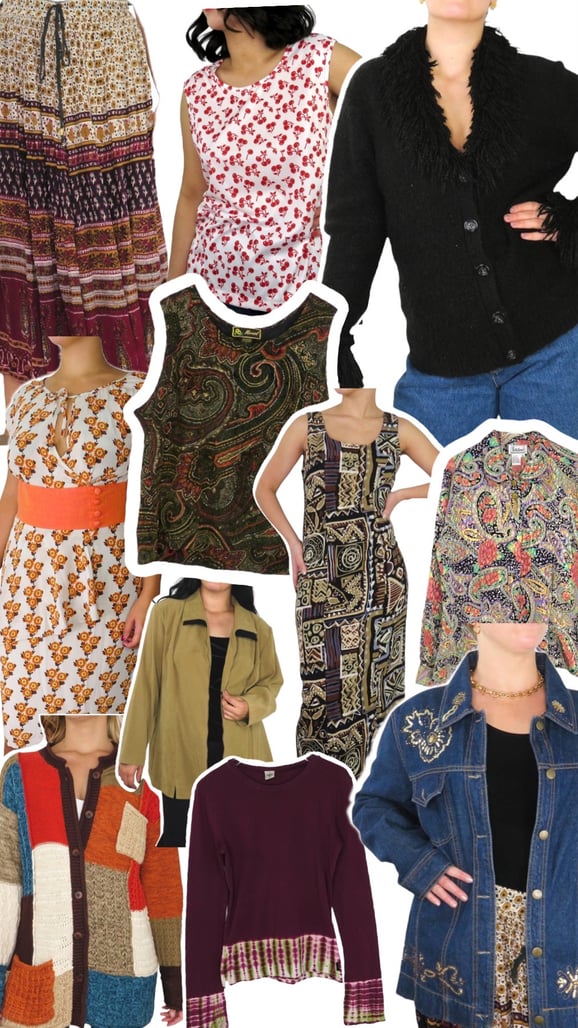 Phoebe Buffay

is about the famous and lovable Phoebe Buffay in the 90's sitcom Friends. Phoebe is known for her quirky, bohemian/hippie style, her witty charm, and her music.
Smelllllllllllllly cat, smelly cat, what are they feeding you? If you know the words to this song, then you know this aesthetic.
The best way to know this aesthetic is to know her character and personality on the show. Phoebe has an eclectic unique style with bohemian and hippie influences. Her wardrobe would have been all thrifted! She never dressed like Rachel, wearing what was trending, she marched to the beat of her own drum, a funky, fashionable drum.
Phoebe's style staples include long skirts, vibrant colors, fun patterns, mix-matched and layered pieces, chunky knit sweaters with patterns, denim, and fun hats and accessories; all with a hint of hippie and bohemian influence.
To be clear, the aesthetic is not just for items that identically match what Phoebe wore on the show, but anything that Phoebe would wear based on her persona, and lifestyle. It's about the Phoebe vibes!
If you didn't know, now you do.

Both "hippie" and "hippy" are correct, they both yield a similar number of results on various reselling marketplaces. You might use both spellings!
You might use these hashtags:

#phoebebuffay #centralperk #bohemian #1990s #90sstyle #hipp
Preppy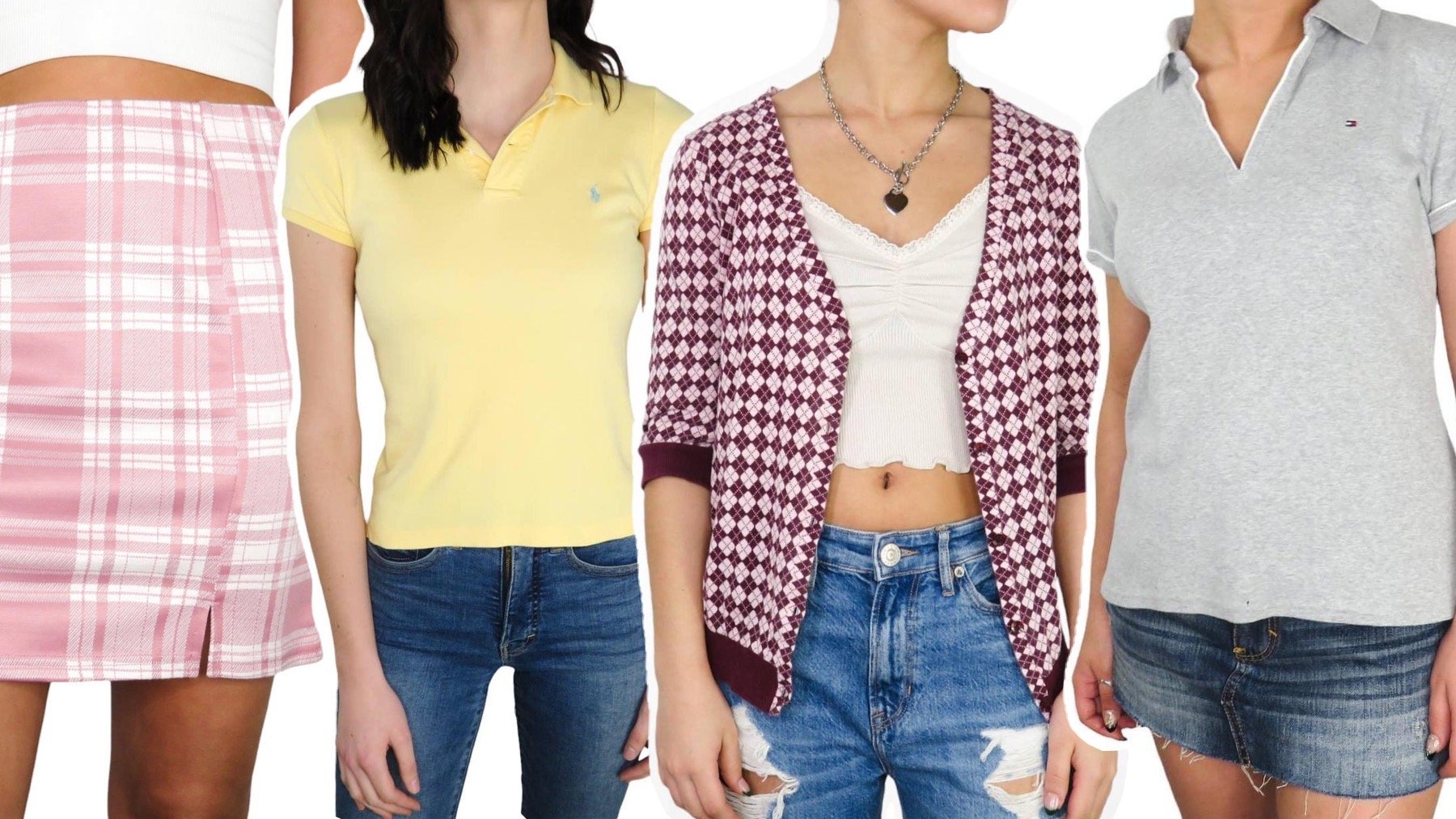 Preppy

("

preppie"

in the UK, sometimes abbreviated as "

prep"

) are all forms of the word preparatory, which refers to the historical wealth and prestige of prep school students; the well-dressed rich kids in private schools. The preppy style encompasses the class, wealth, traditionalism, and etiquette of this upper-class lifestyle.
The most stereotypical portrayal of the prep aesthetic is inspired by prep school uniforms; plaid and argyle patterns, cardigans, half-zip sweaters, ties, Oxford button-downs, polo shirts, loafers, and pleated skirts.
Preppiness influences so many of the cores and aesthetics on this list!
You'll also see chinos, florals, sundresses, knits, peacoats, vests, boat shoes, diamond jewelry, neckties, bowties, scarves, and other upscale classics. This style is epitomized by the movies Clueless and Breakfast at Tiffany's and the dramatized portrayal in the characters "Connecticut Girl" and "Boston Girl" by Shannon Fielder on TikTok.
Preppy BOLO brands

include Barbour, Burberry, Brooks Brothers, J.Crew, L.L. Bean, Lacoste, Lilly Pulitzer, Pendleton, Ralph Lauren, Vineyard Vines, Marc Jacobs, and Draper James.
You might use these hashtags:

#preppy #prep #preppie #preppystyle #schoolgirl #knit #plaid #academia #ivyleague #university #career
Punkcore
The punk aesthetic

is historically influenced by the punk rock movement of the 1970s. As a chronological juxtaposition to the

peace and love hippie movement, punk is about loudness, abrasiveness, and aggressive rebellion. This movement was highly political and very abrasive. These vibes influence the modern punk fashion aesthetic.
Like rock and roll but a little more hardcore, punk fashion is rebellious, grunge, and tough. Common punk fashion includes studs and spikes, leather, dark colors, distressing, and tartan plaid.
Resellers typically use the hashtag punk to describe pieces that are a little edgy and grunge; a combination of goth x rocker.
You might use these hashtags:

#punk #punkcore #punkfashion #punkmusic #punkstyle #punkgirl #edgy #leather #punkrock #music
Rainbowcore
Rainbowcore

, often just called

rainbow

is centered around rainbow colors and LGBTQIA+ pride. 🏳️‍🌈
This aesthetic is about acceptance, respect, and the celebration of the LGBTQIA+ (
lesbian, gay, bisexual, transgender, intersex, queer/questioning, asexual
, plus others), and allies and supporters.
This hashtag is not just for anything colorful, the focus is the actual rainbow; so the colors are in order of the "ROYGVB" spectrum like the gay pride flag. The aesthetic includes anything and everything with rainbow colors, words or graphics that celebrate these communities, and vibrant fashions that you would see at a Pride event.
You might use these hashtags

:

#rainbowcore #rainbow #rainbowflag #LGBTQIA #LGBTQ #gaypride #queer #pridemonth
Scroll to the bottom of the blog to see our note about using hashtags and keywords appropriately and respectfully.
Retro Glam
The

Retro glam aesthetic

is about upper-class, formal, chic businesswear. This style is influenced by formal fashions of sophistication, royalty, class, and prestige.
It is retro, but it's glam; it's giving rich family heir vibes. This style is epitomized by the late Queen Elizabeth and the entire royal family. Kate Middleton is a modern example of this classy and powerfully preppy style, where you'll see a lot of tweeds, skirt sets, houndstooth and plaid patterns, bows, collars, lapels, pumps, handbags, elaborate hats, and pearls.
Many designers like Chanel, GUCCI, St. John, and Herve Ledger, create classic retro glam collections, but they're also produced by mall brands and classic prep brands.
You might use these hashtags:

#retroglam #modernroyalty #royalty #regal #tweed #skirtsuit #careerchic #formal #businessformal #businessprofessional
Rocker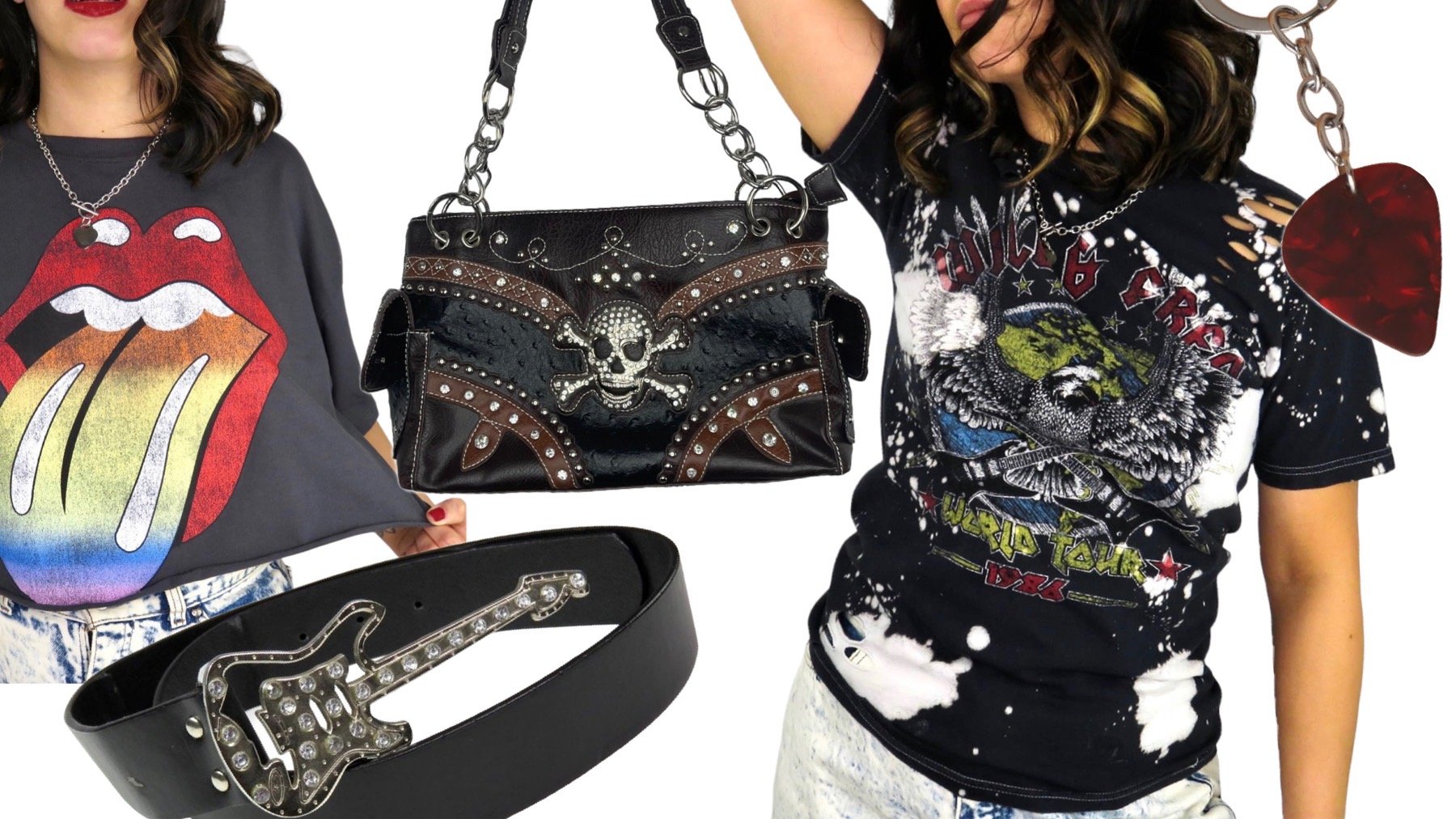 Rock or

rocker

is a general hashtag and aesthetic that surrounds rock music and the rock and roll lifestyle and fashion. With a heavy musical influence, this style embodies art and expression with a little edge and punk spirit.
Rocker style classically celebrates drugs, sex, and rock and roll. This includes all things music like band tees, concert tees, guitars, skulls, roses, studs, and lots of leather!
This aesthetic also encompasses anything a rock artist would wear. If you think of the style of Lenny Kravitz, Axl Rose, Billy Idol, and others, they all have unique and exaggerated fashion! Rock and roll is about artistic expression, rebelliousness, and total badass vibes.
Rock Aesthetics & Styles
There are so many rock aesthetics and sub-categories of rocker style including
Glamrock

: classic rock, but with a little more feminine sex appeal, rhinestones, and pink!
Punkrock

:
a more youthful and feminine aesthetic, popularized by Avril Lavigne in the early 2000s.
Rockabilly

:
a popular style that is a merging of
rock x hilbilly,
surrounding 1950s fashion, pin-ups, vintage cars, and retro diner vibes. Here, you'll see a lot of Elvis style and leather!
Gothrock
: a
darker
and more hardcore sub-aesthetic of rock with a heavier metal influence.
Generally, these sub categorizations matter more to music lovers to properly define the genre of music than they do to shoppers looking for a specific type of fashion. That said, if you use these hashtags appropriately, you'll attract the perfect buyers, who are also music lovers, looking for their specific vibe.
If you didn't know, now you do: Anything related to music will sell very well because, for music lovers, music is life. Never leave a well-known band tee or concert tee at the thrift! Almost every band and genre itself is a trending hashtag.
You might use these hashtags:

#rock #rockandroll #rocker #rockerchic #rockmusic #music #rockart #punkrock #edgy #grunge #rockabilly #gothrock #glamrock #classicrock
Skater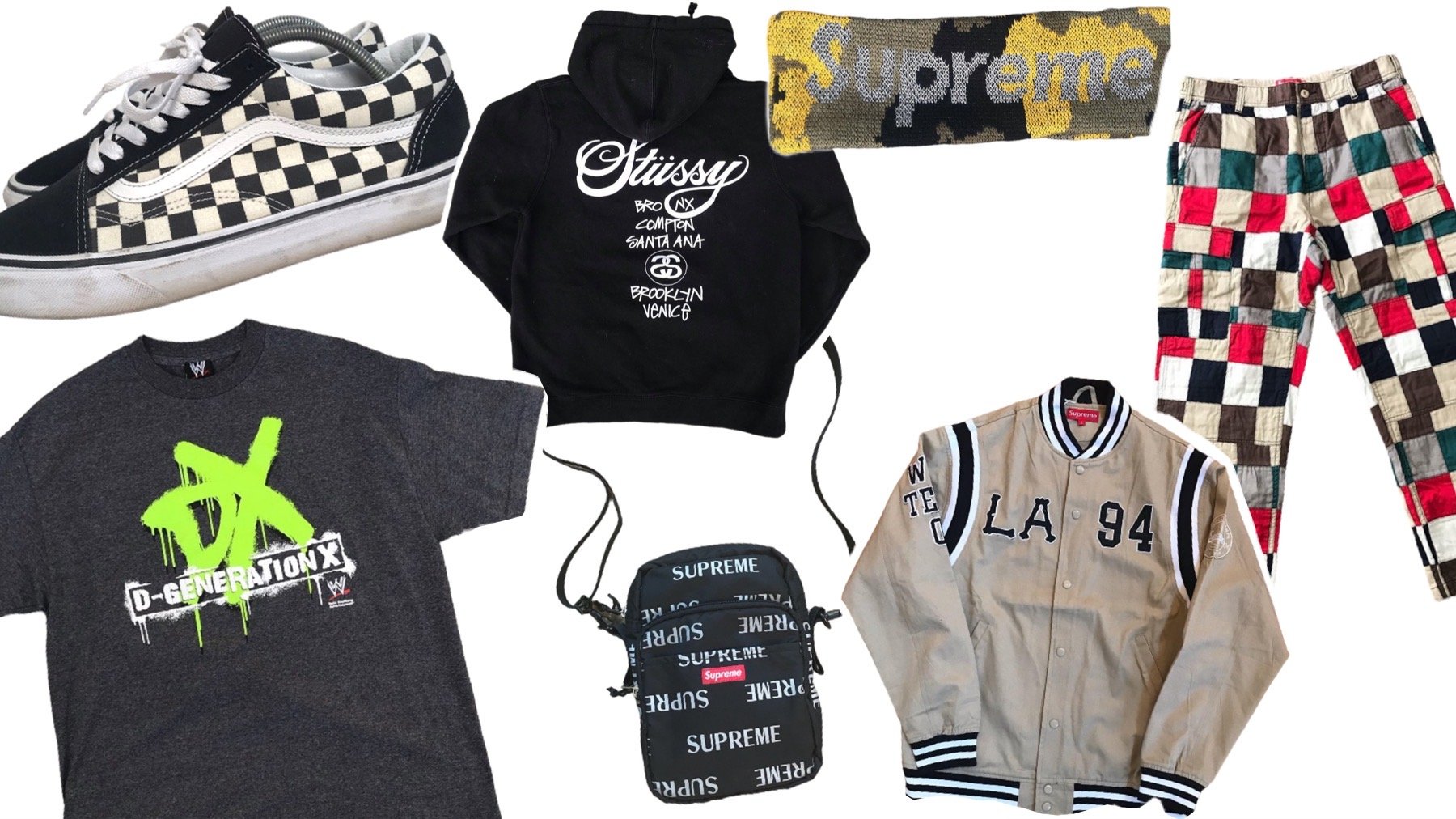 The skater

aesthetic

is centered around skateboarding and the skate park vibe. Skateboarding has been popular since the 1940s in the United States.
Skater style is popular even for people who don't skateboard. A lot of people love this style, where you'll see a lot of baggy shirts, flat-bottom sneakers, logo tees, baggy pants, skinny jeans, tall socks, and caps.
If you didn't know, now you know: the hashtag #skatergirl is trending for women's skater style.
BOLO brands for skaters

include Empyre, Vans, Stussy, Thrasher, DGK, Obey, Primitive, HUF, and so many others! All of these are good hashtags.
You might use these hashtags:

#skater #skate #skateboard #skaterpunk #skatergirl #skatelife
Southwestern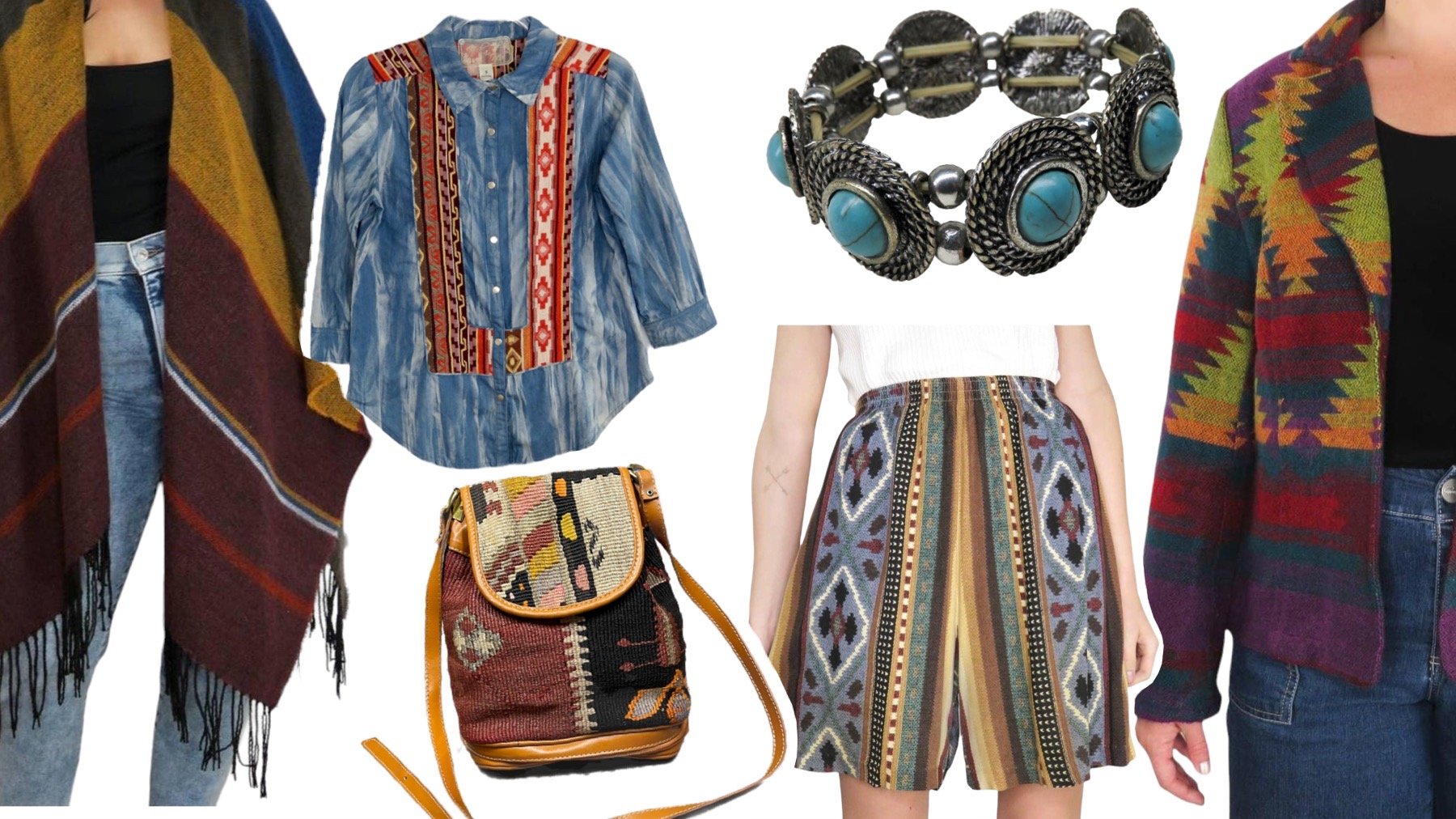 The Southwestern aesthetic

is like Western, but with a hint of bohemian. You'll see a fusion of the historical Western cowboy influence but with bohemian colors and patterns.
#bohowestern is a trending hashtag that is the perfect mix of traditional Western and Bohemian styles. You'll see the classic western cowboy styles, leather, tassels, turquoise, and warm tones, and turquoise, but with vibrant colors and Aztec patterns from the Bohemian style. It's more glam Western but not as glam as the eclectic Bohemian style.
Also see traditional Western below.
Southwestern style is very popular. Lucky Brand and Sundance are commonly known for this style. You'll also see it in Anthropologie brands. Designers like Ralph Lauren feature this aesthetic in the Denim & Supply Line and the 50th-anniversary collection.
You might use these hashtags:

#southwestern #bohowestern #southernbell #western #country #rodeo #santafe
Sportswear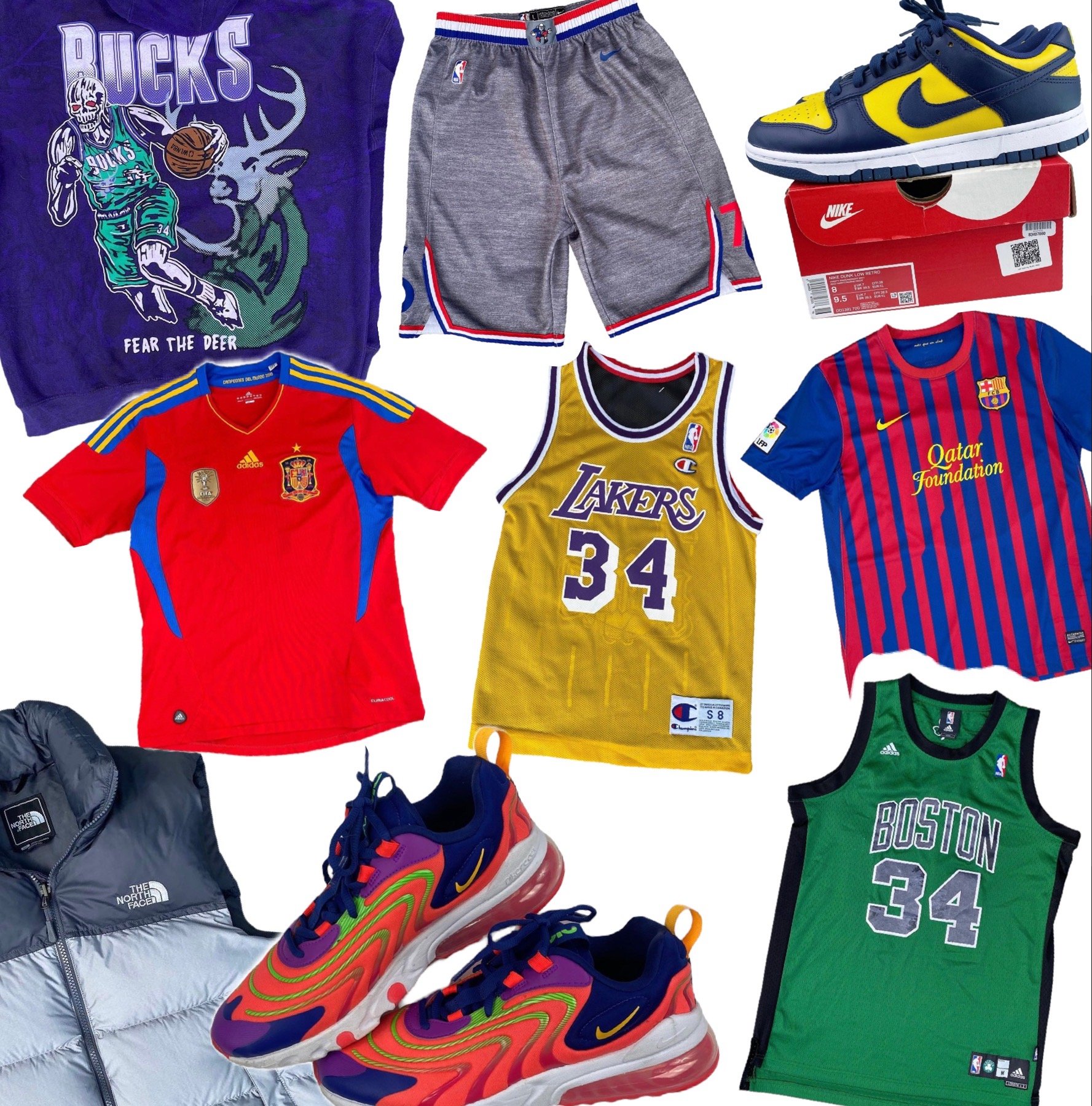 Sportswear is a broad fashion term that includes both

activewear

that one would wear to play sports as well as professional sports merch and

team wear

. Modern sportswear has an urban influence, and you'll see a lot of crossover with the streetwear style (see below).
Sportswear is about athleticism; activewear including sneakers, biker shorts, tank tops, running pants, windbreakers, and anything you would wear to work out.
Sportswear is also about professional sports and team wear; you'll see jerseys, caps, and merch from all types of sports.
There is a crossover between athletic style, team wear, and streetwear, as many brands make fashions that represent all three! Nike, for example, makes performance wear, everyday wear, and streetwear collections, and collaborates with teams and athletes, too!
If you didn't know, now you know: Keep an eye out for pieces that are part of brand collabs! When brands collaborate with other designers, athletes, and companies, some of these pieces are incredibly valuable!
Other sportswear brands

include Nike, Adidas, Air Jordan, Reebok, Under Armour, Champion, Columbia, and New Balance.
Plus, don't forget the Athleisure brands and styles (see above).
Steampunk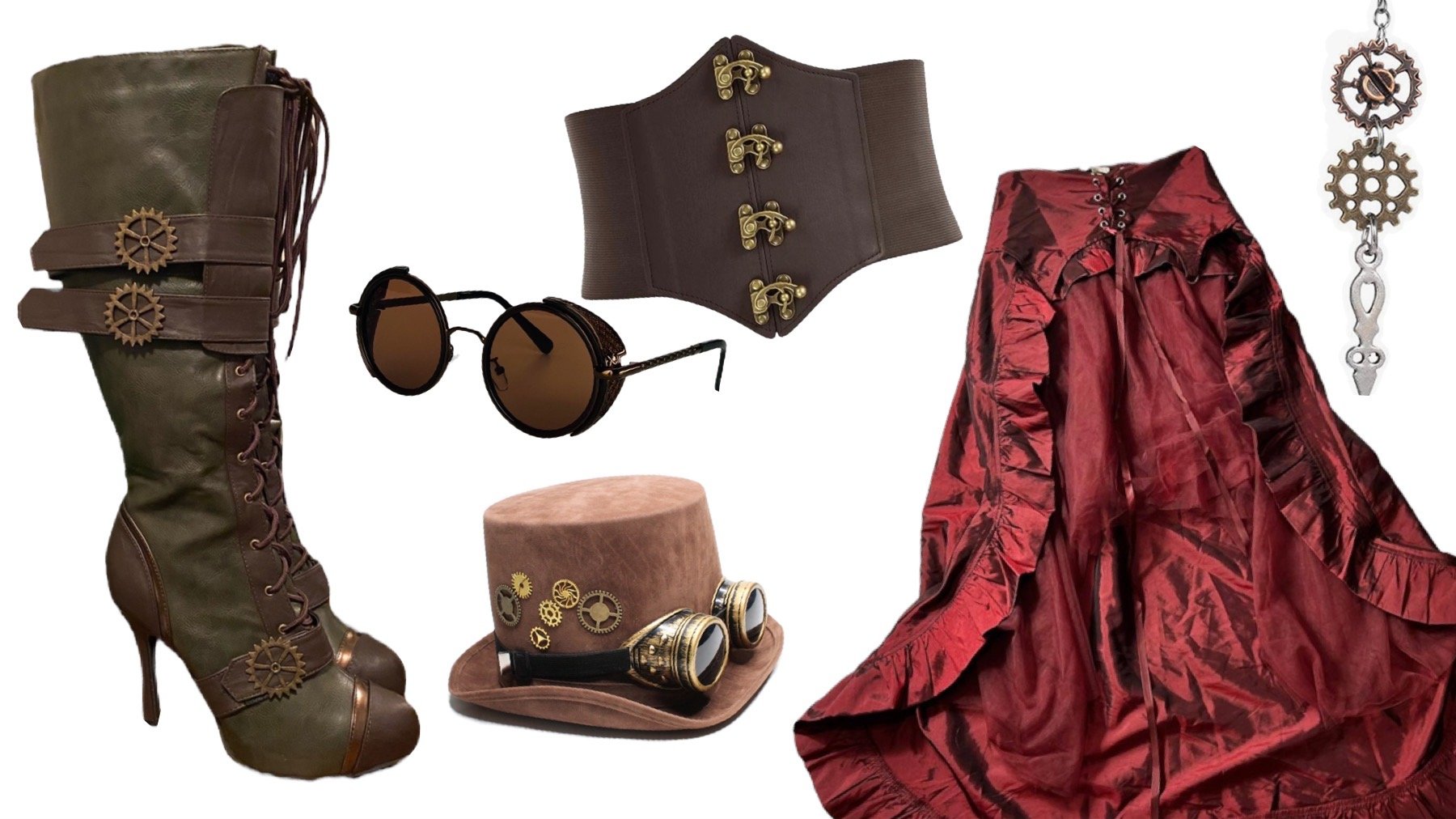 Steampunk

is about the fusion of Victorian-era fashion and the technology of the Industrial Revolution. The "steam" in steampunk is an ode to the steam-powered engines and gears in the industrial revolution.
Steampunk is about elegance with a touch of ruggedness, where you'll see the use of leather, brass, gears, and goggles. Think top hats, waistcoats, corsets, bustles, and lace-up boots. The retro glam Steampunk look is not complete without accessories like pocket watches, monocles, and parasols. Steampunk is highly accessorized with headgear, jewelry, sunglasses, and accessories with gears and gadgets!
Designers like Alexander McQueen, Vivienne Westwood, and Christian Dior have created collections that embody this Steampunk Retro glam aesthetic. You can also find pieces from indie Steampunk brands like Clockwork Couture, Steampunk Emporium, and The Black Rose.
You might use these hashtags:

#steampunk #industrial #gothicartist #victoriangoth #gothica #vampiric #steampunkworld #steampunkdesign #steampunkjewelry #steampunkcostume #steampunkfashion #steampunkart
Streetwear

Streetwear

is athletic wear with an urban influence. Streetwear was popularized in the 1990s when athletic companies started to produce casual fashion. The streetwear definitely has some retro vibes and some hip-hop influence; tributes to it's history and the lifestyle.
Streetwear is a top-selling category on Depop and Grailed. Streetwear brands and styles are hot right now, especially when classic athletic brands make street collections.
Streetwear is broad, encompassing everything from everyday wear from athletic companies to the edgier styles influenced by the urban lifestyle. Many musicians and celebrities epitomize this style such as Drake, Hailey Bieber, and Travis Scott.
Classic streetwear styles include sweatpants and joggers, sneakers, track pants, graphic t-shirts and hoodies, caps and beanies, crewneck pullovers, varsity jackets, distressed jeans, and anything relaxed, casual, athletic, and cool!
BOLO brands for streetwear

include Nike, Adidas, Supreme, Stussy, Campion, FILA, Palace, Primitive, Reebok, and New Balance. Use any of these as a hashtag for relevant pieces!
You might use these hashtags:

#streetwear #streetstyle #urban #hiphop #menswear
Techwear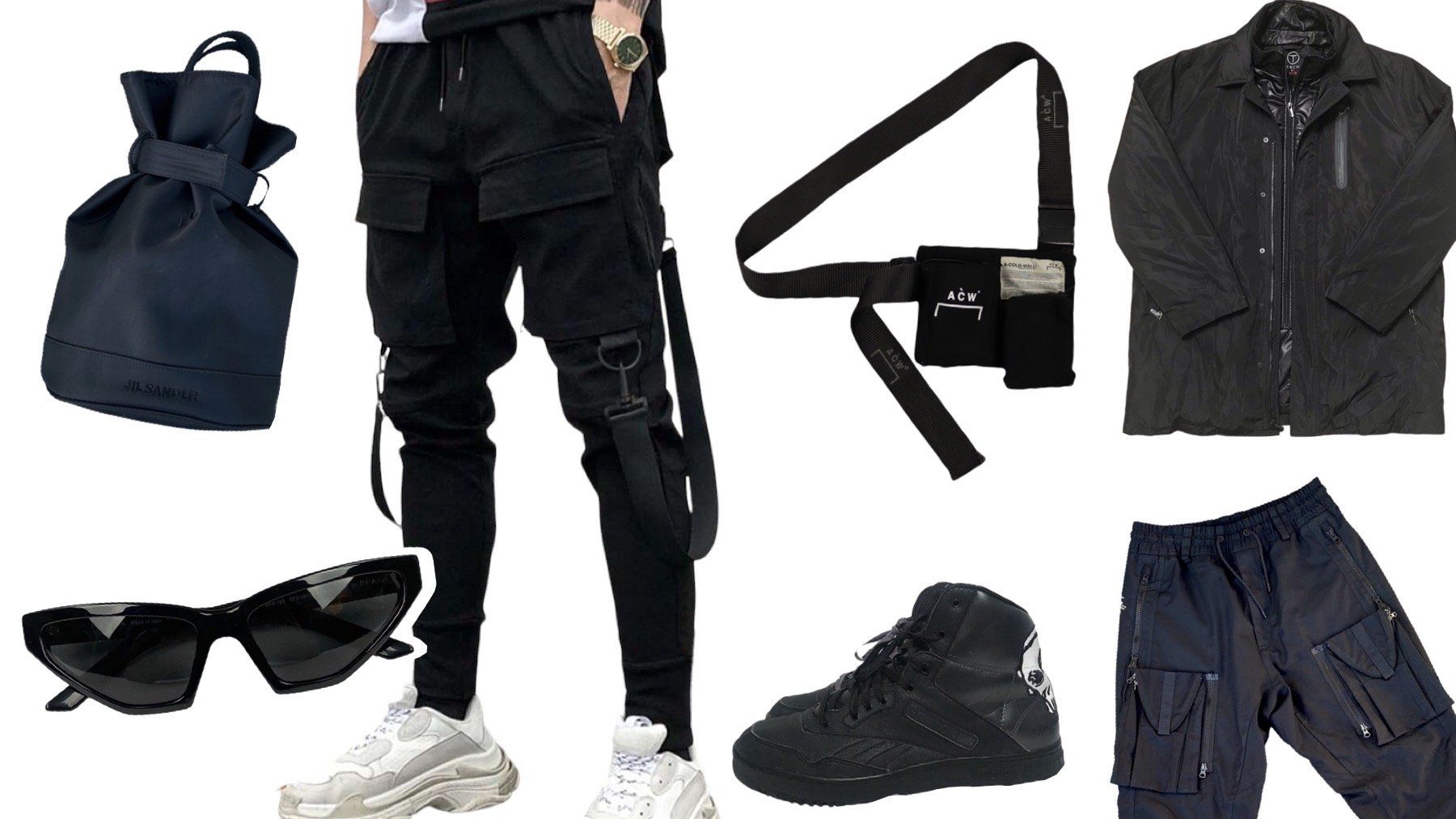 Techwear

is all about function, innovation, and the intersection of technology and fashion. It's about creating garments that are durable, weather-resistant, and multifunctional, while also being stylish and modern.
This style is influenced by outdoor gear, tactical clothing, and futuristic fashion. Think waterproof jackets, cargo pants, utility vests, and technical fabrics like Gore-Tex, Kevlar, and reflective materials. The Techwear aesthetic also incorporates elements of cyberpunk fashion, with a focus on sleek and minimalist designs. You'll see a lot of black and geometric silhouettes and accessories.
The key to creating a Techwear look is to focus on function and versatility, with an emphasis on layering and accessories like backpacks, tech gadgets, and utility belts.
Brands like Nike, Adidas, The North Face, and Arc'teryx are leaders in the Techwear space, but you can also find affordable options from fast-fashion retailers like H&M, Zara, and Uniqlo.
You might use these hashtags
:
#techwear #functionalfashion #tactical #Outdoor #contemporary #futuristicfashion
Twee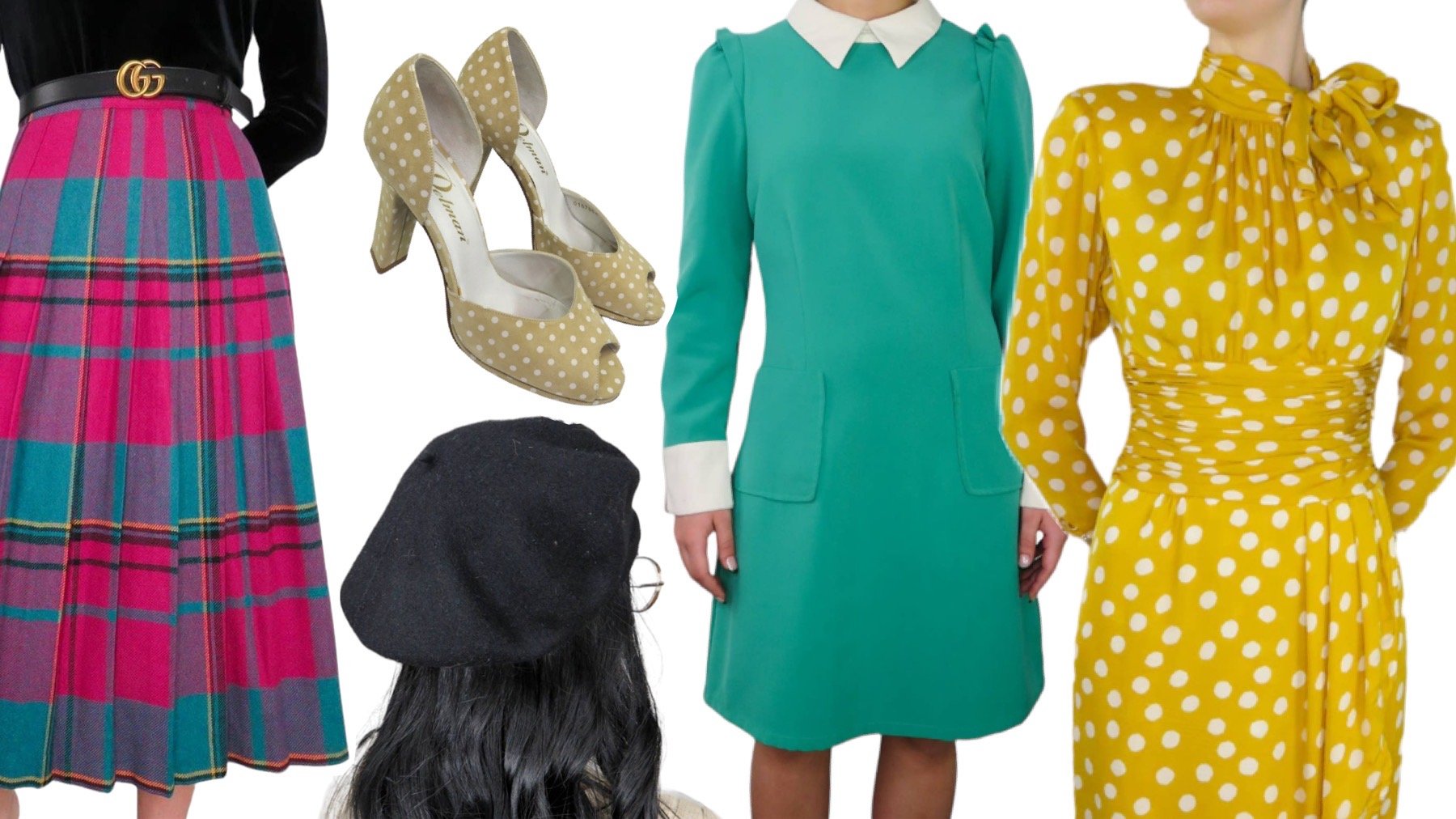 Twee

is a British term meaning dainty, delicate, cute, or quaint. Twee fashion is characterized by quirkiness, youthful, and whimsy, fashion with cheerful retro, indie, and preppy influences.
Twee is a historical term (that was actually a derogatory slur at one time) but has been re-defined and popularized modernly by TikTok.
Twee is like hipster, but cuter, quirkier, and more fashionable. You'll see quirky fashion like bright colors, classic patterns like polka dots, peter pan collars, cat-eye glasses, plaid dresses, puff sleeves, statement tights, hats, and fun hair accessories! Think of Lily Collins in Emily in Paris or Zooey Deschanel in New Girl.
You might use these hashtags:

#twee #retro #quirky #indiepop #cute #quirky #retro
Western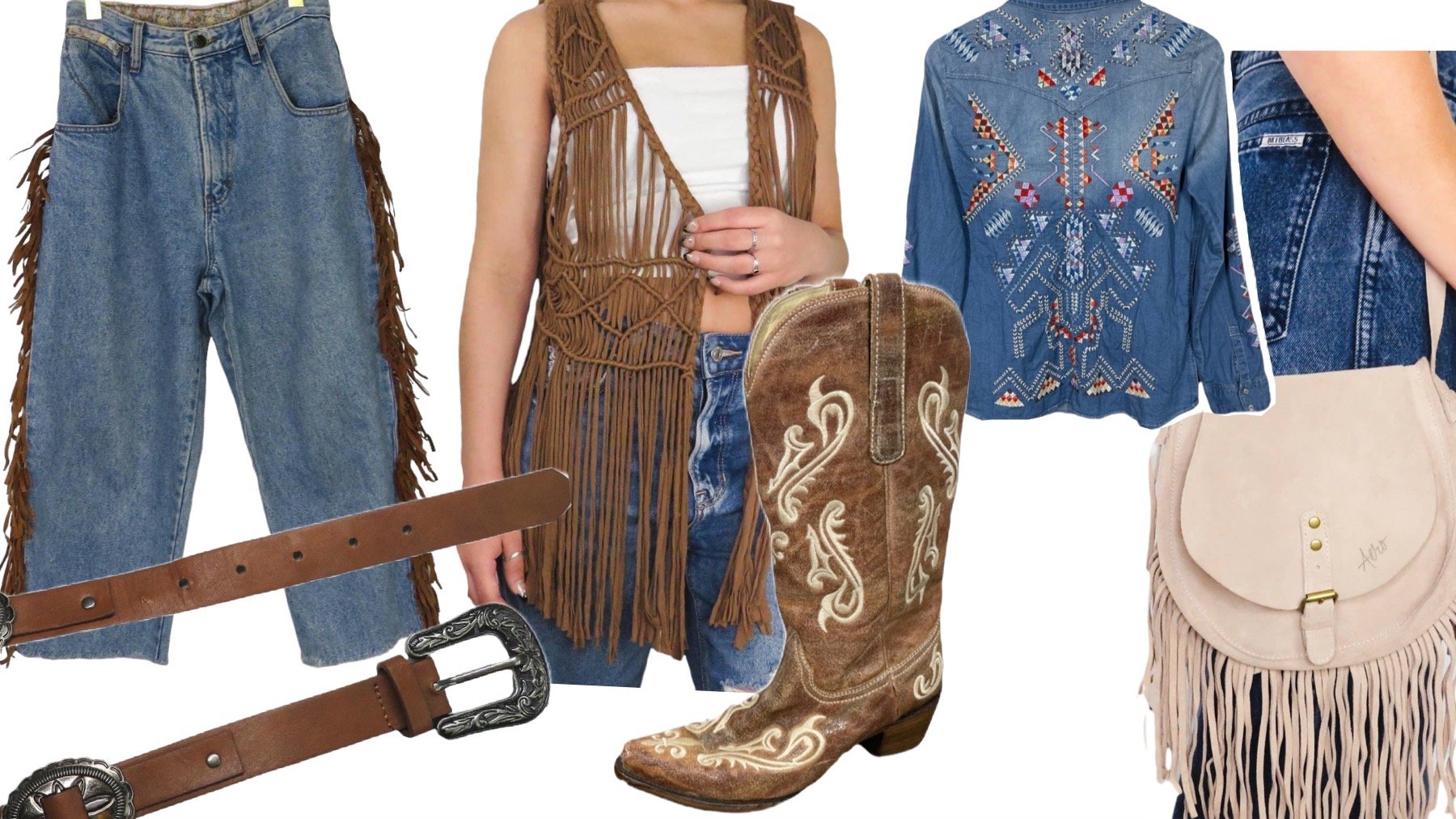 Western

fashion is inspired by early settlers of the American Frontier in the western regions of the United States. Western fashion is featured in classic Western films; it's country style but with a historic emphasis on the Wild West.
Country style and Western style are often used interchangeably, but country style romanticizes the life of farming in the countryside, whereas Western focuses more heavily on the desert and prairie, wilderness, and ruggedness of Western life. For reseller purposes, you'll likely use these aesthetics together frequently, for anything a cowboy or cowgirl would wear.
Western fashion generally features warm tones, organic materials, and a lot of leather and tassels! Classic items include cowboy boots, chunky buckled belts, cowboy hats, chaps, bolo ties, button-down shirts with embellishments, and turquoise accents and jewelry.
When trying to distinguish between Western style and country style, think of a real historical cowboy rather than a modern "cowboy" look for tailgating at a country music concert.
Also, see southwestern above!
You might use these hashtags:

#western #westernstyle #westernfashion #wildwest #spacecowboy #cowboycore #cowboy #cowgirl #country #countrygirl #countryboy
Y2k Vintage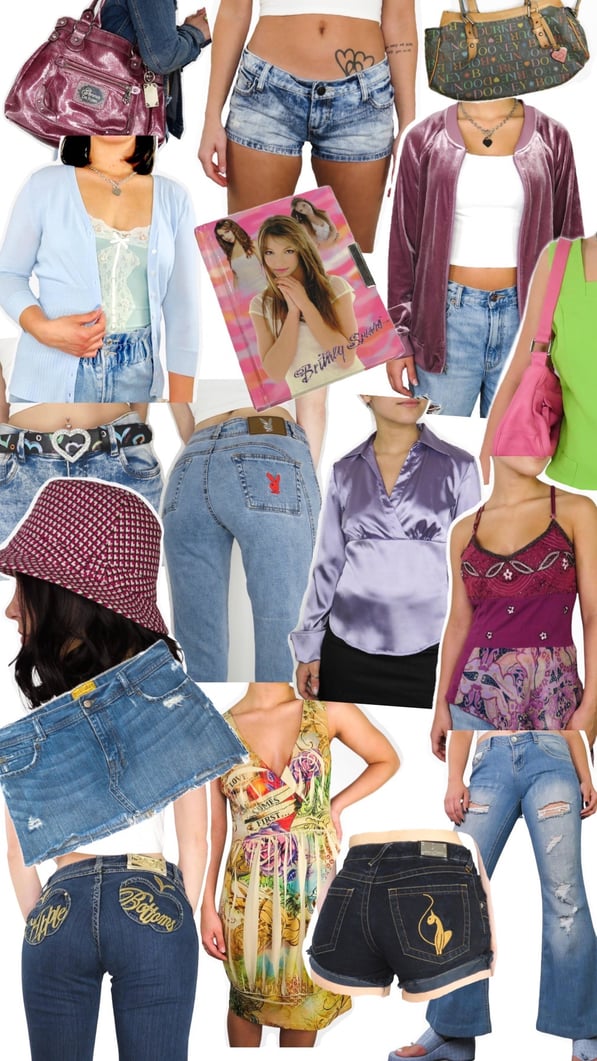 Y2K vintage

is actual pieces from the Y2k era in the early 2000s, some of which have officially become "Vintage." The aesthetic centers around fashions from tweens to young adults during this time, largely inspired by celebrities like Beyoncé, Paris Hilton, Y2k, and Pop Princess Britney Spears.
In the words of Paris Hilton, "That's Hot." The millennium brought some major fashion trends that are poppin' like Lip Smackers. Popular Y2k styles include baguette bags, baby tees (shrunken, cropped t-shirts), halter tops, pleated mini-skirts, velour tracksuits, and lace camisoles. When sourcing for Y2k fashion, look for bling (rhinestones), yin-yang symbols, smiley faces, low rises, flares, and hair clips!
If you didn't know, now you do: An item is "vintage" if it is at least 20 years old. Some Y2k is vintage. Also, note that Y2k is also a trending style for modern pieces (see below).
While there are many prestigious designers from this time period such as Christian Sirano, and Marc Jacobs, it is the
younger, pop culture brands
such as Alexander McQueen, Ed Hardy, dELiA*s, Lisa Frank, True Religion, Miss Me, and Juicy Couture that truly encompass the Y2k Vintage aesthetic.
You might use these hashtags
:
#y2k #y2kaesthetic #2000sfashion #bratz #y2kprincess #90snostalgia #pastel #90sbaby #bling
Y2k Style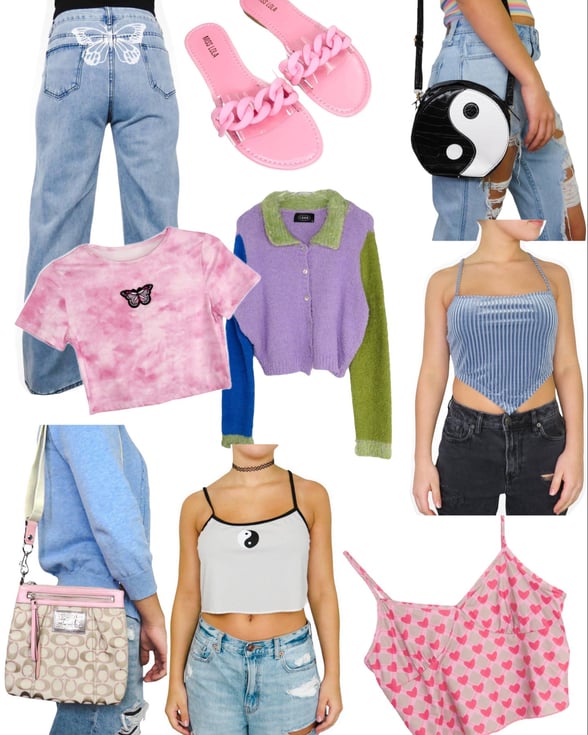 Y2K style

is inspired by the Y2k era in the early 2000s. The aesthetic centers around fashions from tweens to young adults during this time, largely inspired by celebrities like Beyoncé, Paris Hilton, Y2k, and Pop Princess Britney Spears. Y2k is

hot

right now, so modern companies are creating styles inspired by this era.
For resellers, Y2k is both a categorization (actual vintage from the early 2000s) and a style: modern Y2k trending fashion. All of these items will get the hashtag #Y2k.
If you didn't know, now you do: Y2k is the top-selling category on Depop! It is also amongst the top-performing style tags on Poshmark.
Trending Y2k style pieces include baguette bags, baby tees (shrunken, cropped t-shirts), halter tops, pleated mini-skirts, velour tracksuits, and lace camisoles. When sourcing for Y2k fashion, look for bling (rhinestones), low rises, flares, and hair clips! With the modern Y2k trend, you'll see lots of pastel colors, micro skirts, crochet tops, and anything a Bratz Doll would wear!
If you're a 1990s kid, it's weird to see Shein reproducing your elementary school wardrobe, right? I can't believe low-rise flared jeans with embellished back pockets are back!
Nearly all mall brands and fast fashion companies are making Y2k-style pieces. Particularly, Forever 21, H&M, Shein, Dolls Kill, Zara, Cider, Lisa Say Gah, and Windsor. Most of these brands are trending with GenZ, so most of them make great hashtags.
You might use these hashtags
:
#y2k #y2kaesthetic #bratz #y2kprincess #pastel #parishilton #bling
Plus, these, as applicable: #pleated #microskirt #babytee #haltertop #lowrise #flared #butterfly #babygirl #cami
Don't Forget Basic Hashtags
In addition to the cores and aesthetics above, don't forget the basic hashtags. Here are some ideas if you just can't think of hashtags for your listing:
Brand hashtags. If your item is a popular brand like Lululemon, LEVIS, Ralph Lauren, Disney, or any popular designer, use that as a hashtag.


Age hashtags. If your item is vintage, use #vintage, or even the decade as hashtags. If it is modern but a vintage style, use #retro. 3


Category hashtags. If your item trending, like #momjeans or #crochettop, these might work as great hashtags.


Material. If your item is a desirable material like #leather or #linen, these make great hashtags, too!
Hashtags and keywords are crucial to SEO (search engine optimization) and reaching more buyers! To learn more about how to step up your description game, check out A Reseller's Guide to Keywords and SEO
Use Hashtags Carefully
Be sure to use hashtags and keywords respectfully. Obviously, hate speech, obscenity, and illegal activity are banned everywhere. But there are words that aren't necessarily
banned
that you probably still should not use.
Noticeably missing from this list are the more risqué sexual hashtags. I personally avoid some of these despite their search volume simply as a preference. That said, sex sells. Use words you're comfortable with within the bounds of what is permitted where you sell.
Some milder hashtags I use for qualifying items are #sexy #lingerie #fetish and #boudoir.
Also, before you use hashtags associated with culture or religion, make sure you are familiar with the culture and that you are not misappropriating the item. You do not want to unintentionally offend or disrespect (nor do you want your listings removed or your account compromised).
I have had listings removed for using tags such as "gypsy" as it is commonly used and I didn't recognize that it is offensive. Now that I know better, I do better. I make sure to conduct research and consult with others when using any words associated with culture or heritage.
Where to find hashtags for Depop, Grailed, and more:
In addition to this master list of cores and aesthetics, here are a few more places to keep updated on what is trending.
TikTok is where most trends are created, you will find a lot of trending hashtags and styles on Tiktok.


You might also follow fashion influencers and magazines on Instagram.


Depop. You will also want to check out the Depop Edit (formerly known as the Depop Explore Page). This page features hand-picked styles from the Depop team. You can take a look at the featured listings, and hashtags, and even follow the sellers so your newsfeed becomes a source of inspiration.



Wiki Aesthetics

also features a list of common styles, but note that their list is exhaustive and contains styles and hashtags that aren't well-known or trending. Be sure to always search the marketplaces where you sell to see the search volume for specific hashtags.


Pop Culture. Some shows and movies turn into instant trends overnight, such as Wednesday Addam's signature style, #wednesdaycore, Emily in Paris' fashion, #EmilyinParis, and the entire cast of #Euphoria.
Don't forget- we're updating this list periodically! Subscribe to our blog to keep up to date on trending cores and aesthetics!
Don't miss out on boosting your online sales – Grab your copy of Vendoo's Ultimate Marketplace Guide for Resellers today!
What are your favorite cores and aesthetics? Tell us below!
Images and styling in this blog are from ErynnTheReseller and GetDizzyStore.