A Reseller's guide to selling sneakers online featuring expert tips from Vendoo Founder and sneakerhead Josh from GetDizzyStore.
The secondhand sneaker business is hot, and selling sneakers can be very lucrative. Here is some information about how to find sneakers for resale, how to identify valuable sneakers, sneaker BOLO brands, how to authenticate sneakers, and how to list sneakers for sale on eBay, Grailed, Depop, Poshmark, and more!
Check out pro seller Rob Mcknight show sneakerheads how Vendoo changed the game for his sneaker reselling business!
The Secondhand Sneaker Market
Sneakers are a top-seller on most resale platforms. Sneakers are an evergreen item, as almost everyone wears them year round. Some sneakers can be particularly valuable with insane resale value: literally up to millions of dollars like these Solid Gold Ovo x Air Jordans.
While you're unlikely to spot million-dollar shoes at your local thrift store, there are some brands to always to be on the lookout for. Here are some of the best-selling sneakers in 2022:
Sneaker BOLO Brands:
Yeezy
Nike
Jordan
Adidas
Hoka
Reebok
Salomon
Of course, designer kicks like Louis Vuitton and Gucci sneakers are hot sellers in 2022.
Similarly, even "bread-and-butter" brands like Vans, New Balance (specifically model numbers 900 or higher), Converse, and Puma have some rare, limited edition styles with high resale value.
Thrifting Tips for Sneakers
Here are some of the best tips for sourcing sneakers to sell online:
Of course, keep your eyes open at the thrift store for brand logos.


Another great tip is to be mindful of quality; you can tell when thrifting that some items are better made than others, and footwear is no exception. If something feels or looks nice, check it out!


Josh recommends keeping your eyes open for interesting styles, colors, and patterns because they often indicate a special edition, limited release, collaboration.


Make sure that they are authentic. We'll talk about authentication below.


When in doubt, do your research! You can look up sneakers by their style code on the size tag, or by image via Google Lens.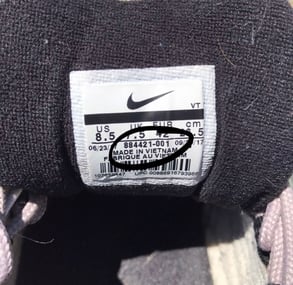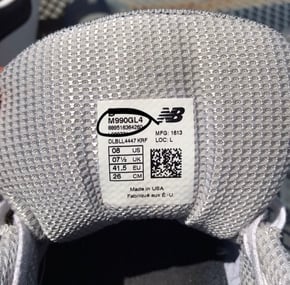 How to Research and Price Sneakers
The best way to search for sneakers is by the style code, usually found on the tongue near the size tag, as pictured above.
Like most items, you can determine comparables "comps" by performing a search of the item. To do this, you can search for the item by title on Google or directly on the resale platforms. It is best to check out the sold listings for a better idea of what sneakers have actually sold for. Sometimes, active listings are priced unrealistically.
I also recommend using SellHound's Price Checker tool, which is incorporated directly into Vendoo. With the Price Checker, you can see comps across multiple marketplaces at once!
Authentication
How do you authenticate sneakers?
When selling sneakers, it is important to make sure they are authentic. There are so many replicas out there! With unauthorized counterfeits being made in the actual factories after-hours, some replicas are incredibly convincing and tough to authenticate.
Some marketplaces, like Grailed, eBay, and StockX offer authentication services that protect both the seller and buyer when selling on the platform.
There are also Facebook Groups and Youtube Channels dedicated to footwear authentication. Some videos will show you every single little marking on all angles of the shoes to confirm authenticity.
Tips for Selling Sneakers Online
Check out this article on 10 Great Marketplaces Every Reseller Should Consider
How To List Sneakers for Sale
When listing sneakers, it is important to include the exact style name and style code in the title and description. This will optimize your listings, as buyers search this way!
Any other applicable details that you can find will improve your listing as well, including: release year, colorway, collection or edition, collaboration, material, etc.
It is also important to note that condition is super important to sneakerheads. Josh explains how "with a shirt… you can say 'great condition,' generally, but for a shoe, you have to be a lot more detailed because condition is subjective." He explains to be as detailed as possible, noting even the smallest of creases, marks, and scuffs on the shoe.
Josh's Sneaker Tip: If you have a valuable pair of sneakers, try to find a box to sell them in. Boxes, and the original accessories that come with shoes such as dust bags, are important to collectors. You could attempt to find a box for the exact shoes, or even use a replacement shoe box of the same brand. This will add value to your listing for a better sale.

How to Photograph Sneakers
Similarly, Josh explains that all the details are important to photograph; he says "I would take way more photos of a shoe than a shirt," because condition is so critical when it comes to sneakers.
The best ways to photograph sneakers include flat lays, or standing them up for front-facing photos. You might consider a shoe tree; a foot-shaped sort of insert that stretches that shapes the shoes for perfect photos.
Here is an example of listing images from Josh for these Nike SB Supreme Blazer Black from 2006.
This listing contains photos of every angle of the shoes so buyers can shop with confidence.
Best Places to Sell Sneakers Online
There are so many places to sell sneakers online. Here are the top places to sell sneakers online in 2022:
For more sneaker content, check out Vendoo on TikTok!
eBay is the largest online second-hand reselling platform. eBay has also been making great efforts to promote the sale of sneakers, including authentication and reduced fees for footwear.



Grailed is the go-to place for sneakerheads and high quality streetwear.



Flight Club is a trusted consignment store in the sneaker community with a loyal following, which also cross-lists on the platform GOAT, another great place to sell sneakers.



StockX is another great place to sell sneakers with a large volume of orders, buyer loyalty, and a bid-style purchase experience. Note that StockX only allows the sale of brand-new sneakers.



Depop features sneakers as a best-selling category. Depop is a great place for streetwear, vintage, and trending fashion.



Poshmark is among the most popular reselling marketplaces for men's, women's and children's fashion.
Check out our blog on 5 Best Marketplaces for Sneaker Resellers for an in-depth look at the pros and cons of each platform.
Did you know that you can cross-list your items to multiple marketplaces in seconds with Vendoo? Check out the free trial and list your sneakers on multiple marketplaces to maximize exposure.
Sneaker Hashtags
Here are 20 popular hashtags that sneakerheads commonly use when reselling sneakers:
#SneakerMarket

#SneakerReseller

#SneakerFlip

#HeatForSale

#ResellGameStrong

#KicksForSale

#SneakerPlug

#SneakerForsale

#SneakerheadsMarket

#HypeBeastResale

#SneakerCommunity

#RareSneakers

#SneakerGrail

#SneakerResale

#SneakerInvestor

#SneakerDeals

#SneakerCollector

#SneakerTrade

#SneakerAddict

#SneakerFam
These hashtags will help you connect with potential buyers and fellow sneaker enthusiasts on various marketplaces and social media platforms. Remember to use them strategically and in relevant posts to maximize visibility and engagement.
You might also be interested in this video about how to sell shoes online!