Depop is a unique selling marketplace, unlike all of the rest. As a progressive and diverse home for unique fashion, Depop reports over 30 million active users in over 150 countries. Interestingly, 90% of users are under the age of 26. With the primary customers being Gen Z, the top-selling categories on Depop are Vintage, Streetwear, One-of-a-kind, and Y2k.
Scrolling through Depop, you will notice that it is not your typical reselling platform, but instead, a vivid assortment of unique, funky, vintage, and trendy fashion flourishing with artistic expression. On Depop, you don't see a lot of the (boring) images of preppy clothing on clear hangers with a plain white background. In fact, you'll see the opposite.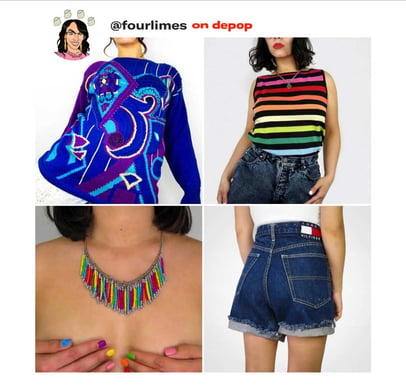 Check out my Depop Shop here.
Fun Fact: Depop launched in 2011 and was acquired by Etsy in 2021 (though it is still operated as a standalone company).
Depop is perhaps the easiest platform to sell on, but tougher to master. Before you get started, be sure to familiarize yourself with Depop; the community guidelines, seller policies, listing process, payment specifics, and shipping practices. I summarize these details in this Youtube Video. I have been selling on Depop since February 2021, and I recently participated in the Level Up Programme. I absolutely love Depop, and it has been a fun and lucrative marketplace to sell on! Here are some of my best insights, tips, and tricks to increase sales on Depop.
1. List Desirable Items
Desirability is highly subjective, and it is not necessarily interchangeable with "trendy." Everyone has a different sense of style, and Depop is the perfect place for anything unique. Sourcing for Depop is much different than sourcing for other marketplaces, as the customer base is younger and (for lack of a better word) cooler.
The best-selling categories on Depop are Vintage (over 20 years old), Y2k (Items from or inspired by the Early 2000's, Streetwear (athletic wear with an urban hip-hop influence), and one-of-a-kind (rare, deadstock, limited edition, or handmade). In my experience, the best types of items to sell on Depop are vintage, trendy, funky, unique, custom, designer, streetwear, and rare. Seriously, the weirder, the better. Some of my personal top-selling categories include graphic and concert t-shirts, vintage handbags and jewelry, and modern trendy "mall brand" pieces.
Depop Tip: The Explore Page will inspire you with featured listings, hand selected by Depop to encompass the styles that perform best on the platform.
2. Consider Your Pricing Strategy
Since February, my average sale price on Depop has been the highest in comparison to all of the platforms that I sell on. Pricing items on Depop can be tough because you cannot easily retrieve "comps" or search for sold listings to reference in your pricing model. However, you can use the search feature to see your immediate competition in active listings for comparison. If your items are selling immediately, you may be under-selling them (which is fine, so long as you're happy with your return on investment). However, if your items are getting thousands of likes but not being purchased, you may be pricing "too high."
90% of Depop users are under the age of 26, and for this reason many sellers price on the lower side to accommodate the "young and broke." With low platform fees, you may be able to reduce your ideal price a bit to accommodate this strategy and effectuate a quick sell-through rate. However, I list my items for more on Depop than anywhere else, as a younger customer likely has more disposable income. With fast-fashion companies mass-producing vintage-inspired styles, Gen Z will pay up for the real thing. Pricing high enables me to run sales, accommodate offers, and offer more substantial discounts. When I hear the cha-ching sound from Paypal, I'm often in disbelief that an item sold for that much.
However you decide to price your items, review your Depop stats and analytics to adjust your pricing model accordingly. Do what works best for you!
3. Step Up Your Photography Game
The top-selling Depop shops look like skillfully curated Instagram feeds. Photographs are extra important on Depop, as the younger clientele is hyper-focused on the look or aesthetic. The two most successful styles of photographs on Depop are model photos and flat lays.
Modeling your items is highly encouraged on Depop, as buyers want to see the style and the life behind each piece. It is surprisingly easy to model your items with a camera stand and a self-timer. Modeling is also faster as items don't require meticulous steaming and arrangement. If modeling isn't your thing, consider using a friend or hiring a model(s). Once I started modeling for Depop, I started using modeled cover photos across all reselling platforms, and my sales have increased exponentially everywhere.
It is important to note that you do not have to model your items to be successful on Depop. There are plenty of successful Depop sellers who do flat lays, dress forms, and hanger photos. Whichever method of photography you choose, have fun with it! Experiment with vibrant, funky, and unique backgrounds and styles. Also consider using listing videos to show off your items.
Depop Tip: Avoid stock images, they will likely be removed. While most reselling platforms do not remove stock images until or unless a brand requests it, Depop removes them frequently. Stock photos do not align with their authentic vibe, and copyright infringement opposes their foundations of respect and artistic expression.
4. Enhance Your Listings
Describe your items as if they are not accompanied with photos. Your listings should include such vivid detail that you can visualize the item when you read the description. The "perfect listing" includes the type of item, style name, style type, material composition, descriptions of colors and patterns, appropriate measurements, and any other details such as rises, hems, necklines, sleeve types, etc. All of the words in your description are valuable assets to enhance search engine optimization (SEO).
In addition to your written description, fill out all of the Depop drop boxes. The color and style selections included in your listings are also filters in the search field. Most importantly, use all five hashtags (and use them wisely).
Hashtags are key. Using trending hashtags (that are relevant to your item) will result in more exposure and sales. If you find trouble brainstorming hashtags, take a good look at your item and consider:
Style

The most popular listing hashtags relate to style, especially when your item can be categorized by one of the trendy "cores" or "aesthetics" coined by Gen Z. You can stay up to date on the trendy tags by browsing the Depop Explore Page, social media, and general hashtag generators.
Some of my favorites right now are: #retro #pastel #edgy #y2k #indie #streetwear #cottagecore #boho #grandmacore #darkacademia #cosplay #kawaii #goth
To learn about all of the trending style aesthetics, cores, BOLO brands, and hashtags on Depop, check out A Reseller's Guide to Cores & Aesthetics.
Age

When your items are genuinely vintage, use the hashtag #vintage. You may also consider using the decade as a hashtag.




Brand

The designer or brand make a great hashtag when the brand is trendy or desirable. Designer brands always make great hashtags, as do popular and classic brands such as #Disney, #Levis, and #Harleydavidson. As a general rule, if the brand is not recognized by the platform under the "brands" dropdown, don't waste a hashtag on it.

Pattern, Color, or Material

Many hashtags are adjectives to describe the item itself, but I recommend using these in a way parallel with current trends (#blue is not going to help you much). However, patterns such as #tiedye, #plaid, and #acidwash are on trend. Trendy colors such as #mustard and #rainbow are good ones to use. Materials such as #satin, #silk, and #knit are currently performing well. Trends are ever-changing, but staying on top of them will help you to use hashtags to maximize exposure, likely yielding more sales.
For hashtag inspiration, look at the hashtags trending on Depop and social media. Hashtagging is not difficult, and you can search any hashtag on Depop to see if it yields a large number of results.
Don't miss out on boosting your online sales – Grab your copy of Vendoo's Ultimate Marketplace Guide for Resellers today!
List Consistently
Listing consistently is crucial on all reselling platforms. Adding new items daily will stimulate the platform, appease the algorithm, and increase exposure.
Depop Tip: I keep my Depop shop fresh with the Delist/Relist feature on Vendoo, which quickly removes and reposts listings in just seconds. This way, I can have brand new listings every day and stimulate my Depop shop!
Refresh Your Items
Refreshing your items (at least daily) is crucial to be successful on Depop. Refreshing your item moves it to the top of the search feed, news feeds, and significantly increases exposure and accelerates sales.
To refresh an item, you simply select it, click "edit", and click "save". This instantly bumps your item. Similarly to a self-share on Poshmark, you will instantly see the increased exposure by way of likes, comments, and messages. This exposure is crucial to generating sales.
There are many programs you can purchase to alleviate the burden of tedious clicking, but use them at your own risk, as many of them are not supported by Depop.
Offer Free Shipping
In Amazon Prime days, people hate paying for shipping. Depop gives sellers a ton of flexibility, and you can elect to use a prepaid label from Depop, ship on your own, charge the buyer a shipping fee (of any rate), or offer free shipping. According to Depop, listings with free shipping sell up to 90% faster. I highly recommend offering free shipping, and slightly adjusting your prices to allow for the same. I offer free shipping on items under 1lb, and I use Pirate Ship to calculate the best shipping rates (on domestic orders). For international orders, I calculate a shipping rate upon request.
Create Return Customers
Depop buyers are loyal, and if they love your items, they will come back for more. This is especially true if you have a curated shop with a consistent style. Of course, being responsive and nice, willing to negotiate, using sustainable packaging, and being a fast shipper will enhance the buyer experience and inevitably encourage growth. I always reach out to customers to thank them for their purchase, confirm that I shipped their order, and rate them promptly and enthusiastically.
Conduct Ongoing Research
With a young clientele, staying on top of trends and hashtags is important for success on Depop. The Depop Explore Page is a great source for Depop inspiration. Keeping up with the Depop blog will help you stay informed on platform updates and promotions. Depop Facebook Groups are a great place to learn, ask questions, and connect with other sellers. I follow Depop sellers on both Depop and Instagram for inspiration and reseller content. I love watching content from V at @tellyourfriendssportswear as she has quickly grown her shop and shares valuable tips and tricks.
Become a Top Seller on Depop
Top Sellers on Depop receive so much extra exposure on the platform, which leads to a dramatic increase in sales. Top Sellers enjoy benefits such as an account manager, more seller features, resources, analytics, and training opportunities. Top Sellers also enjoy increased priority in the Explore page and higher rankings in the search engine.
Becoming a Depop Top Seller is certainly not as easy as becoming a Poshmark Ambassador. The Top Seller Program is an invite-only program with some tough qualifications including monthly sales targets, customer reviews, shipping speed, and policy observance. Learn more about the Top Seller Programme here.
BONUS: How to Get Followers on Depop
Double down on engagement!
Follow other users

Like users posts

Comment and compliment

Send messages

Make your posts eye-catching with great photos

Join online communities

Optimize your Depop bio with keywords!
Do you sell on Depop? Feel free to drop your shop name and share any Depop tips and tricks!