Parents, are you looking for a great place to make some cash for your children's clothing?
Poshmark
is the perfect place!
Poshmark is a leading marketplace for all things fashion with over 80 million active users! Poshmark is known for women's, men's, children's, and baby clothing and accessories. You can also sell toys, select electronics, and quite a few other things!
Poshmark is the best place to sell children's items. While eBay has a larger audience, Poshmark is the easiest place to sell online, where you can quickly turn your kids' clothes into cash! 💰
Here is how to sell your kids' clothes online on Poshmark, with some extra tips and tricks from a Poshmark expert:
1. Create a Poshmark Account
You can sign up for Poshmark in just seconds on their website or mobile app. You can even sign in with Google or Facebook.
Brand new to Poshmark? Use the Code FOURLIMES when you sign up here to receive $10 off your first order!
You'll want to learn the basics about fees and getting paid. For everything you need to know about Poshmark, check out the article The Poshmark Bible.
2. Decide What to Sell
As you probably expect, most children's clothing does not sell for a fortune. Selling takes a lot of time, and the margins for children's clothing can often be low. If the items are flawed, you might just donate them.
Tip: Anything with characters, sports teams, and bands is always worth it! Parents will pay up for items with their little ones' favorite characters!
If you sell Carter's brand jeans for $10… you will make $7.05 after fees (and you'll pay taxes on your profit). Similarly, the buyer would be required to pay nearly $18 with shipping… which is a tough sell.
For this reason, consider bundling your items. If you have pieces from department stores or mall brands, you might consider selling multiple like-sized pieces together in one listing.
3. Take Pictures of Your Items
Looks matter. You'll want to capture a great cover photo for your listing.
If you're brand new to selling, you might be surprised how difficult it is to actually get a good picture of clothing. Lighting is key. ☀️
The best light is natural light. You might choose to lay the clothing flat or to hang them up. Whichever looks better for the items! Be sure to show them nicely and wrinkle-free.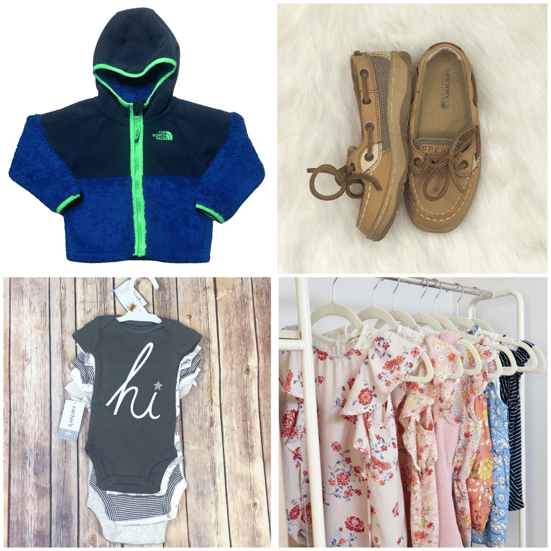 In addition to showcasing the item for advertising purposes, you want to be sure you photograph everything: the front, the back, the tags, and any features or flaws.
Tip: You can also do listing videos. If a picture is worth a thousand words then a video is worth a million. Listing videos allow you to show items quickly. Check out the video in this listing for an example. 📹
4. Describe Your Items
On Poshmark, your title and description are even more important than your photos because your entire title and description are searchable.
Tip: Describe your items as if you don't have photographs, with such vivid detail that you can picture the item in your head. This will enhance your descriptions for search engine optimization (SEO).
Do not rely on your pictures to show buyers what they need. Most sales happen as a direct result of a search performed by a buyer, so make sure you include all the words that they might search for to find your item.
Check out this listing: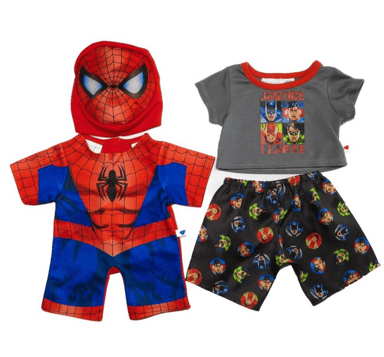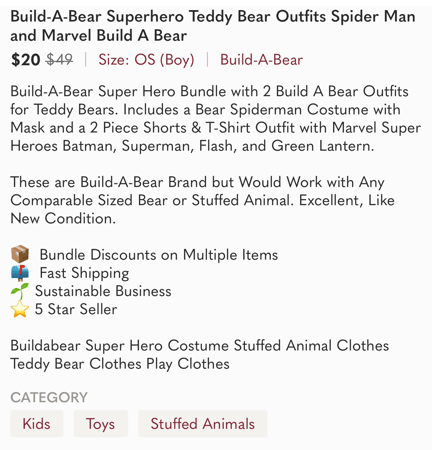 You'll notice how I described the item(s) as if I didn't have photographs. I listed every single superhero, too. These words enhance searchability, making my listing yield more searches. I sold this the same day I listed it! Who would have thought I could get $20 for Teddy Bear clothes? 🧸

5. Price Your Items
Generally, you can expect most kids' items to sell for 40%-60% of retail value. Of course, if you're selling designer kid's items, rare collectibles, or vintage children's clothing, this varies.
If you're unsure how to price your items, you can look at "comps" (comparables). In the Poshmark search, perform a search for the item you're selling to see what similar items are listed for. This will give you an idea.
However, for your price, be sure to allow room for offers and Poshmark fees.
Poshmark is an offer marketplace, and nearly all of your sales will come from either offers you send to buyers or offers you receive from them.
Poshmark fees are 20% of the final sale price or a $2.95 flat fee for items sold under $15.
Tip: Describe your items as if you don't have photographs, with such vivid detail that you can picture the item in your head. This will enhance your descriptions for search engine optimization (SEO).
6. Engage With the Poshmark App
Poshmark is not a list-it-and-leave-it marketplace. You'll want to spend a few minutes each day engaging on the app for the best results.
Two things you should do every day when selling on Poshmark are sharing
your listings
and
sending offers to likers.
✔️ Share your listings. Sharing your listings gives them a boost in the newsfeed and search results.
Share your listings by visiting your closet and clicking the share icon under the listing. Then, on the next screen, click "share to followers."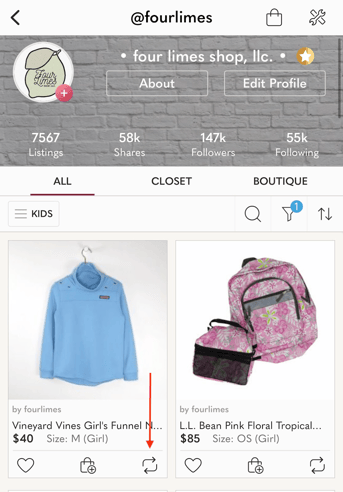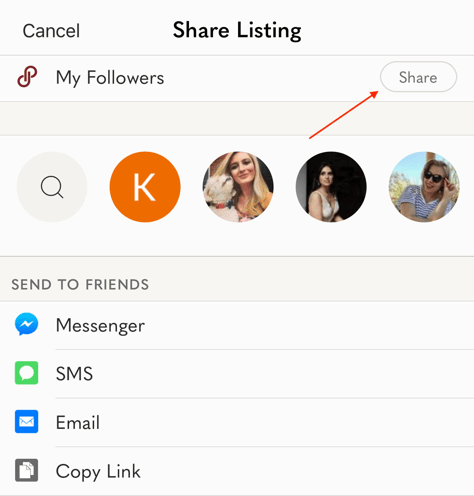 The more you share, the better results you will have.
✔️ Send Offers to Likers. You will receive notifications when buyers "like" your items. You can send them private offers quickly. You can even send offers in bulk from the Poshmark app!
To send an offer on an individual item, open the item and click "Offer/Price Drop."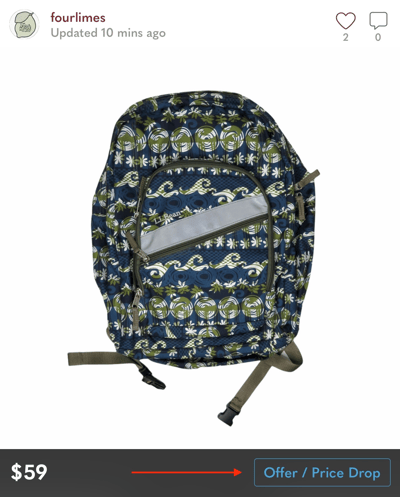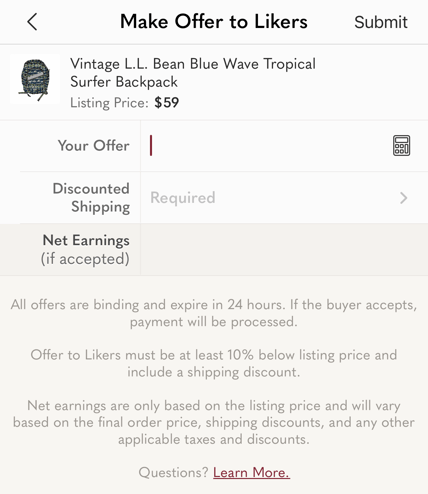 On the next screen, you can learn more about offers. Offers must be at least 10% below your shipping price and include a shipping discount.
7. Ship Your Sales
Poshmark has the simplest shipping, which can be the most intimidating part of reselling. When you make a sale, Poshmark will email you a Priority Mail label. You can tape this to any box or mailer around your house or use free USPS Priority Mail packages from the post office.
No printer? No problem. You can take your packages to the post office and scan the QR code from the app, and they will print your labels for you.
Those are the basic steps to getting started making cash for your kids' clothes. To learn more about selling kid's items, check out this article.
You might also be interested in 10 Great Marketplaces Every Reseller Should Consider
Do you sell children's items? Drop a tip or trick below! 👇🏼