In today's fast-paced world, technology is continuously advancing, reshaping, and transforming the way we live and work. While technology has brought about several positive changes, such as increased efficiencies, automation, and new possibilities, it has also had a significant and often negative impact on the job market. For instance, the rise of automation and artificial intelligence has led to tech job layoffs, leaving many people without jobs.
A recent study by Oxford Economics estimates that robots will displace 20 million manufacturing jobs worldwide by 2030. This trend is not slowing down, and the ongoing inflation has significantly impacted many businesses. Consequently, several people are losing their jobs, causing massive financial challenges.
In today's uncertain times, it's important to be proactive about finding alternative sources of income. One such solution worth exploring is reselling. With the ability to sell products to niche markets or through various online platforms, reselling offers a unique opportunity to turn a profit by leveraging your eye for valuable goods if you're a victim of tech job layoffs.
Platforms like Vendoo can help you scale your reselling business by streamlining the listing and managing process.
Check out 10 Great Marketplaces Every Reseller Should Consider
Tech Job Layoffs: Turning Adversity into an Opportunity through Reselling
Reselling is the process of buying items at a low price and selling them at a higher price for a profit. Or you can go Marie-Kondo style and sell everything that no longer brings you joy...or you don't use it anymore. This is an excellent opportunity for anyone looking to supplement their income or create a full-time business. One of the significant advantages of reselling is the flexibility it provides. You can work from home anytime without needing an extensive business infrastructure or significant investment!
However, reselling also comes with its challenges, such as finding profitable products, optimizing listings for maximum visibility and sales, shipping, and customer service.
Ready to Resell? Let's Get it Started!
Before you hit the thrift stores and garage sales, take some time to gather all of your unused belongings and sell them off. Not only will this clear up some space in your home, but it will also give you a chance to build up some capital before you start investing in other items to resell. Don't sell yourself short. Even if an item only resells for a few dollars, it all adds up in the end. You can also reach out to friends and family to see if they have any items they no longer need that they may be willing to give to you. Remember, at the beginning of your reselling journey, every penny counts.
This strategy not only helps you declutter your space and make some extra cash, but it's also a great way to start building your credibility (aka your reviews) on selling platforms like eBay, Poshmark, Mercari, and others.
By starting with what you have on hand, you'll have a chance to hone your skills and figure out what works best for you before investing in new items to sell. Also, by earning positive feedback from buyers on these platforms, you'll develop a solid reputation that will help you build your brand and attract even more customers.
Made your way through your closet? Now let's take it to the next level.
Now that you have some reselling experience and established yourself as a reputable reseller with positive reviews, it is time to ramp up your business by sourcing new (or used) products to sell. In the world of reselling, the hunt for new, unique, or rare inventory is an essential aspect of running a successful business. Thrifting, liquidation, and retail arbitrage are three well-known methods of sourcing new stock that has gained popularity among resellers. Let's explore all three and discuss the benefits and strategies:
Thrift Stores & Garage Sales
In the world of inventory sourcing, thrift stores, garage sales, and estate sales have become the go-to for many resellers. And it's no surprise why it's so popular - the low cost to entry makes it an attractive option on any budget. You don't need a huge capital to get started, and the potential pay-off can be significant. There's something thrilling about sifting through racks and shelves of second-hand goods, never knowing what gems you might find. Not only is this method cost-effective, it's also environmentally friendly by giving a second life to items that may have otherwise been discarded.
Benefits
One of the most significant benefits of thrift stores for resellers is the opportunity to find rare and unique items that are difficult to source elsewhere. Items in thrift stores have often been donated by individuals who no longer want or need them; however, they can be a goldmine for resellers. For instance, vintage clothing and accessories can be resold for a high-profit margin since they are rare and often no longer produced. Additionally, items like books, collectibles, and vinyl records can be incredibly valuable to collectors and frequently found at thrift stores.
Another advantage of shopping at thrift stores is the opportunity to find high-quality items at a fraction of their original cost. Many donated items may have hardly been used and are sold in like-new condition. This quality merchandise is often priced significantly lower than retail prices, providing resellers with a higher profit margin while offering reasonable prices to buyers.
Strategies for Thrift Store Shopping
While thrift stores offer unique opportunities for resellers, successful thrift store shopping requires a little bit of skill, effort, and strategy. Here are some tips to help you maximize your thrift store shopping experience:
Do Your Research: Before heading to the thrift store, research popular resale items in your niche. This'll help you make informed decisions and save time by knowing what to look for.
Be Discerning About Quality and Condition: While thrift stores offer a variety of items, they may not always be in the best condition. Be sure to inspect items carefully for damage, tears, stains, or missing pieces. Items that require repairs or restoration may not be worth your time, effort, and money.
Shop Regularly: Thrift stores receive donations daily, so check your local thrift stores regularly to get the best selection of items.
Know the Sales: Some thrift stores have designated discount days, reducing tags of specific colors by an extra 35% to 95%. Additionally, many thrift stores have major discounts before and during holidays, providing unbeatable prices on unique items. To save even more, some thrift stores also accept coupons.
You might also like: How to Thrift For Profit to Sell on eBay, Poshmark, Etsy & Mercari
Liquidation Pallets
Liquidation pallets are collections of products that retailers, manufacturers, or wholesalers sell in bulk after their initial sale. Liquidation pallets vary from new or used items because they can contain both returns and overstocks. Returns are items that buyers have returned to retailers, while overstocks are items retailers couldn't sell through normal channels. Shelf pulls are items taken off store shelves or stockrooms and typically still have their price tags.
Benefits
The primary benefit of buying liquidation pallets is the significant savings offered. Resellers can purchase a pallet of products for as low as 70% to 90% off the retail price, and the pallets often contain a variety of products in different categories. Some pallets even have high-value products that resellers can sell for a considerable profit.
Another advantage of purchasing liquidation pallets is the convenience of having them delivered straight to your doorstep instead of spending time and money driving around town to source products.
In addition, if you are fortunate enough to have a local liquidation vendor, you can save even more money by picking up the pallet yourself instead of paying for shipping.
Strategies for Liquidation Pallet Shopping
Buying liquidation pallets can be challenging if you don't know where to start. Here are some tips to help you evaluate pallets and avoid scams:
Research the Company: Do a thorough search online to learn more about the vendor and their reputation. If possible, check with industry organizations, consumer websites, and their social media to ensure the seller is legitimate.
Inspect Pallets (onsite): Before buying a pallet, inspect it carefully to ensure the quality of the items inside. Be aware that many pallets may have damaged or defective items, even when the pallet is considered shelf pull or new.
Inspect Pallets (online): Buying pallets online can be challenging because most vendors do not provide detailed pictures. They typically only offer a single overview shot of the pallet. However, I advise carefully reviewing the manifest (refer to the sample photo below), which lists all the items inside the pallet. You can then conduct research on the items to better understand their actual value. It's important not to rely solely on the retail price listed in the manifest.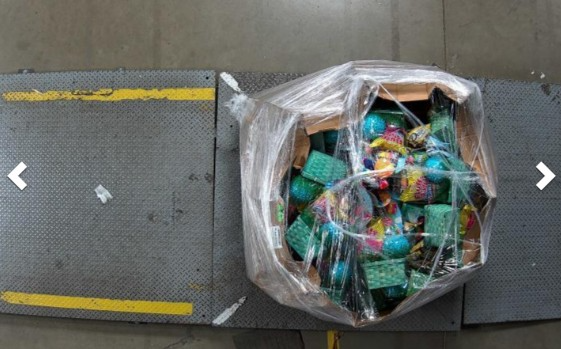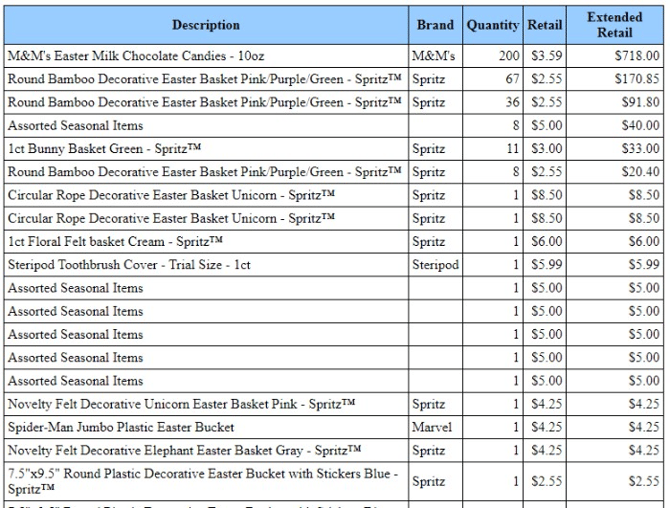 Read Terms and Conditions: Make sure you fully understand the seller's terms and conditions, including return policies and warranties. Just a heads up, most liquidation companies (online or local vendors) have a no-return policy.
Avoid Overbidding: To avoid overspending on pallets, it's crucial to establish a maximum budget before beginning the bidding process. It's easy to get caught up in the excitement and overbid (guilty here!), so setting clear financial limits is essential.

Retail Arbitrage
Retail arbitrage (also known as RA) has become increasingly popular in recent years as a method for resellers to procure clearance or heavily discounted merchandise (that are brand new) from retail stores like Ross or Target. While the majority of sourcing occurs in-store, some resellers also conduct RA online.
Benefits
The beauty of retail arbitrage is that it provides an opportunity for people to start a business without breaking the bank. Unlike other traditional forms of retail, where the initial investment can be overwhelming, retail arbitrage lets you buy inventory on a per-item basis. This allows for greater flexibility and reduced financial risk. No need to spend thousands of dollars upfront on inventory that may or may not sell. Instead, you can start small, pick up items on sale or clearance, and slowly build your online store.
Strategies for Retail Arbitrage Shopping
To succeed in retail arbitrage, it's important to conduct thorough research and adhere to a strict budget, just as you would with thrifting or liquidation pallet strategies. My top piece of advice for resellers entering the world of retail arbitrage is this:
Take advantage of cashback and store rewards programs: Many retailers offer cashback or rewards programs that allow you to earn cash or store credit on your purchases. Make sure to sign up for these programs to boost your profits.
You might also be interested in 10 Retail Arbitrage Tips for Beginners
Vendoo, a Reseller's Best Friend
As a seasoned reseller, I firmly believe that selling on a single online platform could severely restrict your business growth potential. Sure, eBay has a large customer base, but imagine the potential that you're overlooking when you limit yourself to just one platform.
If you aspire to achieve substantial growth, consider listing your products on at least three to five platforms. By doing so, you'll increase your sales, exposure, and business opportunities significantly.
This is where Vendoo comes into the picture. Vendoo is a software platform designed to help resellers manage their e-commerce inventory and increase sales through multiple marketplaces. It allows resellers to list, cross-list, and manage their inventory across various marketplaces, such as Poshmark, eBay, Mercari, and many more!
Vendoo also has features such as robust data reporting, inventory tracking, and a mobile app so you can manage your inventory on the go. It is designed to make selling across multiple platforms easy and efficient.
Final Thoughts
Throughout this post, we've explored how reselling can be a viable opportunity and detailed some easy ways to get started, along with tactics for sourcing inventory. But, to make the most of your reselling venture, smart management and optimization are critical factors. With Vendoo, you can streamline your inventory, save time with cross-listing automation, and track your sales. So, if you're one of the many affected by tech job layoffs in 2023 and looking to start fresh, why not give Vendoo a try? Trust me, it will make your reselling journey a lot easier and more profitable!
Need more info about everything reseller related? Vendoo has resources for shipping, how to write top-tier item descriptions, a one-stop guide to SEO, and so much more.
If you're ready to get started, check out their free trial HERE!