"Mercari is a place to say 'goodbye' to the things you're no longer using and 'hello' to delightful new finds"
In this article, we'll talk about the Mercari marketplace with expert tips and tricks to make more sales!
What is Mercari?
Mercari is a great place to sell online items, with over 350 thousand new items listed daily. Mercari, a company started in Japan, now has 20 million active users in the United States! Mercari is rapidly growing due to its ease of use and popularity.
Creating a Mercari account takes only seconds, and the app is simple and user-friendly. You can sell almost anything on Mercari, with top sellers being electronics and media, toys and games, and apparel.
New to Mercari?
Here's a
Mercari Coupon
for $30! 🎉
Is Mercari Legit?
Yes. Mercari is a legitimate online marketplace for the purchase and sale of a wide range of items.
Online, you will see thousands of positive Mercari reviews as it is a favorite for both professional resellers and casual sellers who seek to turn unwanted items around their homes into cash. 💰
Mercari is safe and has many safety measures enacted to protect users. All Mercari buyers and sellers have
Mercari Protection
for transactions on the app. Be sure to keep transactions on the Mercari app, and avoid connecting with users
outside
of Mercari where the protections do not apply. Mercari Customer Service
is always available to Mercari sellers directly in the Mercari App.
Did you know that
Mercari fees
are amongst the lowest of the online reselling marketplaces?
I love when an item sells on Mercari, as I make
more
than I would if it sold elsewhere!
Want to know how to protect yourself from common Mercari scams? Check out Is Mercari Legit? 10 Things to Know to Avoid Getting Scammed
How to Sell on Mercari
Mercari is amongst the easiest places to sell things online. Listing items for sale on Mercari is simple and free.
Mercari is a favorite as it is simple to use and has low selling fees! You can log in to Mercari on the website or mobile app. From there, you can easily create a listing. The Mercari listing form is simple, with images, a title, a description, and a few drop-down boxes.
To learn everything you need to know about how to sell on Mercari and the Mercari listing form check out the article How to Get Started Selling on Mercari.
With Vendoo, you can crosslist your items to Mercari with just a few clicks! I started selling on Poshmark and eBay, but eventually added Mercari to the mix and it has been very lucrative: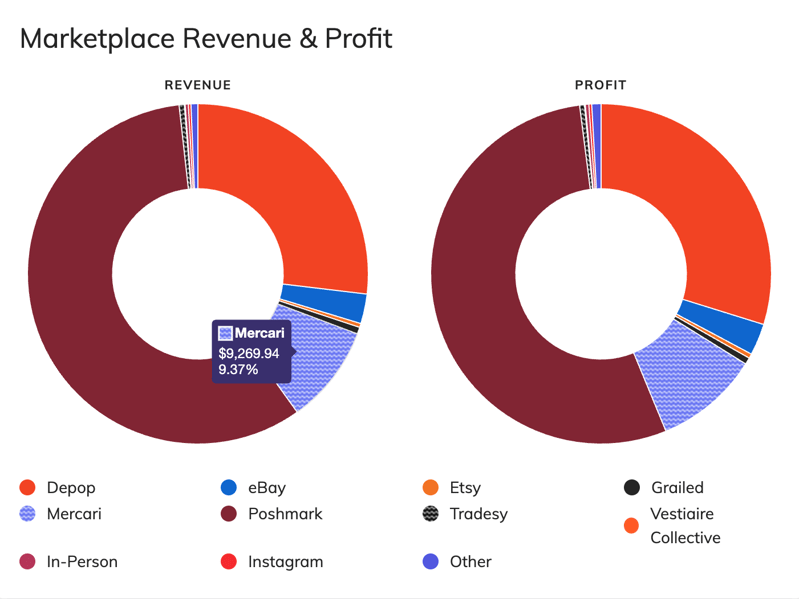 As you can see, Mercari is responsible for 10% of my revenue in the last year. Seeing as it only takes a few seconds to crosslist my items, this was easy money. 💰
Mercari Tips and Tricks
Depending on what you sell, Mercari might not ever be your best marketplace. But, Mercari is consistently one of the best marketplaces for me as a fashion seller.
A major appeal of Mercari is the broad range of categories that you can sell. The categories and top-sellers are similar to eBay, and it is the perfect place to sell many different types of inventory.
After many years of selling, here are some of my best tips and tricks for Mercari.
1. Amazing Photos
Like everywhere, high-resolution, clear photographs with a plain background and adequate lighting perform best on Mercari.

This is especially important for professional resellers because Mercari is flooded with casual sellers that are just trying to make some cash for unwanted items. These sellers often have a lower listing price, so there is a lot of competition. If your listings appear with amazing photos, it will set you apart from the rest!
2. Descriptive Titles
Most Mercari sales happen as a direct result of a search performed by a buyer. So, the buyer searches for something, and Mercari shows some listings as a result. Use strong titles to be sure that your listings are showing up in those search results to make more sales! 🎯
Use the most descriptive titles possible to enhance SEO (search engine optimization) on Mercari.
Here is an example of a great Mercari title: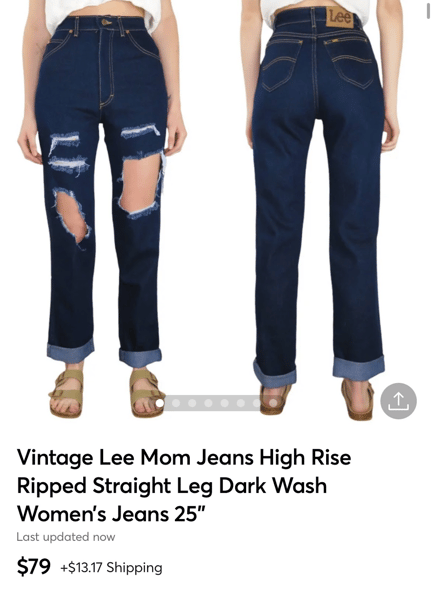 Vintage Lee Mom Jeans High Rise Ripped Straight Leg Dark Wash Women's Jeans 25"
Notice how it includes:
✔️Brand
✔️Material
✔️What it is
✔️Size
✔️Color
✔️Gender Size Scale
✔️Features
Don't forget, it is not about just the Mercari search engine. Strong titles will help your listings to rank in major search engines like Google!
Next, we'll talk about descriptions.

3. Strong Descriptions
Just like your title, your description is searchable in the Mercari search results.
Provide as much detail as possible in your description to attract potential buyers and also to provide them with all of the information they need to purchase with confidence!
My best tip for perfect Mercari listings is to photograph your items as if you don't have a written description and describe your items as if they don't have photographs.
Your listings should have such detailed descriptions that you can picture the item in your head when you read it. This will naturally enhance your SEO.
Here is an example of a Mercari description: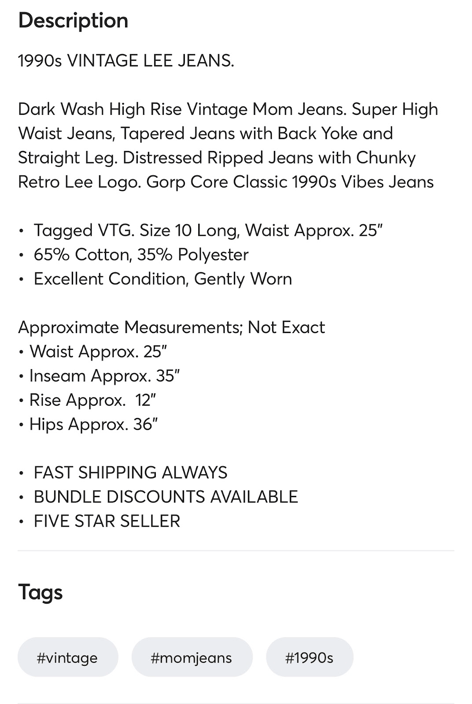 Notice how it includes: brand, what it is, size, color, materials, measurements, condition, style features, attributes, trending style words, and even some promotional language.
To learn more about how to maximize your titles and descriptions, check out A Reseller's Guide to Keywords and SEO.
4. Mercari Smart Tools
Mercari offers two tools, Smart Pricing and Smart Offers. I recommend that you use both of them to make more sales.
Mercari Smart Pricing
Mercari Smart Pricing allows you to select a "starting price" and a "floor" price for your items. Mercari will continuously drop the listing price until it hits the floor price, promoting and exposing the listing to potential buyers at each update.

Mercari Smart Offers
Mercari Smart Offers allow you to enter your bottom line. Then, any offers at or above it will be automatically accepted, and offers below it will be automatically sent a counteroffer for your bottom-line reserve price.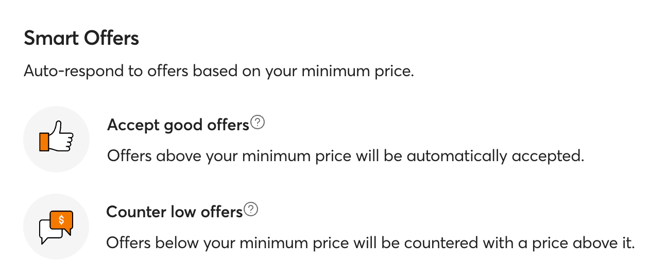 This allows you to instantly respond to buyers and maximizes your chances of making sales.
5. Consistent Daily Listing
For best results, list a handful of new items every day on Mercari. Not only does Mercari love consistent daily activity, but new listings are promoted on the app and prioritized in the search results.
If you do not have ten new items to list every single day, relist older listings. This refers to deleting your existing listing and posting a brand new listing. With Vendoo's delist/relist feature, you can do this in bulk with just a few clicks! 🔥
I strongly suggest relisting rather than using Mercari's promotion tools. On Mercari, you can promote only a handful of items each day and each offer that you send must be the lowest historical offer that you have ever sent (to anyone) on that item. I stopped using these features as they required that I eat too much profit. Instead, I relist my items regularly and the boost in exposure allows me to make sales at a higher rate and ASP (average sales price).
Do you sell on Mercari? Share with us your best tips and tricks below 👇🏼