We've all heard the rumors and seen the online rants regarding Ye's desire to part ways with adidas, but what will this mean for sneakerheads and the resale value of Yeezy's? Yeezy's are already amongst the top sneakers to resell, could higher profits be on the horizon?
How it Started
It's the end of an era after almost a decade of hot collabs dropped by Kanye West and adidas. The sneakers that came from this seemingly harmonious partnership gripped the sneakerhead community from the start. For those not interested in sports, collaborating with such a culturally relevant icon as Kanye West brought newfound relevance and audience expansion to the Adidas brand.
Kanye West, more commonly known now as Ye, owns 100% of Yeezy while adidas produces and distributes the shoes. Ye joined adidas in 2013 with a contract through 2026 and has since dropped some of the most coveted shoes in the sneaker space such as the Yeezy Boost 700, the 350 and 350 V2 (which really brought the brand to the mainstream market), the Foam Runner (RNNR), also known as the the "Yeezy Crocs", the Yeezy 500, 700 V3, Yeezy Slides and many more.
How it's Going
For some time now Kanye has spoken out via social media on his feelings surrounding the partnership with Adidas, accusing the brand of copying his designs and all-around unhappiness with how it's played out. The designer says "it's time for me to go it alone," while speaking to Bloomberg about separating himself from corporate partners and branching out on his own for the Yeezy brand.
Though Ye is determined to leave adidas, designs are ironed out so far in advance that we can still anticipate drops through 2023, such as the Yeezy Boost 350 "Pirate Black". Ye's goal is to cut out the middleman that stands between him and his audience.
Current Market
If you think retail prices are high, ranging anywhere from 200 to 500+ dollars, the resale value of Kanye's Yeezy creations have reached unimaginable heights with some selling on secondary markets for thousands of dollars.
For example, the Yeezy 350 retails at $220. However, they sell out immediately and resell for anywhere between $300 and $1,500 on the secondary market. Making these sneakers investments for sneakerheads around the world. It's not just about fashion, it's a business.
To learn more about where adidas Yeezys are resold check out our article on 5 Best Marketplaces for Sneaker Resellers
Why Are Yeezy Slides So Expensive?
Yeezy slides are renowned for their high price tags due to a combination of factors that contribute to their exclusivity and perceived value.
Firstly, This association with fashion designer Kanye West, a prominent artist and designer adds to the desirability and prestige of the product.
Additionally, Yeezy slides are limited in production, often released in limited quantities or as part of highly anticipated drops, which creates a sense of scarcity and drives up demand. The meticulous craftsmanship also contributes to their high price point on the secondary market, as they feature a unique design. Finally, the resale market for Yeezy slides is incredibly active, with collectors and enthusiasts willing to pay a premium to own a pair, further driving up their perceived value.
Future Potential
Some of the most expensive Yeezys on the market are from Kanye's days with Nike. In 2019, a pair of Nike Air Yeezy 2 "Red October" sneakers had an average resale price of 6,075 USD worldwide. This staggering appreciation makes us wonder how high Adidas Yeezys in the resell markets will climb as Kanye exits this partnership.
Deadstock, or discontinued lines, when kept in exceptional condition go for top-of-market prices. We're predicting that we'll see covetable new sneakers as Ye branches out on his own, but also see Adidas Yeezy resell value rocket as supply becomes more and more scarce knowing we'll never see this collaboration again. We're also betting on not all, but certain styles and colorways being the most sought after. See some of our picks below!
If you're getting into reselling sneakers you might also like: 10 Great Marketplaces Every Reseller Should Consider
Adidas Yeezy Boost 700 - Wave Runner
Who doesn't love an eye-catching color block look with a chunky sole? This colorway debuted without any warning on Kanye's YEEZY SUPPLY site, and many of those looking to cop one only learned about it after it was too late.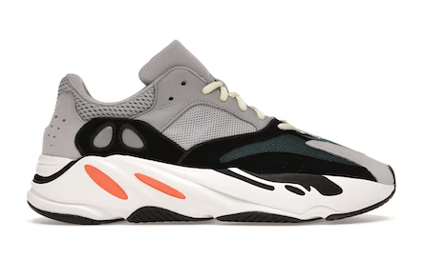 Adidas Yeezy Boost 350 V2
Hands down, The Yeezy 350 is the most popular, sought-after, and essential model in the Yeezy line.
Adidas Yeezy Slide (any color)
Introduced in 2018, as part of the Season 6 drop the Yeezy Slide is crafted with various materials and comes in unique colorways. Comfort and minimalist design have made the Yeezy slides a lifestyle staple.
Adidas Yeezy Boost 350 V2 - Core Black Red
The Adidas Yeezy Boost 350 V2 'Red' was released on November 23, 2016. In the same way as its companions, this pair features mostly black Primeknit construction, accented at the lateral side by a bright red stripe.
Adidas Yeezy Foam RNNR (any color)
A low-profile shoe with a very unique look. The shoe features no distinct upper or sole, utilizing a carefully crafted cutout design that allows for no shoe laces and a slip-on lifestyle.
What's your prediction? Drop a comment below!