There is a huge resale market for jewelry, and you can make some serious cash selling jewelry online.
Whether you're selling luxurious diamonds, fun costume jewelry, or handmade masterpieces, these are all top-selling categories on many reselling marketplaces.
In this article, we'll talk about where to sell jewelry, different types of jewelry, photographing jewelry, and extra tips and tricks to help you make more money selling jewelry online.
Where to Sell Jewelry Online
There are so many places to sell jewelry online; everywhere that allows the sale of fashion offers the sale of jewelry. Let's talk about some of the best places to sell jewelry
quickly and for the most profit
!
eBay
Jewelry is a top-selling category on
eBay
. From vintage jewelry to fine jewelry, even loose gems, and stones; eBay has so many sub-categories that you can be sure interested buyers will find exactly what they're looking for.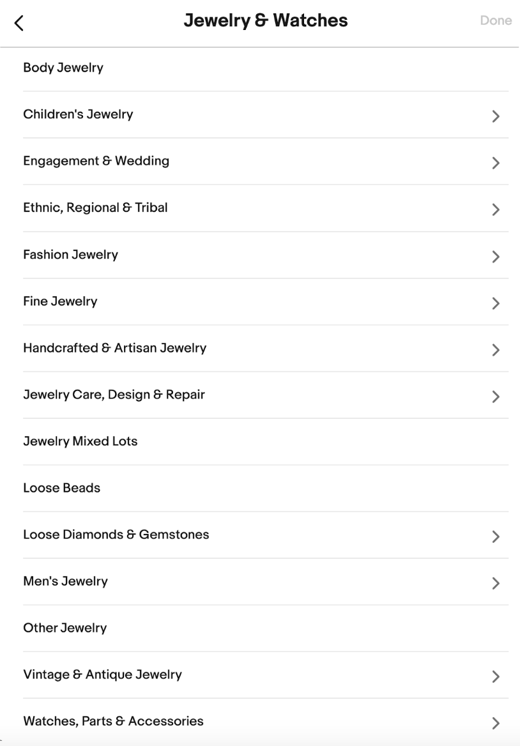 Did you know that jewelry is a top-selling category on eBay, year after year?
eBay is the largest peer-to-peer online marketplace with a bigger audience than all others- combined! This alone makes eBay the best place to sell almost everything, especially jewelry. If you're selling valuable, fine jewelry, eBay is a trusted and established place to sell pieces of higher value.
Tip: eBay requires a lot of information in their listing form. Be sure that you know what you have and fill out as much information as you can for maximum exposure.
Etsy
Jewelry is also a top-selling category on
Etsy
, where you can sell handmade and vintage jewelry.

If you make your own jewelry, there is no better place to sell it than Etsy. Etsy buyers love shopping small and purchasing pieces made with love.
Etsy also has all of the tools and promotions to help you put your handmade items in front of interested buyers (whereas it is a bit harder to sell "unbranded" pieces on other marketplaces).
Did you know that you can also sell beads and jewelry-making supplies on Etsy?
To learn more about selling your handmade jewelry and accessories, check out A Reseller's Guide to Selling on Etsy.
Note: Etsy only allows the sale of three types of items: handmade items, vintage items, and craft supplies. If your item is not at least 20 years old and you didn't make it yourself, you cannot sell it on Etsy. You can, however, sell items you designed in conjunction with a production partner).
Poshmark
Poshmark is a fashion powerhouse and the largest peer-to-peer marketplace that is exclusively for fashion. On Poshmark, you can sell women's, men's, and children's fashion, including jewelry.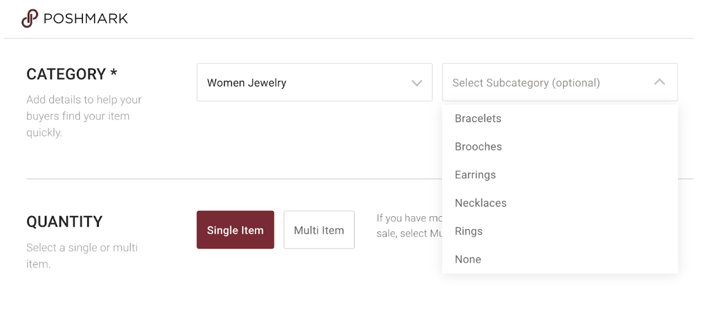 On Poshmark, there are very general categories, so be sure to use the
title and description fields
to provide more details about your item.
I have personally sold over 5k pieces of jewelry on Poshmark, including mall brands, costume jewelry, vintage jewelry, and wholesale jewelry. At one point, I was selling so much that I had an entire second closet devoted to it!
If you order wholesale and sell under your own brand, Poshmark allows you to opt into boutique selling!
Did you know that the entire description in your Poshmark listings is searchable? Meaning, if a buyer performs a search and the words are identical or similar to your listing description, your listing will show up. Learn more about how to maximize your Poshmark listings in The Poshmark Bible.
Depop
Depop
is a fun, style-driven resale app where top-selling categories are vintage, Y2k, streetwear, and OOAK (One of a kind).
One of my favorite things about Depop is that the brand doesn't matter the way it does everywhere else; it's all about the style. If you use the right hashtags and great pictures, your items will sell!
I've sold a ton of jewelry on Depop, and for much higher prices than I could anywhere else: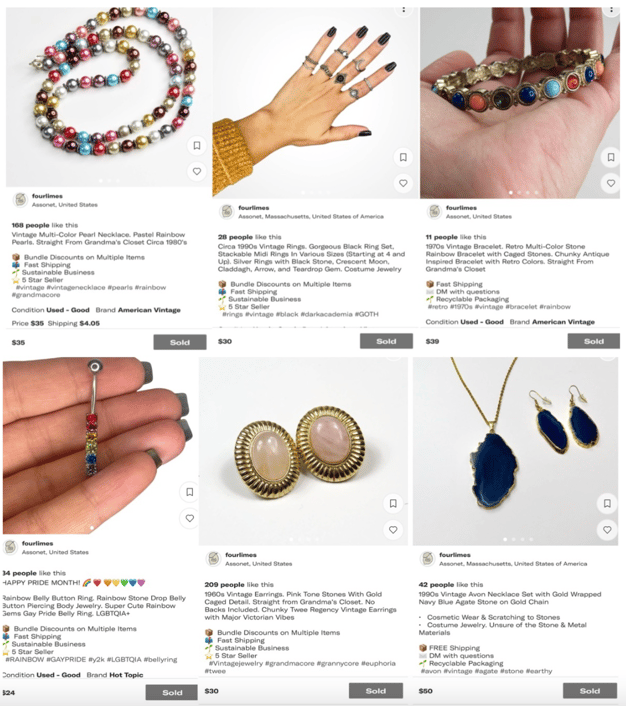 Only on Depop can you sell
unbranded
jewelry for prices like this! I model a lot of pieces, but you definitely do not have to. If you sell
vintage jewelry
or
trendy costume jewelry,
get it listed on Depop!
Vestiaire Collective
If you're selling high-end, luxury, designer, or fine jewelry, there is no better place to sell it than Vestiaire Collective.
Vestiaire is a global powerhouse for all things luxury, and its exquisite standards and authenticity guarantee allow buyers around the world to shop with confidence.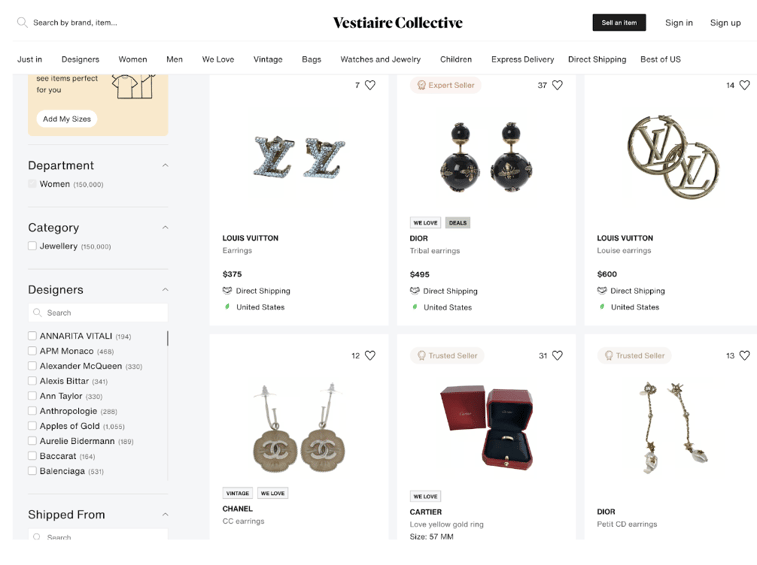 You can sell with confidence on Vestiaire, knowing that all listings are reviewed by the team prior to publishing and that most items will be sent to Vesitaire directly upon purchase for review before being sent out to your buyer.
Vestiaire is selective in the brands that they allow. Learn more in the article Everything You Need to Know About Selling on Vestiaire Collective.
Did you know that with Vendoo, you can crosslist your jewelry on eBay, Poshmark, Etsy, Depop, and tons more with just a few clicks?
Selling fine jewelry and diamonds? You might also consider selling them on The RealReal. To learn about selling fine jewelry on consignment, click here.

How to Photograph Jewelry
Like any item you sell, it is important to capture every detail of the item you're selling. This is especially important with jewelry.
Make sure that you photograph everything: the front, back, inside, and outside, and include close-up photos of every surface, any markings, and of course any flaws or scratches.
If your item comes with a dustbag, original box, authentication paperwork, warranty, or proof of purchase, be sure to photograph that as well.
You might have a hard time zooming in to see the internal markings on small pieces of jewelry on your cell phone camera. If you do not have a camera, try to prop the cell phone so it is completely still, enabling you to zoom in to see internal markings.
Ways to Photograph Jewelry and Small Accessories:
Here are some of my favorite ways to photograph jewelry and also some of my favorite supplies- all under $20!
Flat Lay.
You can simply put the jewelry on any surface, and capture an image. This is the simplest way to photograph jewelry.
I recommend using a white or lightly-colored surface. This set of reversible photography sheets works great, too.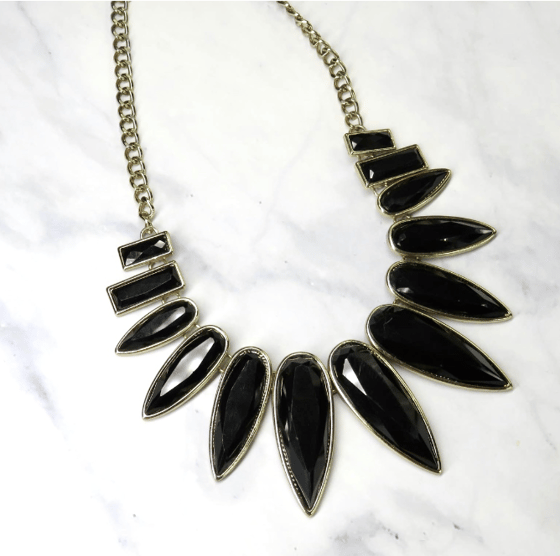 Light Box. If you sell a lot of jewelry, you might consider a mini light box for perfect pictures. Tiny items require direct light for the best photos, and it can be difficult to achieve decent lighting with natural or larger artificial lights.
This mini light box was super inexpensive and takes amazing photographs of jewelry and small items.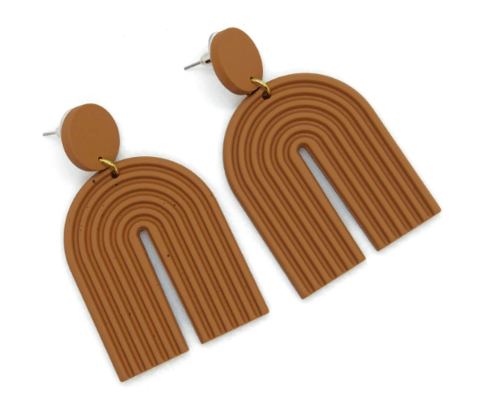 This image is unedited, and that is amazing. While you might be able to accomplish this look with a background remover, background removers generally don't work well with jewelry because they don't detect the background between the nooks and crannies of the subject. So, you generally want to capture the best photo you can rather than rely on editing.
Jewelry stands. Another thing you can do is consider using jewelry stands. These are very professional and will help you to take amazing photographs.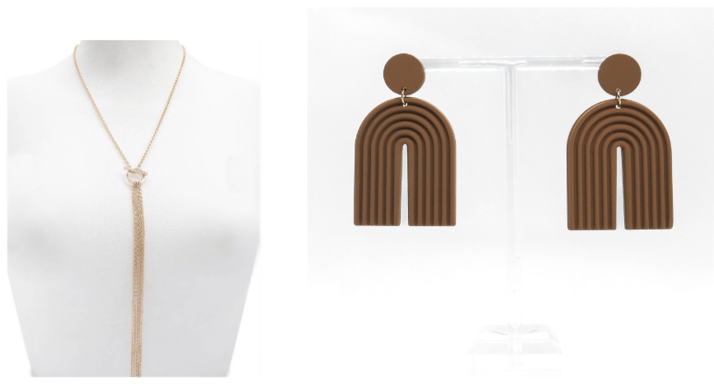 You can find necklace holders and earring stands on Amazon, very inexpensively. These are very professional and an amazing way to showcase jewelry (especially fine jewelry).
Modeling. Modeling is my favorite way to sell jewelry because you don't have to worry about perfect placement, using gadgets and tools, and you can show how the items look on!
This also gives the buyer confidence that you have the actual item in your possession when it comes to fine jewelry.
Did you know that Depop reports that your item is 70% more likely to sell if you show it modeled?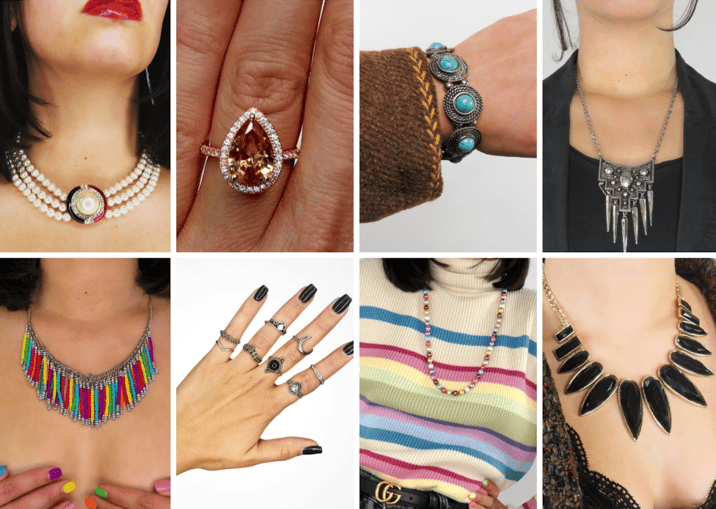 This is also a great way to get more for your funky costume jewelry: showing it worn and styled to attract buyers that might not otherwise look twice.
Selling personalized jewelry? Be sure to include some examples in the listing and all of the different selections that a buyer can customize!
How to Create Jewelry Descriptions
When selecting a title and description for your jewelry, make sure it is as detailed as possible. This will help your listings to yield more searches.
Most purchases do not happen by chance or by frivolous news feed scrolling; many are a direct result of a search performed by the buyer. The key is to maximize your descriptions to enhance your rankings and make more sales.
At a minimum, include the following in your description, as applicable.
What the item is

The style name or brand's title of the item
Style Type and Features

Size/ Measurement/ Weight

Material Composition

Description of Stones or Gems

Type of Metal

Style Tags and Keywords
Let's look at each of these a little closer:
What the item is
You would be surprised how many listings for necklaces do not contain the word "necklace."
The style name or brand title of the item
Does the item have a specific name, given by the brand? If so, use it. Buyers might be searching for it.
Style Type and Features
Type refers to style attributes. Is a ring a halo ring, a solitaire ring, or a band? Are earrings studs or dangle? Is a necklace a choker, short, or long? Buyers search this way.
Size/ Measurement/ Weight
If the item, like a ring, has a size, certainly include it. Otherwise, I would include measurements. While most measurements are taken in inches, jewelry is generally measured in cm or mm.
Material Composition
Buyers want to know what the jewelry is made of; whether it is because it is fine jewelry or because it is not, and they want to know if it will turn green or cause an allergic reaction. If you know the metal type, provide it. (If you don't, you can likely find it easily online)
Description of Stones or Gems & Metals
Describe the stones or gems on the item. If it is fine jewelry, be as descriptive as possible with the exact metals and stones. If it isn't fine jewelry, you still want to be extra careful in your description.
For example, you do not want to call these gold pearl earrings without a disclaimer that they are costume jewelry and the metal is "gold tone" with "faux pearls."

Not sure if a piece contains fine metals and genuine stones? Do not guess. A return isn't the worst that can happen; the worst that can happen is you will be penalized for selling an item that is not authentic. Many marketplaces have zero-tolerance policies for the sale of non authentic/ "replicas," and you could jeopardize your account forever.
You might also be interested in 10 Great Marketplaces Every Reseller Should Consider
Authenticating Jewelry
I suggest having jewelry authenticated in person. There are places online that do it, but most certificates from these companies are not accepted as legitimate proof of authenticity; which makes sense, because they didn't test the metals or stones.
The best place to have jewelry authenticated is by the company itself or an authorized retailer. For example, you would want to take a Tiffany bracelet to a Tiffany & Co. location or an authorized retailer listed on their website.
If you're not sure of the brand but you just want to know if the metal and/or stones are real, consider taking it to a local, trusted jeweler. Even local pawn shops often have the equipment to test diamonds and metals; a routine practice they do before they would consider buying or pawning the item.
Style Tags and Keywords
Style tags, hashtags, and keywords describe the style of the item, and it is highly searched in conjunction with jewelry and accessories. This just refers to describing the aesthetic, whether it be "gothic," "vintage," "retro," "steampunk," "western," "handmade," or any other applicable adjectives. Be sure to use as many relevant, trendy style words as you can think of!
Tips and Tricks to Sell Jewelry Online
In addition to the tips provided throughout, here are a few more tips and tricks to selling jewelry online:
Polish Fine Metals

. I was amazed at how much older, cloudy jewelry I could bring back to life with jewelry cleaner. It is definitely something to have on hand!
Ship Carefully

. For most jewelry, I use small jewelry boxes

from Amazon. Necklaces are amongst the hardest things to ship, though. Sometimes, I use small ziplock bags; other times, I have used press-and-seal wrap to perfectly seal around the delicate chain to ensure that it does not arrive tangled.
Use Listing Videos

. If a picture is "worth a thousand words," then a video must be worth a million. If you're selling on a marketplace that allows listing videos, utilize this feature to show off your piece!
Selling rings? You'll want a

ring-sizer

. The first time I listed a ring, I was surprised to see how many inquiries I received about size. Silly me- of course, people want to know the size! I have since purchased this

ring sizer

, so I know the size of each ring! I even include a photo of the ring on the device so buyers can shop with confidence!
Don't forget occasion keywords

. Many buyers are searching for jewelry for a special event (for example, a "promise ring," "engagement ring," or a "formal necklace." Adding relevant occasion keywords to your jewelry listings can maximize exposure and help you to sell them more quickly.
I love selling jewelry online; it has always been one of my top sellers. Thrift stores have a ton of jewelry and it is generally inexpensive. Another great thing about selling jewelry and accessories is that most jewelry does not have a size; so your buyer pool is significantly larger than selling clothing which is size-based.
Do you sell jewelry online? Drop tips and tricks below!