Facebook is the biggest social network worldwide, reporting 2.89 billion active users at the end of the second quarter of 2021. As of April 2020,
Facebook Marketplace has

1 billion active monthly users (to put this into perspective, FBMP has almost six times the amount of users on eBay).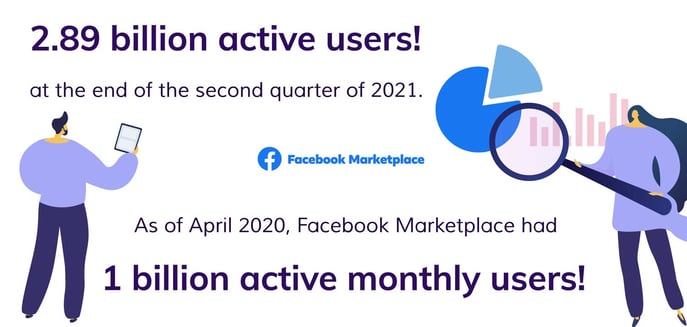 While Facebook marketplace started as a local sort of "online yard sale" comparable to Craig's List (still true), the introduction of shipping in 2019 allowed the platform to really take off! So, you want to know how to sell things on fb marketplace?
Facebook Marketplace Tip: You have to apply to be able to ship things on Facebook Marketplace. Apply now because the wait time can be very long! Be ready to upload your baking information, and your social security number or employer identification number (EIN)
Facebook Marketplace is rapidly growing, and a very lucrative platform for resellers. Facebook turns its ginormous audience of users into customers, by showing them ads and saving their search data from the social media app. If you have ever looked for something on Facebook Marketplace, you have learned that when similar items are listed, you are notified. A feature you cannot turn off; one of many not-so-subtle marketing tools turning social media users into shoppers.
Fun Fact: Facebook also owns Instagram & WhatsApp. I wouldn't be surprised to see some of the marketplace features incorporated into/ advertised on these other platforms!
What to Sell on Facebook Marketplace
You can sell almost anything on FBMP, so long as it isn't alive or illegal. Top-selling items on Facebook Marketplace include cars and vehicles, electronics and media, home décor and hard goods, and toys and games. (Note: Facebook does not publish sales data or analytics. This list was compiled by browsing second-hand sources, including blogs and eCommerce publications).
Some categories and larger items cannot be shipped, but local pick-up is available. Be sure to exercise judgment and safety when meeting up with strangers on the internet (I've heard some horror stories). You cannot go wrong with a meeting at your local police department.
How to Post & Start Selling on Facebook Marketplace
Selling on Facebook Marketplace is very simple! You will want to use your existing Facebook account (if you create a new one, it will be months before you are eligible to sell and ship in all categories). Then go to the selling tab and select "Create New Listing." There, you can add up to ten photographs, draft a title and description, and a few drop-down boxes. You will also select if your item is available for local pick up or shipping and your return policy.
FBMP Tip: If you do not want your listings visible to friends and family, you can indicate the same in each listing to "hide from friends."
Maintaining your Marketplace Listings
Facebook listings do not necessarily require much maintenance, but there are many ways to increase exposure and maximize sales.
Here are some Facebook Marketplace tips and tricks for seller success:
Enhance your keywords

and

take amazing product photographs

to optimize your ranking in the Facebook search forum.
Offer Free Shipping

to attract more buyers and have your items advertised under relevant filters.
Renew your listings

every 7 days to refresh them to the top of search results. Accomplish this by going to your item and clicking "renew."
Check your messages & message requests.

The Marketplace messenger is odd and does not prominently notify you. Be sure to frequently check your messages so you don't miss an offer or question from a prospective buyer.
Obtain positive feedback.

Feedback actually matters on Facebook, and the higher your average review rating, the more visibility your listings will receive!
Relist your items.

If your item is unsold and becomes "stale", relist it! Vendoo's bulk delist and relist tool makes this easy and gives you hundreds of new listings in just minutes!
Boost Your Listings via paid promotion,

and create a personalized marketing campaign for each item & the desired audience for your ad.
You may also be interested in: A Reseller's Guide Keywords and SEO.
Don't Forget about Facebook Groups and Pages
When you list your item on Marketplace, you have the option to "share" your listing to any eligible groups of which you are a member. If you are selling on Facebook Marketplace, join groups! Search for groups in your town, surrounding towns, and county. Also, you might consider searching for groups relevant to what you are selling (i.e. fashion and brand groups for apparel, gaming groups for video games, collectible groups for hardgoods). There are millions of Facebook groups, and you can share a listing to up to 20 groups. This is one of my best tips for selling on Facebook Marketplace!
FBMP Tip: Slow sales? Go to Facebook groups and type in "ISO" or "In Search Of" to see what people are looking for! Share your links to your listings with these people to make sales!
Shipping on Facebook Marketplace
Shipping your Facebook Marketplace orders is simple and easy! Be sure to ship your order within three days of purchase. There are many ways to ship your items on Facebook marketplace.
FBMP Shipping Options
The seller has a lot of authority regarding shipping preferences. On Facebook Marketplace, you can elect to:
Ship with a prepaid label from Facebook
Offer free shipping (pay yourself) or charge the buyer
Choose your preferred shipping carrier: USPS, UPS, FedEx


If you elect to ship with a prepaid label, you will have to weigh (or at least estimate) your item's weight before listing, and ship with USPS Priority Mail. If you elect to ship on your own, you will create your own shipping label and enter the tracking information into Facebook. When shipping on your own, you can use any shipping carrier.
If you offer free shipping, your listings will generate the most exposure, and you will pay the cost to ship the item to the buyer. Or you can charge the buyer for shipping, by either charging the price on the prepaid label settings or charging any arbitrary amount that you choose.
Facebook Marketplace Tip: My Marketplace strategy is to offer free shipping to my buyers, and to create a shipping label on Pirate ship for the best rates! (Usually, the best rates are on USPS but UPS is often the best for heavier items)
Facebook Marketplace Local Only
Don't forget that Facebook Marketplace offers local only pick-up, too. You can turn on local pick-up for any any all of your listings, which appear in more search feeds based upon your location (by your zip code). This is a great way to make more local sales and avoid the shipping process.
Facebook Marketplace Local only pick-up is great for large and heavy items, furniture and appliances, decor, and more (the items that will be tough to ship). Of course, if you are meeting with people, please remember to be safe. Meet in a public place, even outside your local police station, and bring a friend with you when possible.
You may also like: 10 Great Marketplaces Every Reseller Should Consider
Facebook Marketplace Fees & Balance Redemption
Facebook Marketplace has the lowest fees. They do not charge a listing fee and take only a 5% fee upon sale (a minimum charge of $0.40, even if that exceeds 5% of the sale price). The fee includes taxes, payment processing, and the commission to Facebook. Of course, if you sponsor or advertise your listings, there are various fees associated with those.
Facebook Marketplace Tip: Selling on Facebook Marketplace is free for local pickup! If you're accepting an electronic payment outside of Facebook, be sure to use a safe and protected platform like Facebook Pay or Paypal. Facebook only charges seller fees when the item is shipped (or promoted).
While Facebook has amazingly low fees, it requires patience in awaiting your funds. Expect to be paid 15-20 days after you confirm shipment or five days after the buyer confirms delivery. Your payout will be directly deposited automatically into your bank via the banking information you provide upon establishing your seller account.
Buyer and Seller Protection & Disputing Transactions
Facebook is… frustratingly tough to get in touch with. Be patient and persistent when reaching out to them due to an issue.
As a seller, you can establish your own return policy, but regardless, a buyer can successfully file a claim for a refund when:
They aren't received (within 2 days of the estimated arrival date, or 16 days of the purchase)
The item is not as described (i.e. missing parts, damaged during shipment, not as advertised, or in any way different than what was ordered). Like most reselling platforms, buyers cannot return due to buyer's remorse or if they simply don't like what they purchased.
Learn more about protected purchases, disputes, and refunds here.
All in all, Facebook is an amazing place to sell, with potentially the largest audience that is ever-expanding. While clothing and apparel don't perform as amazingly on Facebook Marketplace as they might elsewhere, it is a great place to sell almost anything else.
Did you know you can cross-list your items to Facebook Marketplace in just seconds with Vendoo?
Are you a marketplace seller? What are your best tips and tricks for making sales on Facebook Marketplace? Share below!
You May Also Be Interested in the Video The Best Selling Items on Facebook Marketplace