Resellers, do you stay on top of trends? I'm a major proponent of the concept that trends don't matter as much as people think they do because everything sells.
That said, if you want to increase your likelihood of fast flips and maximize profit, it is important to be informed of what is
trending.
Knowing what is hot will help you to stock up on desirable inventory to increase profit and sell-through rate. It will also help you to recognize trending keywords and hashtags to include in your listings and increase visibility across your eCommerce marketplaces.
Remember that you can always modify and relist your older listings with newer trending keywords to increase the visibility of older items.
For example, right now top trending styles include authentic vintage, y2k pieces from the early 2000s, leopard print, cottage core, bohemian styles, and chunky knit sweaters. Having these items will positively increase exposure and likely yield further sales.
How To Learn About Trends
There are so many ways to learn about what is in demand. Social media is the most accessible and easiest way to see what is currently in demand. Here are a few ways to keep up to date with trending styles and keywords:
Follow designer brands

, magazines, fashion bloggers, models, and celebrities on Instagram to be regularly updated on which styles are being promoted.
Browsing TikTok

is an amazing tool; a lot of trends start there on TikTok.
Browsing the reselling platforms:

the newsfeeds, sold items, and promoted brands and styles. The

Depop

Explore Page is a great way to keep updated on the "cores" and "aesthetics".
Window shopping!

See what is on display in stores, it's fun!
Browse

top-selling lists on various websites

. This is especially important to those who sell things other than fashion.
Spring 2022 Bolos
I browsed articles and commerce reports to create a list of Spring BOLOs (be-on-the-look-out) styles. Often, trends start at the top of the fashion chains in luxury designers, and other brands and retailers take inspiration from the releases of the major brands. Based upon the runways at recent designer shows, you can expect to see a lot of funky styles in Spring 2022. Vogue reports vibrant colors, funky patterns, and lots of tassels (especially "carwash tassel fringe"). Vogue also reports expecting a lot of tops that "pop, have fluff, and fray" in 2022.
Who What Wear reports a deviation from neutral and earth tones, and the entire "minimalist" style. Instead, the latest designer releases emphasize bold and saturated colors like saffron. Saffron is a bright, rich shade of red with a hit of orange. Similarly, Pop Sugar reports vibrant, funky, tie-dye staying "in" through the next year in fashion.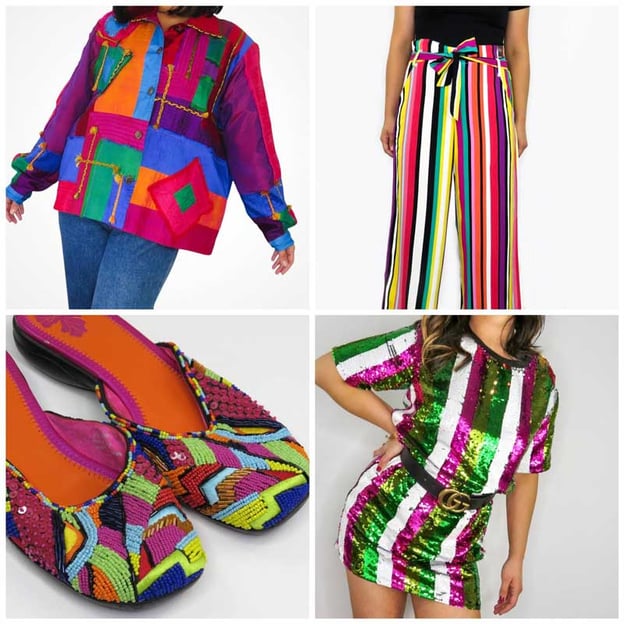 2022 Releases include rich, saturated, and bright colors. Absent were the dusty rose, olive green, plum, and mustard hues of the last year of fashion. Be ready for bright colors and rainbow patterns! Source: Four Limes Shop
Nearly every recent fashion report explains that less is more, as the latest hot fashions do not include a lot of… material. Brands like Blumarine, Nensi Dojaka, Missoni, and Miu Miu showcased collections made of as little fabric as possible including ultra-low-rise miniskirts and micro-dresses, and tops that resemble caution tape. According to Who What Wear, the "barely there" trend that dominated red carpets in 2021 is gearing up for an even more prevalent stint in 2022. Along similar lines, Vogue reports a return in mini skirt suits: "the look of a short-short skirt and blazer remains thoroughly modern. Just ask Olivia Rodrigo, who has made the skirt suit her preppy, punky signature."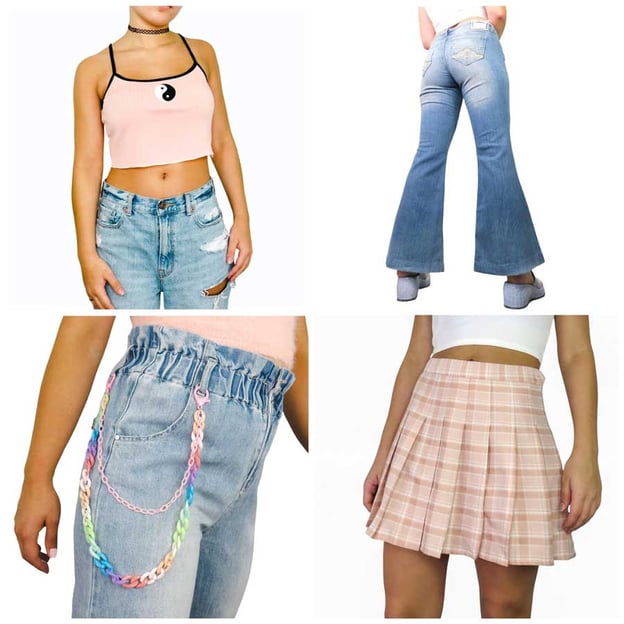 The runways confirm that Y2k is in. The early 2000s looks are seen in 2022 styles including low rise jeans, flared legs, pastel colors, plaid mini skirts, and baguette bags. Source: Four Limes Shop
Fashion bloggers report that retro and vintage are here to stay through 2022. On the current runways, nostalgia is everywhere. In looking at Chanel's recent runways, they could have easily been held in the mid-1990s, displaying belly chains, miniskirt suits, and crimped and teased hair (Vogue). According to Pop Sugar, another vintage-inspired spring bolo is pedal pushers, or capri pants cropped just below the knee. Don't forget that authentic vintage will always be in. With designers producing nostalgic remakes, vintage enthusiasts will always seek and appreciate the real thing.
You may also be interested in: 9 Steps to Start a Reselling Business Online for Profit
Spring 2022 Fashion Reseller Hashtag and Keyword List:
Academia
Blazer
Bright
Cable Knit
Cute Goth
Dark Academia
Edgy
Funky
Goth
Low rise
Micro Skirt
Mini Skirt
Mom Jeans
Plaid
Prep
Punk
Retro
Thrifted
Tie dye
Vibrant
Vintage
Y2k
What styles do you hope make a comeback or leave to never return in 2022? Tell us below!