The world of resale has undergone a significant transformation in recent years, with technology and changing consumer attitudes driving a surge in popularity. Today, it's not uncommon to see people selling their old clothes, electronics, and even furniture online or at consignment stores. So, what's happening
now
in resale?
We already know the biggest trend in resale is the rise of online marketplaces. Platforms like eBay, Poshmark, and Depop have made it easier than ever for people to sell their used goods online. These marketplaces offer a convenient way to buy and sell items, with features like user ratings, secure payment systems, and shipping options. In addition, they often have a wide range of items available, from vintage clothing to high-end designer goods.
Luxury resale is also booming, with a growing market for high-end designer goods. Platforms like The RealReal and Vestiaire Collective offer authenticated luxury items at a fraction of their original cost, making designer fashion more accessible to a wider audience. Luxury brands themselves are also getting in on the action, with Gucci and Burberry partnering with resale platform TheRealReal to encourage more sustainable consumption.
The growing interest in sustainability and circular fashion has allowed these marketplaces to grow exponentially in recent years, but not without struggle or difficulty navigating industry issues such as authentication, online scams, etc.
Here's a roundup of current industry news so you can stay in the know!
STOCKX SOLD 38 FAKE JORDAN 1'S TO A RESELLER, NIKE COURT DOCUMENTS PROVE
In 2019, Nike sued online sneaker marketplace StockX, alleging that it was selling counterfeit Nike shoes. Nike claimed that StockX was allowing the sale of fake shoes to occur on its platform, which was damaging to Nike's brand reputation and could potentially harm its customers.
StockX denied the allegations and stated that it had implemented measures to prevent the sale of counterfeit products on its site, including employing a team of authenticators to verify the authenticity of items before they were sold.
The lawsuit was eventually settled out of court, with StockX agreeing to pay an undisclosed amount of money to Nike and to implement additional measures to prevent the sale of counterfeit products on its platform. The scandal brought attention to the issue of counterfeit products in the sneaker industry and highlighted the challenges faced by online marketplaces in ensuring the authenticity of items sold on their platforms.
Now in 2023, @Sockjig, a Twitter account known for accurate information about the sneaker world, confirmed a reseller received 38 pairs of counterfeit sneakers from StockX. This is quite unsettling to buyers as part of StockX's business model is an authentication program.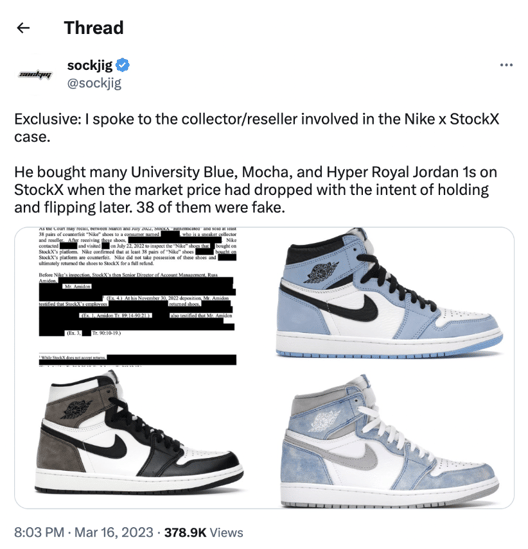 StockX has since removed the word "authenticated" from its site following the scandal in November 2022. An unlikely coincidence? We'll let you decide. Nike visited the reseller and examined the sneakers to confirm that they were fake. StockX has since refunded the reseller in full.
SUPER RARE PIKACHU CARD WENT UP FOR AUCTION ON EBAY AT A STEEP PRICE FOR COLLECTORS
A PSA 8-certified 1998 Pikachu Illustrator card sold exclusively on eBay by Pokemon Club Shangri-La was one of the rarest in Pokémon TCG history. Bidding took place from February 24 at 5 PM PST through March 6. A $480,000 starting bid was placed on this Pokémon TCG card, one of the most expensive ever.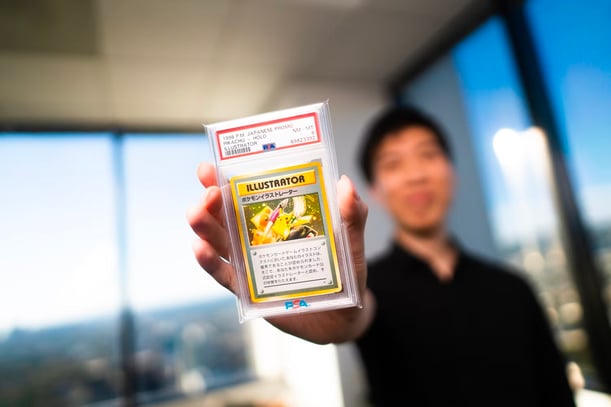 In February 2021, a PSA 7 sold for $375,000, and we thought THAT was a lot. These cards have set sales records for the most expensive cards sold on the site. So why are these cards warranting these price tags? Well, The Pikachu Illustrator cards are considered highly rare in the world of Pokémon due to their limited issuance of only 41 copies. These unique cards were exclusively distributed as prizes to winners of the 1997 and 1998 Pokémon Illustrator contests, making it impossible to obtain them through booster packs or promotional events. Among these 41 cards, only 24 have been certified by PSA, which makes them exceptionally uncommon and coveted by collectors.
Want to break into selling Pokémon cards? You might be interested in our Reseller's Guide to Selling Pokémon Cards, Pokémon Card Rarity, Rating, and Where to Sell Online.
TRYING TO COLLECT HOT WHEELS CARS RIGHT NOW? RESELLERS GOT THERE FIRST
Hot wheels collectors might be having a hard time finding cars to collect as store shelves are reportedly bare right now. Resellers have flooded the Hot Wheels market, purchasing the most coveted new die-cast releases from Mattel and reselling them at a markup. This issue has only intensified during the COVID-19 pandemic and there seems to be no end in sight. It appears it's just as hard to buy toy cars as it is a real one these days.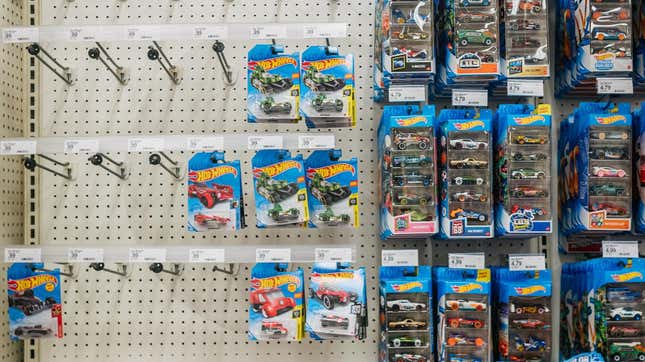 Hot Wheels cars are generally inexpensive, but new releases are only available for a limited time, with retailers receiving shipments every few weeks that vary in content throughout the year. This combination of low prices and limited availability has made Hot Wheels a popular target for scalpers. These resellers buy in bulk when new shipments arrive, and sell them for a significant profit on sites like eBay, which buyers are willing to pay to avoid the hassle of searching for a specific car in retail stores. Even though these toys can cost as little as $1.29, buyers may pay up to eight times that amount to secure a desired car.
Not a bad flip in our opinion!

SUSTAINABLE FASHION PUSHES FORWARD
If you're in the business of fashion right now, you're in the business of sustainability. The secondhand luxury goods market grew 28% in 2022 to reach €43 billion ($45.21 billion), according to Bain & Company and Fondazione Altagamma. This is 1.3 times the growth rate for new luxury goods.
Here are some highlights of great fashion houses and mass retailers doing their part to contribute to the circular economy:
Vestiaire Collective partners with Chloé for resale initiative

Gucci launches Circular Hub to drive sustainable manufacturing in Italy

Valentino, Chloé and Bottega Veneta each recently announced different initiatives to contribute to a more sustainable world. The Vintage Valentino Program expands, trace your Chloé items from field to finished piece, and preserve your Bottega Veneta bag with a Certificate of Craft

Kate Spade New York launches resale program with ThredUp

Growing resale market is even impacting the image of the iconic

Hermès Bag

eBay has announced it is opening a first-of-its-kind pop-up in London where people can swap sneakers they don't wear for a pair they will
How do you fit into secondhand fashion? Check out this blog on 10 Great Marketplaces Every Reseller Should Consider
The resale market is constantly evolving, with new trends and technologies driving growth. From online marketplaces to sustainable fashion, the world of resale is becoming more mainstream and accessible than ever before. As consumers continue to seek out more sustainable and affordable alternatives to traditional retail, we can expect to see even more innovation as well as never before seen resale trends and issues to overcome in the years to come.

Subscribe to keep up to date on resale trends and news so you can have your finger on the pulse and grow your resale business!