Taxes. Nobody loves the topic- especially e-commerce sellers! But it is an important topic for anyone who is selling items to earn a profit.
Doing taxes as a hobby seller or a small business can be incredibly daunting. E-commerce sellers spend weeks organizing receipts, downloading invoices, analyzing bank statements, reviewing platform reports, and calculating complex formulas for tax preparation. With Vendoo, tax time is A LOT less stressful.
---
Vendoo is so much more than just a crosslisting program! Here is how you can use this crosslsiting and analytics software to save weeks of your time next tax season and focus on growing your business.
Tax Fact: Vendoo is a tax deduction for your business!
Small Business Tax Preparation
With Vendoo, sellers can take their business to the next level. But the next level requires additional book-keeping and administration. Vendoo is constantly striving to simplify these processes so users can focus on selling!
Be sure that your growing business is legally sound and your finances are in order. As a general rule, you are required to report all earnings to the IRS. Earnings refer to profit; that is, revenue minus expenses. Revenue is the total amount of income generated by the sale of an item. Profit refers to the amount of income after deducting expenses and costs of operation. This formula is often complex requiring the calculation of the cost of goods, sale price, platform fees, and shipping costs, among other factors. Tax preparation is particularly onerous for multi-platform sellers, as the fees and costs vary by selling platform.
Whether you are filing taxes as hobby income, self-employment, or under a corporation, Vendoo simplifies tax preparation! It also provides the tools necessary for tax preparation including inventory management and Profit-Tracking.
Vendoo Analytics are not only helpful for revenue calculation, but also for strategic selling!
Inventory Management
Say goodbye to excel spreadsheets, expensive book-keeping software, and five-subject spiral notebooks! Use Vendoo to manage inventory!
Whether you are a hobby seller or a growing business, inventory management is important for scaling your business- and it is crucial for tax preparation. Vendoo offers a comprehensive inventory management system.
Vendoo tracks all of your unlisted, listed, and sold inventory, and all of the information necessary to calculate revenue and profit. Whether you create a product listing in Vendoo or import it from another platform, Vendoo features administrative fields to optimize inventory management. In just a few seconds, you may enter an item's sku or inventory number and original cost. There is also a notes field where you may enter additional information for inventory or tax purposes. This information stays in your Vendoo Catalog even after an item has sold. The software uses this data and to generate charts and analytical information to increase productivity and help you scale your business.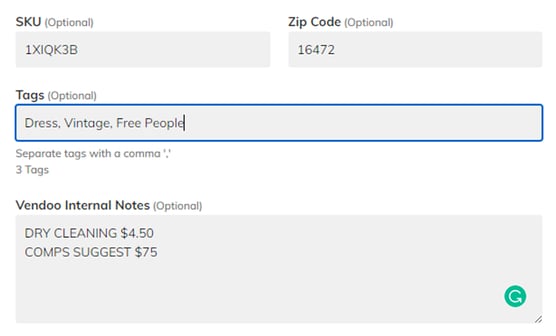 Optimize analytics and profit-tracking by utilizing the optional fields! This information is private to you, and will not publish on platforms.
Profit-Tracking
Vendoo calculates the complex formulas- just enter a little information! No need to spend hours computing figures into a spreadsheet!
Vendoo's profit-tracking software uses the original cost of the item, sale price, marketplace fees, and shipping expenses to calculate gross profit! It creates valuable charts, graphs, and reports which you can use for financial planning, profit-tracking, and to optimize business productivity!
The Analytics summary tracks your total revenue and total profit across all selling platforms! You can view this information by day, week, month, quarter, year, or even a specified period of time. Vendoo delivers analytical information about average sale price and top-selling platforms and categories. This information can be downloaded into a report with everything you need for tax preparation.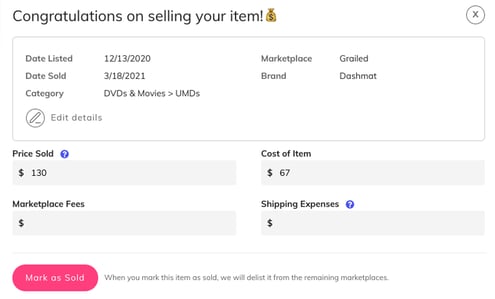 "When an item sells, utilize the optional fields to enter platform fees and shipping costs. You can even manipulate these numbers as necessary to account for special circumstances such as consignment or commission selling."
You may also like: 9 Steps to Start a Reselling Business Online for Profit
Reseller Tax Myths- Debunked
There is a lot of false information posted all over the internet regarding taxes and reselling. Consult with a tax specialist in your state regarding your filing requirements.
Myth 1: If you do not exceed $20,000 in sales, you do not have to report your income.
This is posted all over the internet and it is entirely untrue. Nearly all selling activity must be reported to the IRS. Click here for more tax information from the IRS.
Myth 2: If you do not claim your selling profit, it is likely that "nothing will happen".
This is especially dangerous advice, due to the severe penalties associated with tax evasion. E-Commerce sellers are particularly vulnerable to examination and audit, as all transactions are electronic, with deposits routed to bank accounts. Be sure to consult with a tax specialist regarding your filing requirements and potential exemptions.
Myth 3: E-commerce sellers do not have to worry about sales tax.
This is true in some circumstances, as many states have adopted Marketplace Facilitator laws which require platforms to collect and remit sales tax on your behalf. However, if you are in a state which has not adopted those laws, or you are selling independently, you are required to report and pay your sales tax quarterly. Consult with your selling platforms and your state's laws for information about sales tax. Click here to find out if your state has adopted Marketplace Facilitator laws.
You may also like: 9 Steps to Start a Reselling Business Online for Profit
Tax Tips from a Reseller (Not a tax specialist)
Tip 1: Consult with a tax specialist or certified public accountant in your area. Don't trust everything you read on the internet.
Tip 2: Track your miles to and from the post-office, dry cleaner, and sourcing! Deductions!


Tip 3: Purchase or create a receipt book to create receipts for cash transactions. You will thank yourself at tax time.


Tip 4: Keep track of every business expense- you can likely deduct it! Inventory, equipment shipping supplies, software subscriptions and mileage may all be deductible or partially deductible.


Tip 5: Do not mix your personal and business accounts. This leads to confusion, oversight, and additional time spent book-keeping.
Tip 6: Enter all fields of information in Vendoo to maximize record-keeping and save time in tax preparation. At the end of the quarter, run a report for your records.
What do you usually do to prepare for tax season? Are there any other tips you recommend? Feel free to leave your comments below to share with other fellow resellers!