One of the many difficult parts of running a business is getting exposure in front of an audience that is likely to buy products from you. As more business owners enter the market with similar products to the ones you offer, it's most important that you take action and market your business.
In this blog post we are going to cover 6 things that you can do to give your business more exposure that will ultimately impact your sales.
1. Engage and network with other fellow resellers
Online resellers host plenty of events on a daily basis, these events take place on ClubHouse, Instagram, Zoom, YouTube and on many other platforms as well. The reselling community is a great place to start giving your business some leverage, by participating in these events, talking about your business, sharing your marketplace profiles, and telling others what has worked for your business.
Online resellers tend to be very collaborative, so invite them to follow your marketplace profiles, like your listings, and even comment on them. These small actions will help your profiles build more authority and start showing up to a larger audience.
You should also look for fellow resellers on social media, follow them, leave likes and comments, and ask them to drop by your profile. Many of them will take the time to follow you back and share their thoughts with you.
Overall, engaging with the community will help you give your business more leverage as your name will be present on different channels with frequency.
2. Use social media
Leveraging your business through social media is a must nowadays and it only takes a few minutes of your day. The key to having a successful social media profile is to be consistent with your posts, and also engage with your audience.
For instance, try to create different posts every day. The important thing here is that you educate the user on a topic related to your product or service and that you always add value for your followers in some way.
For example, if you're an online reseller you can share news about the second-hand industry, talk about your BOLO (be on the lookout for) brands, show some of your available products or even announce discounts that you're planning on offering.
Also, don't forget to engage with other social media accounts, like other posts, and participate in the community. Being active on social media will show how engaged and compromised you are with your business.
Pro Tip: Make sure to communicate what your business or profile are about in your bio or about section, as it will help visitors understand the value that you offer.
One other thing to keep in mind is to have clear calls to action in your posts, such as "visit the link in my bio", "Redeem your discount today". Etc.
3. Write about what you know
Content plays a BIG part of a business' marketing strategy. It is likely that when a person is considering learning about a product or a topic, they research it online. With this being said, if you're an expert about the products that you sell, write about them! You can also consider making videos about those same topics and sharing them on YouTube and on other social media channels. Here's an interesting fact: YouTube is the second-largest search engine in the world. In some countries, it happens to be the first!
So try to improve your business' online authority by writing or filming helpful content that your buyers and potential buyers will find helpful. This will be highly appreciated by them, and it is also a great way to build a trustworthy relationship with your audience as you're sharing your knowledge with everyone out there interested in learning about that topic.
4. Join groups or communities related to your business
There are tons of groups in different places and social media channels. As a marketer, I have joined multiple groups on LinkedIn and Facebook and they have all been very helpful so far. Not just to leverage myself as Alejandra, but to also ask the community for ideas or information whenever I feel the need.
If you're an online reseller, you can use these groups to offer your products and services and to share your closet or marketplace profile names to encourage others to visit your brand. As I mentioned earlier, the reselling community is a very welcoming and loving community that will be glad to help you spread the word about your brand.
I've also come across many groups that are focused on selling and buying, so join them and showcase some of your products. You never know who might be interested and make a purchase right away!
You may also like: 8 Reseller Tips from an Expert to Succeed Selling Online
Here's a pro tip from our friend Erynn Gifford from Forulimesboutique: "Print business cards and always carry them with you! Distribute them everywhere and stick one in your orders as you prepare items for shipment! This is simple, free, and organic advertising!"
Networking and advertising can be highly instrumental aspects of your business model, helping to bring in customers and raise awareness about your reselling business.
5. Optimize your listings
Have you heard of the term SEO before? If not, this is a great time to learn as it can be very valuable for your business.
SEO stands for Search Engine Optimization which MOZ describes as "the practice of increasing the quantity and quality of traffic to your website through organic search engine results."
The idea behind SEO is that you give search engines the necessary information to find your business online and show it to the people that are looking for products or services that you're offering. The largest search engines out there are Google, YouTube, Amazon, Facebook, Microsoft Bing, among others.
Keep in mind that large marketplaces like Poshmark, Etsy, eBay, Facebook marketplace and others also use search engines to enhance the user experience. How? By showing potential buyers exactly what they're looking for on their platforms.
With this being said, you need to make sure to give as much information as possible about the listings that you create. Make sure to have a very clear title with the brand, size, color, type of product and anything else that you can think of. Using keywords in your listing's title and description will help the marketplace better understand what you're selling and show it to the right people.
Here's something I stumbled upon while writing this blog post. I went into Google and typed "Poshmark Search Engine" and funny enough this was the first thing that showed up: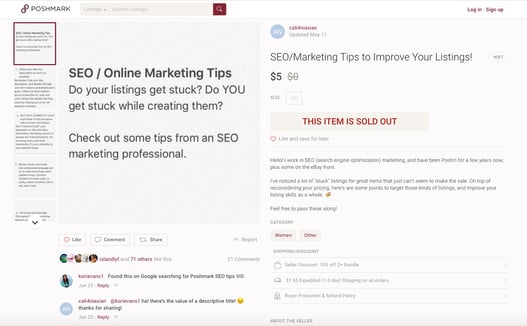 So, thank you cali4niasian for sharing these tips with us! If you'd like to see the full listing here's the link.
I encourage you to give all these tips and try, and tell us how they go! They're not difficult to achieve, you just need to be consistent and dedicate some time to it.
You may also like: 9 Steps to Start a Reselling Business Online for Profit
Are there any other tips you'd like to share with other fellow resellers? Feel free to leave them below!