While the title here makes for catchy clickbait, it is important to note that no one is an "expert." I have been reselling for approximately fifteen years, and I still learn new things every day. Here are some of the best tips I have learned over the years:
1. Source Creatively
Finding inventory with a high resale value is not always easy! Sourcing can be time-consuming and fruitless. Be sure to do your research and find creative places to source. Obviously, the lower your cost of goods (COG), the higher your potential profit!
There are countless ways to source both in your community and online! I source at thrift stores, consignment shops, buy/sell/trade stores, "BSTs", the Goodwill Outlet ("the Bins"), yard sales, estate sales, flea markets, storage unit auctions, sample sales, discount liquidation stores, and more!
Pro Tip: Church Thrift Stores and Charity-Based Shops are often more inexpensive than commercial thrift stores. As a bonus, they usually do not inflate the prices of "desirable" items.
Determine which types of sourcing are best for your business and profit. Many sellers purchase liquidation pallets or individual pieces through wholesale companies. If you like to sell brand new items consider retail arbitrage, the practice of buying new items for resale, at places such as T.J. Maxx, Marshalls, Nordstrom Rack, Burlington, and Ross! If you are interested in wholesale, purchasing large quantities directly from the manufacturer, check your state licensing requirements and contact manufacturers.
Pro Tip: The "Bins" refers to the Goodwill Outlet where items are sold for a minimal price by the pound. These locations are often a combination of raw unsorted donations and unsold items from the Goodwill retail stores' racks.
There are also many opportunities to source inventory from the comfort of your home. In fact, during quarantine, I sourced from resale platforms such as Poshmark, Mercari, eBay, and Depop.
Don't miss out on boosting your online sales – Grab your copy of Vendoo's Ultimate Marketplace Guide for Resellers today!
I also regularly acquire inventory through community outreach- the practice of using local town Facebook groups, Nextdoor, Craigslist, and physical ads to seek inventory! This is a great way to find free and cheap inventory or perhaps procure items on consignment. Always be safe when meeting strangers!
If you are having a hard time finding inventory get creative!
You may also enjoy: How to Thrift for Profit to Sell on Ebay, Poshmark and Etsy
2. Take Amazing Photographs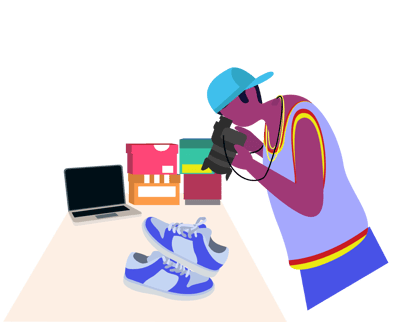 Let's face it, looks matter. You are going to have a hard time selling if your pictures are dark and blurry with a wrinkled item laid on the floor. Clear and well-lit photographs are important!
If you are selling clothing, consider a clear hanger in front of a solid, light-colored wall, a dress form or mannequin, a model (or modeling yourself), or a stylized flat lay anywhere except on the floor.
Portraying your items in their best light (literally), is crucial to attracting buyers. Be sure to take care in preparing your items for photography by stain treating, cleaning, fabric-shaving, and steaming them so they look their best for picture day! Be sure that your photographs portray your item properly. Always confirm that the photographs are an honest portrayal of the item's character, color, and condition.
Think About It: if you searched for Lululemon Aligns on Poshmark and found several pairs listed for the same price, which one would you click on? Probably the one that looks the best.
Be sure to photograph everything! Every inch of the item should be photographed, including all tags (care, size, and price) and any flaws or imperfections. Not only does this provide prospective buyers with all of the information they require (and avoid incessant questions) but it also offers you greater protection in the event of an undesirable transaction.
Photography is not as easy as one might think. It is surprisingly difficult to take a good picture of an item, especially clothing. Lighting is key! Whether you are using natural lighting or artificial equipment, adequate lighting is imperative.
Pro Tip: Do some research about photography. Learn about lighting, zoom features, exposure, resolution, and color preservation. A few small practices will make your images infinitely better!
Of course, there are many photo editing tools to help create the perfect cover photos including PicTapGo, PhotoRoom, and Adobe Lightroom. Each of these apps will allow you to enhance images for a perfect finish. A little adjustment of the exposure can go a long way!
Photographs are not just about the aesthetic appeal but are also significant in maximizing search engine optimization (SEO). For SEO purposes, clear and well-lit photos (absent props) in front of a light, solid background are optimal.
This is why many resellers use solid white backgrounds! In fact, PhotoRoom is removes backgrounds to create flawless cover photos. PhotoRoom is integrated with Vendoo, so Vendoo users can have perfect cover shots every time!

3. Be Super Descriptive
Describe your listing as if it is not accompanied by photographs, with details that inspire you to vividly picture the item by reading the description alone.
Pro Tip: Never use emojis in your title! They are not registered by search engines and they disrupt SEO.
Be sure that your descriptions are actually descriptive! The best descriptions include the item, style, brand, size, condition, material, and measurements, as well as style descriptors, including colors and patterns, sleeve types, necklines, rises, hems, lengths, and keywords!
✔ Description Checklist:
✔ Title
✔ Item Name & Style Number
✔ Brand
✔ Size
✔ Condition
✔ Age
✔ Measurements
✔ Materials
✔ Style Type
✔ Colors/ Patterns
✔ Sleeve Types/ Necklines
✔ Rises/ Hems
✔ Keywords/ Tags
✔ Occasion (Casual? Formal?)
Pro Tip: Use Pinterest to make a board of various style charts. For example, your description should include the style type! For example, rather than "dress", determine if your dress is a shift dress, a-line dress, sheath dress, tent dress, or fit and flare style. Pinterest is also useful for determining patterns. For example, if a shirt is a plaid, houndstooth, gingham, glen check, or madras!
Do not underestimate the importance of the title and description fields! Most purchases do not happen by luck or by frivolous newsfeed scrolling; instead, they are a direct result of a search performed by the buyer. It is crucial to include all of the relevant wording in your listing to ensure that your items appear near the top of search feed results! SEO is the process of increasing traffic to your listing through organic search results.
4. Be Active and Consistent
Consistency is key. Whether you are selling on Poshmark, eBay, Mercari, Etsy, Grailed, Depop, Tradesy, Kidizen, Facebook Marketplace, Shopify, Instagram, or anywhere else, consistent activity keeps the packages shipping!
Pro Tip: Are you cross-listing to every platform possible? Start today! You are in control of your profit, get your inventory listed everywhere with Vendoo.
All reselling platforms require a little attention, and some are outright high maintenance. Reselling marketplaces and social media alike want you to be active, and they will reward you for it. Consistent daily activity is the most important factor to maximize exposure, visibility, promotion, traffic, and, ultimately, sales!
On most platforms, the algorithmic sequence prioritizes active users by way of exposure. Determine which actions generate exposure and activity on your platforms; generally, relisting, sharing, refreshing, promoting, engaging with other users, and even scrolling the newsfeed are simple but effective ways to accomplish this!
Practice makes perfect and consistency is key. That is a double-cliché, but entirely applicable here! Establish a routine of daily activities and focus on those that produce the best results for your business.
5. Work Smarter, Not Harder!

Time efficiency and organization is the key to success in any business endeavor.
I suggest working in batches. That is, working with small groups of items, whereby they are all cleaned, prepared, photographed, entered into inventory, measured, and listed simultaneously in groups. Rather than going through all the steps for two items, wait until you have ten items to process! The routine, mindset, and time allocation will lead to greater productivity!
Another time-efficient practice is to use text replacement to create typographic shortcuts when drafting listings. Text replacement templates will streamline the listing process. For example, when I type "EC", the phrase "Excellent Condition" auto-populates in the text space. I have over 100 of these!
To maximize productivity, I also prepare items for shipment prior to sale. Immediately after photographing and measuring, I package items into recyclable clear bags and enter them into inventory. Upon sale, they are retrieved and ready to go- they are already steamed, nicely folded, and weather-protected.
Pro Tip: Always have photographed items and drafts prepared, so if you find yourself with a few extra moments, you can quickly do some editing or listing!
The most useful tool for my business has been Vendoo, which allows me to cross-list items to multiple platforms in minutes and delist and relist stale items in seconds! This consistent activity pleases my platforms and leads to many sales. Vendoo saves me so much time and has amplified my profit margins!
Remember that time is money. Challenge yourself to periodically document the time spent on various tasks over the course of a given week. This will allow you to evaluate your time allocation and brainstorm ways to streamline processes and maximize efficiency!
6. Keep Up with Bookkeeping
You have to consider profit first. Profit can be difficult to determine, requiring fairly complex calculations. Calculating the profit for any one item requires accounting for the cost of goods (COGS), listing fees, sales price, platform fees, third-party payment fees, relevant taxes, shipping costs, and any other related costs of the item such as dry-cleaning or authentication.
To calculate overall profit, further considerations must be made for all business expenses including supplies, utilities, mileage, rent, insurance, software subscriptions, employees, taxes, and countless other costs. Bookkeeping is a daunting task, especially if you let it accumulate.
Extra Tip: Do not mix personal bank accounts with business bank accounts. Create separate accounts and cards for reselling to help stay organized.
Tracking Revenue and profit is essential to maximizing profit and complying with tax requirements. Tax preparation is a reseller's nightmare when bookkeeping is unorganized—these mistakes may be costly and result in tax implications and legal consequences. Thankfully, Vendoo does this for me!
Pro Tip: Read the book Profit First by Mike Michalowicz! This book—which proposes easy principles to simplify business accounting—will change your mindset and business model!
7. Network & Advertise
With a vast and saturated market of resellers vending similar products, advertising is essential. Consider using social media to drive traffic to your reselling platforms. Social media, when used consistently and strategically, is arguably the most effective form of modern advertising.
Self-branding is critical to advertising success. If your username is "yourname1980something", no one is going to remember that. Brainstorm something unique and catchy, and reserve that name across all reselling platforms and social media.
Similarly, support and connect with other resellers. There is a large reseller community on Instagram, Facebook, and TikTok. Through social media networking, you will make valuable connections, increase exposure, and acquire industry knowledge. Attend real-life networking events to create friendships and business relationships.
Pro Tip: Print business cards and always carry them with you! Distribute them everywhere and stick one in your orders as you prepare items for shipment! This is simple, free, and organic advertising!
Networking and advertising can be highly instrumental aspects of your business model, helping to bring in customers and raise awareness about your reselling business.
8. Be Professional
Whether you are a hobby seller or you consider reselling a "business" you are conducting business. You are a salesperson, customer service representative, human resources department, shipping facility, photographer, and account manager, among countless other positions. Be sure to always conduct yourself in a professional manner.
This includes being polite and personable, providing stellar service, quickly responding to inquiries, and handling your business with professionalism and integrity.
Never (ever!) take business personally. You should at least pretend that the customer is always right and engage accordingly!
Making the customer experience memorable and seamless will generate return buyers and exposure. Strive for positive feedback! These simple steps will go a long way with buyers:
Provide all of the information about an item in the listing.

Always respond to offers,

even the "lowballs"!

Ship your items as soon as possible after the sale.

Engage with buyers! Show interest and gratitude.

Promptly respond to inquiries positively and politely.

Package items professionally and protectively

In the event of dissatisfaction, apologize

even if it is "not your fault"
Pro Tip: Treat your customers as if they are paying your bills. Approximately 45% of my sales are from return buyers, and I strive to cultivate relationships with each and every person who shops with me.
Want to learn more about reselling? Check out Vendoo's Ultimate Reseller Handbook, a free eBook to teach you how to make six figure sales!
These tips will help to maximize productivity and streamline your reselling business. What are some of your best reselling tips and tricks? Tell us below!
You may also enjoy: 9 Steps to Start a Reselling Business Online for Profit