Kidizen is a reselling marketplace for children's fashion, and now mommy fashion, too! Recently, Kidizen expanded its categories to allow for the sale of women's fashion.
According to an article from BizWomen, Kidizen has over 800 thousand registered users in the United States, and projects rapid growth congruent with the gross of eCommerce.
Founded by two "mompreneurs," Kidizen prides itself in creating a marketplace for mothers to independently create and run, earn money and find the latest styles for their kids, and a community to connect with other moms through style and expression.
With pillars of empowerment, happiness, the greater good, connection, and motherhood, Kidizen strives to create a community feel in the eCommerce experience.
Selling on Kidizen (alone) is unlikely to provide you with a full-time income. However, it is a great place to crosslist your items and to sell your childrens' outgrown clothing online.
You might also be interested in the article 10 Great Marketplaces Every Reseller Should Consider.
Did you know: Kidizen is a Vendoo platform. You can connect your Kidizen account to Vendoo to quickly cross-list your inventory to Kidizen and start making sales!
Here is a guide to everything you need to know to start selling on Kidizen:
What Can You Sell on Kidizen?
Kidizen is a place for select children's and women's items, with an emphasis on children's apparel. All items labeled for children and women can be listed as long as the item listed falls under the listing categories and subcategories provided on Kidizen. As far as what you can't sell, that includes electronics, home decor, health and beauty products, edible products, and of course anything illegal or hazardous. Learn more about what you can sell on Kidizen here.
How to Create a Kidizen Account
You can create a Kidizen account in just minutes on the website or the mobile app. Creating a free account on Kidizen is quick and easy! You can even log in with Facebook and skip most of the administrative account setup. To set your shop up for success, Kidizen recommends creating a catchy and memorable username and creating an interesting bio with some personality behind it! Have fun with these features and branding opportunities.
There are some limitations as to what you can do on the Kidizen website. For the best selling experience, download the Kidizen app.
Did you know: If you don't have the time or desire to sell, you can work with Kidizen's "Style Scouts," who are personal sellers that will sell your items on a consignment model. Learn more about how to connect with a Kidizen Style Scout here.
How to Sell On Kidizen
Once your account is set up, you are ready to start selling on Kidizen.
Creating listings on Kidizen is straightforward: You can upload images, select a category, subcategory, gender, size, brand, condition, draft a description, and enter your shipping information from the listing form.
On Kidizen like every reselling platform, it is important to have aesthetically pleasing photographs and thorough descriptions. Children's clothing are particularly vulnerable to wear and flaws… because kids can be messy. Take extra care to describe your items thoroughly and accurately note the condition and any flaws.
Kidizen even has a pricing calculator tool to assist with pricing and suggested shipping cost. Note that the cost of shipping is included in your listing price, and the tool will help you to make sure that you are pricing appropriately in consideration of the same.
Did you know that on Kidizen you can make your items eligible for "bundle sale only" which is a great way to sell pieces of lesser value (without being burned on the selling fees and the shipping cost for lower value sales).
How to Maintain Your Listings on Kidizen
Like any platform, Kidizen likes consistency and activity. There are a number of things you can do to
increase visibility, encourage sales, and make more money selling on Kidizen

.
Sharing Your Listings
Kidizen is a sharing platform… You will need to share your Kidizen listings to "bump" them in the Shop feed and simultaneously share with your followers.
To make more sales on Kidizen, share your listings as frequently as possible (limit once per hour), at least daily, by opening them up, clicking the share icon, and sharing with your followers and network.
Making Offers to Buyers
You can make an offer to any buyer that puts one of your items in their shopping cart. You will receive a notification in your alerts section that your item has been "carted." You can make individual offers on single items and bundle offers, too! Offers last for 48 hours on Kidizen.
Setting up a Shop Discount
Setting up a shop discount is a great way to encourage bundles. A Kidizen shop discount allows the seller to give the buyer a combined discount on shipping. To learn more about how to do a shop discount, check out this article.
How to Ship Kidizen Sales
Shipping on Kidizen is super simple, but a bit different than other marketplaces.
On Kidizen, the seller always pays the shipping. You can ship with Kidizen or ship on your own.
You can opt to have a breakdown of the pricing in your listing, to illustrate the item's price and the shipping price separately, but ultimately you pay it regardless. Some sellers choose to display the shipping price to justify a listing price, others find that it is psychologically more favorable for a single price to appear next to the words "free shipping."
If you ship with Kidizen, you will select an approximate weight (tiered shipping) and dimensions and purchase a label through Kidizen from the sale page.
The labels are USPS, and the current pricing is as follows: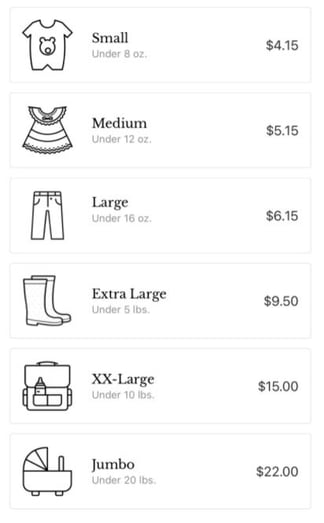 Source: Kidizen
Kidizen shipping rates are excellent. When you purchase a shipping label on Kidizen, you will be required to enter the approximate weight. The current tiers include small (under 80z) for $4.15, medium (under 12oz) for $5.15, large (under 1lb) for $6.15, extra-large (under 5lbs) for $9.50, XXL (under 10bs) for $15.00 and Jumbo (under 20lbs!) for only $22.00. Those are incredible shipping options.
When you purchase a label through Kidizen, it is emailed to you, and tracking automatically updates once it is shipped. The rates offered by Kidizen are pretty good, especially for shipping heavy items. Using Kidizen's shipping labels is easier, more convenient, and offers a great rate!
You can also ship on your own through whichever service you choose. You may consider checking PirateShip, Sendle, or Shippo for the best rates. Because you will pay for the shipping, you will want to get the best rate possible. When you elect to ship on your own, you will have to provide tracking information. Be mindful of the shipping insurance that may (or may not be) included with a specific carrier.
What is great is that you do not have to decide how you will ship until the sale is made, so you can compare rates and pick the most inexpensive and convenient option.
Kidizen Fees
How much does Kidizen take?
Kidizen fees are straightforward: there are no subscription or account fees and no listing fees.
Kidizen seller fees are 12% plus $0.50 from the list price.
Be mindful that you must include an estimated cost of shipping in your price when listing. As a seller, you will be responsible for purchasing a label (either through Kidizen or your own shipping method). Either way, this is included in the percentage that you are charged for.
On Kidizen, you get paid when your item is shipped. More specifically, you get paid when the tracking number is scanned by the shipping carrier and the shipment is "in progress."
Kidizen Return Policy
All sales are final on Kidizen.
Refunds may be issued only in the following two scenarios: the order is not received, and the order is not as described.
If the buyer receives an item that does not match the listing description, Kidizen requires that the buyer reach out to the seller directly (within 5 days of delivery) via in-app message to attempt to reach a resolution.
If a resolution is not reached between the buyer and seller, the buyer can open a refund claim with Kidizen Support.If Kidizen determines that the item is "not as described" and that the buyer is entitled to a refund, it will be issued and the seller will be charged accordingly (to their Kidizen balance or payment method on record).
On Kidizen, if a claim is approved and a return is allowed, the seller must pay for return shipping if they would like the item(s) back.
Many Kidizen sellers do not like the Kidizen return policy, because it requires that the seller handle much of the resolution process rather than customer support.
Kidizen Tips and Tricks
Want to be more successful and make more sales on Kidizen? Remember these tips and tricks:
Consistency is Key
Like every reselling marketplace, consistency is the key to success. Regular listing and activity will lead to the most exposure and increase the chance of making more sales. Be sure to list and share regularly.
Take Great Photographs
Looks matter, especially when mamas are shopping for their precious little ones. On Kidizen especially, make sure that your photographs are stunning and showcase your cute little items in the best way!
Detailed Listing Descriptions
Like on every reselling platform, the more details- the better. The words in your title and description not only help to inform and persuade the buyer, but they increase the searchability and exposure of your listings. To learn more about SEO keywording in listing descriptions, check out this article I wrote all about it.
Price to Sell
Buyers want the best deals. While children's clothing can be particularly expensive at retail value, it is particularly vulnerable to depreciation and often has a lesser resale value.
Because children's clothing is the primary category on the app, competition is fierce. Price as competitively as possible. And don't forget that you're selling used kid's clothing.
On Kidizen, you cannot search sold items for "comp research" the way that you can on other reselling marketplaces. That said, you can use a tool like SellHound's price checker to get an idea of what comparable items sell for.
Encourage Bundling
Buyers everywhere just want a good deal. Price to allow for offers and encourage bundling by offering a shop discount.
Also, be sure to follow other top sellers on Kidizen and take a look at what they are selling and how they are selling it.
What to Sell on Kidizen in 2022
Generally, children's clothing is not a hot seller, unless it is adorable or desirable brands. If you are looking to sell inexpensive and mall brand children's clothing, I recommend bundling it small, like-sized lots to save time.
Be sure you keep an eye out for these 2022 Bolo Brands on Kidizen:
Mini Boden

Hanna Andersson

Patagonia

Kickee Pants

The North Face

Matilda Jane

Tea Collection

Zara

Under Armour

Hunter

Bogs

Native

Plae

Sorel
See the complete list of top-selling brands here.


Do you sell on Kidizen? Share your store name and your best tip below!